Want to generate online mortgage leads, but not sure how to get started? Read this article to learn more about simple steps you can take to start generating online mortgage for free using Google
Traditionally, real estate agents have focused on generating and capturing online leads and only when the lead is ready to transact, does the lender get involved.
In other words, the lender comes at the later stages of the home buyer's process, however, that is changing fast! The digital age is all set to disrupt this conventional model forever and may end up providing more power to the lenders.
Changing mortgage lead generation landscape
A recent report from BCG on digital transformation in the lending industry reveals some interesting facts. The report lists a total of 46 digital features provided by lenders that go beyond helping buyers get a mortgage and into helping buyers find a real estate agent even the right home! Yes, lenders are beating real estate agents by connecting with home buyers much earlier in the process.
Increasingly, lenders are directly capturing home buyer leads themselves irrespective of what stage of the home buying process the lead is in.
If you are a lender, we recommend you seriously look at riding the inevitable digital wave to generate more leads and close more mortgages! You should also aspire to own the entire sales funnel and become valuable to your buyers and real estate partners. Doing that will need some effort from your side, but we can assure you that it is not too difficult!
If you are thinking of generating online leads for your mortgage business, but lack the understanding on how to go about doing so, this blog post is for you. Specifically, we discuss how you can generate online mortgage leads using Google in the simplest manner possible. So let's get started!
Where are your mortgage leads?
There are many sources for generating mortgage leads online, however, the most common online channels for mortgage leads are Google, Facebook, and Zillow.
Google/Search
Acquiring leads from search engines like Google is based on the idea of appearing in the search results for relevant search phrases that your leads are likely to be searching for:
For example, if someone is searching for "How to get a mortgage in Tampa", assuming you focus on borrowers in Tampa, your site should definitely be on top of the search results to ensure you get the lead!
Mortgage is fairly a complex topic and generates a lot of search queries on Google. To capture leads, you can create content on your blogs and websites targeted at various search queries. If your content is helpful enough, it will show up on the top spot and you can start capturing leads for free!
Facebook
Almost everybody has a Facebook profile so it is obvious that your leads are also on Facebook. However, being discovered on Facebook can be difficult.
On Facebook, the vast majority of your feed is dominated by posts that your friends have interacted with. This is why politics, entertainment, and sports stories show up a lot.
In order to break through the noise, you should try Facebook ads. You should create multiple Facebook ads that are targeted to each stage of the buyer's journey. A well made Facebook ad has the potential to be extremely effective and attract high quality leads for your mortgage business!
Zillow Mortgage Leads
Zillow is a great platform to set up your profile. Like Facebook, you can also advertise on Zillow with respect to the zip code you operate in to start capturing leads.
Based on our research Zillow leads are more engaged and serious about buying. But at the same time, Zillow leads are expensive and hard to scale.
Tools you need to capture leads
The easiest place online to start capturing leads for free is definitely via Google. However, before we dive into the details, you need to get the right tools and strategies in place to start capturing the leads!
The Website
The first thing you need is a website. You can create your website using a simple service like Wix, Squarespace, Site123, or Wordpress. You can also use a mortgage specific marketing solution like 220 Marketing or Total Expert that also come with CRM features to help you manage your leads.
At the very least your website should include these features:
Landing pages for each region, city, or zip code you service
A provision for writing and managing a blog
Free tools, mortgage calculators and closing quote calculators
Keyword Research Tools
In addition to a website, you'll need to start analyzing what type of mortgage or real estate keywords your leads are searching for in your area. We recommend starting with a free tool like Keywords Everywhere to get your feet wet.
Once you start generating leads consistently, you can switch over to a more powerful keyword research tool like SEM Rush, Ahrefs, or Moz to start scaling up.
CRM and Lead Follow Up
Generating leads is only half the battle! With online lead conversion rates hovering at 1 to 2%, you'll need to have the proper systems in place to manage these leads and follow up accordingly.
Platforms like Total Expert and 220 Marketing come with a website and CRM system in place. Alternatively, we recommend using a more real estate specific system like Follow Up Boss to help you contact and manage your leads.
If you're not sure how you should be contacting and following up with your leads, you can also use a lead conversion platform like Hire Aiva, that works with hundreds of lenders across the country to qualify and convert their leads.
Lead generation strategy
Now that you have the tools in place, let's talk about your lead generation strategy.
Mortgage is fairly a complex topic and generates a lot of search queries on Google. To capture leads, you can create high quality content on your blogs and websites targeted at various search queries. However, writing quality content for Google can be challenging and time consuming.
Content writing tools like Topic can help you produce content that is high quality and comprehensive. If you can help these users with their questions using your content, you can build trust and convert them into a happy customer fairly quickly!
Find out what your leads are searching for
The first step is to figure out what your leads might be searching for. From your experience, think of all the questions a borrower usually asks you in the sales process. Write them down on a piece of paper. The list need not be complete or perfect, a list of 5 common questions you get asked is sufficient.
Google will automatically start showing you related questions that your buyers might also be searching for:

These questions are an extension of the main keyword you have typed in. In other words, Google is suggesting related questions that people who search for this phrase are looking for as well.
This is the real beauty of search, your leads keep learning about a topic by searching for successive queries one after another as shown below to go deeper into a topic.
Make sure that you have Keywords Everywhere installed and then run your search queries. Look into the "Related Keywords section". These keywords will tell you the direction in which the search will possibly progress and the content type for that keyword.
We have shown the related keywords for the phrase "how to get a mortgage" below.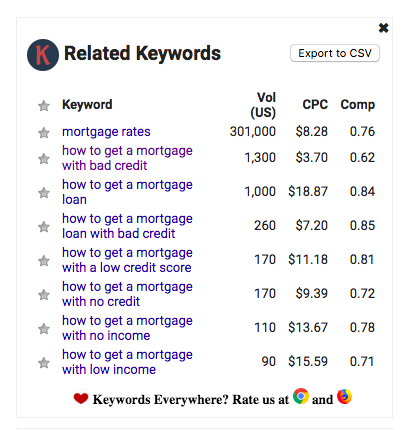 Note that the keywords shown by the plug in are deeper in context and you need to pick the right ones according to a possible search progression that you think your prospect may take.
For example, the graphic below illustrates a possible search progression for the term "how to get a mortgage"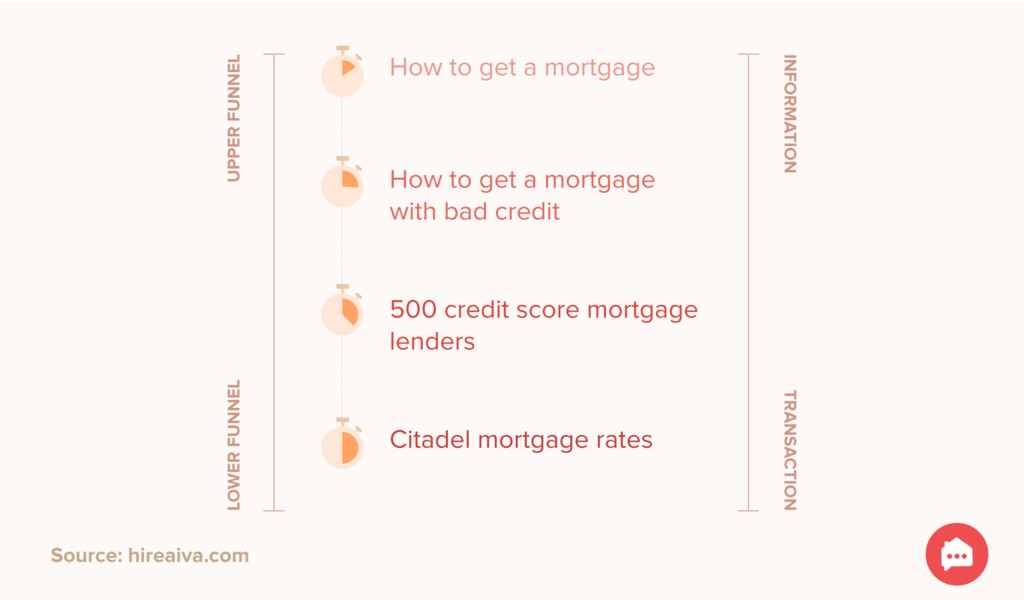 Now, if you can get your website to show up on the top of the list for a few of these keywords you can capture high quality leads!
Using this process, you should be able to easily create a list of relevant keywords that your leads are searching for.
Create the right content
After you have figured out the right keywords, it is time to create the right content on your website so Google starts picking your site to show up on the search results for those keywords.
Here's a simple framework we recommend using to help you figure out what type of content to create.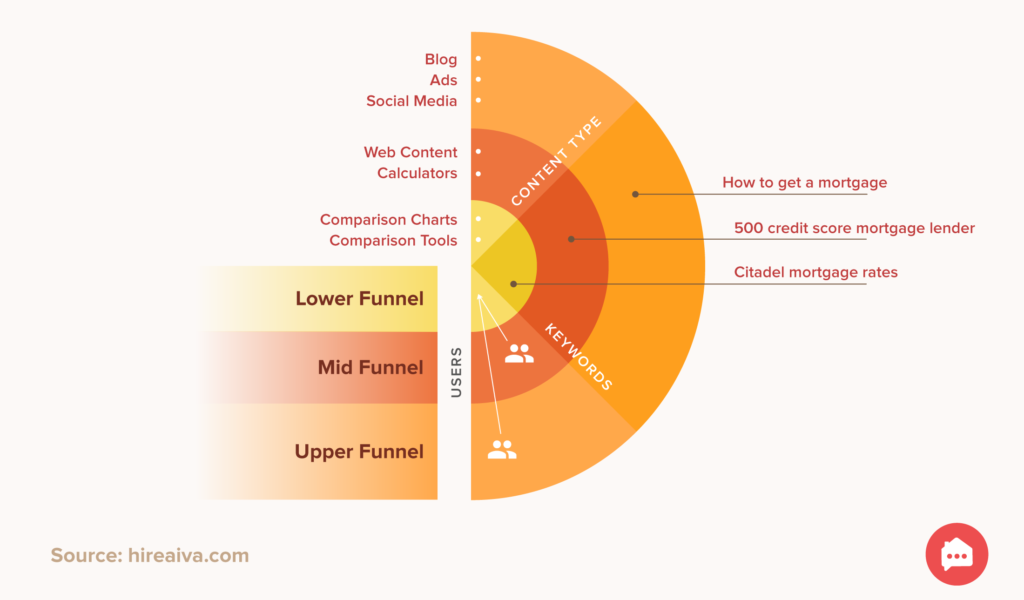 For example, leads searching for keywords like "How to get a mortgage" have likely just started thinking about getting a mortgage (Upper Funnel).
If you are targeting keywords like this, you need to create educational content that can help your leads navigate the mortgage process, the Dos and Don'ts of home financing, etc.
While keywords like "Citadel mortgage rates" are much more specific indicating the lead has already done some research and is probably ready to apply soon (Lower Funnel). If you are targeting keywords like this, your content should focus on educating the lead about what they need to start the pre-approval process.
For each of your keywords in your list, classify them as Upper Funnel, Mid Funnel, or Lower Funnel. Remember, upper funnel = just started thinking about mortgage, mid funnel = learning more about various types of mortgage options and lenders, lower funnel = looking for the best rate or lender locally.
Most of your content should revolve around winning top spots for the upper funnel searches by creating helpful blog posts. The goal here is to get your name in front of the lead as early as possible.
You should generally use landing pages for mid funnel keywords that list out product offerings or showcase your unique offerings (mortgages for lower credit scores, 0 down mortgages, etc.). You should focus on educating leads about various mortgage options available and highlight the ones you have experience originating.
Lastly, for lower funnel keywords you need to create comparison and analysis landing pages to help buyers decide between various loan products or lenders. The goal is here to get the lead to click "Apply" or "call" and start the application process.
Optimizing your content for Google
Each piece of content you create for a particular topic on your site should be optimized for Google before it is published. You need not go too deep into to get it right. Just take care of the basics things listed below and your content will be good to go!
Page Title
Try to use the keyword in the title. It is best to keep it within 60 characters.
Headings
Try to use the main keyword in the main heading (H1) of your page or blog post. Use related keywords or phrases in the sub headings (H2 or H3).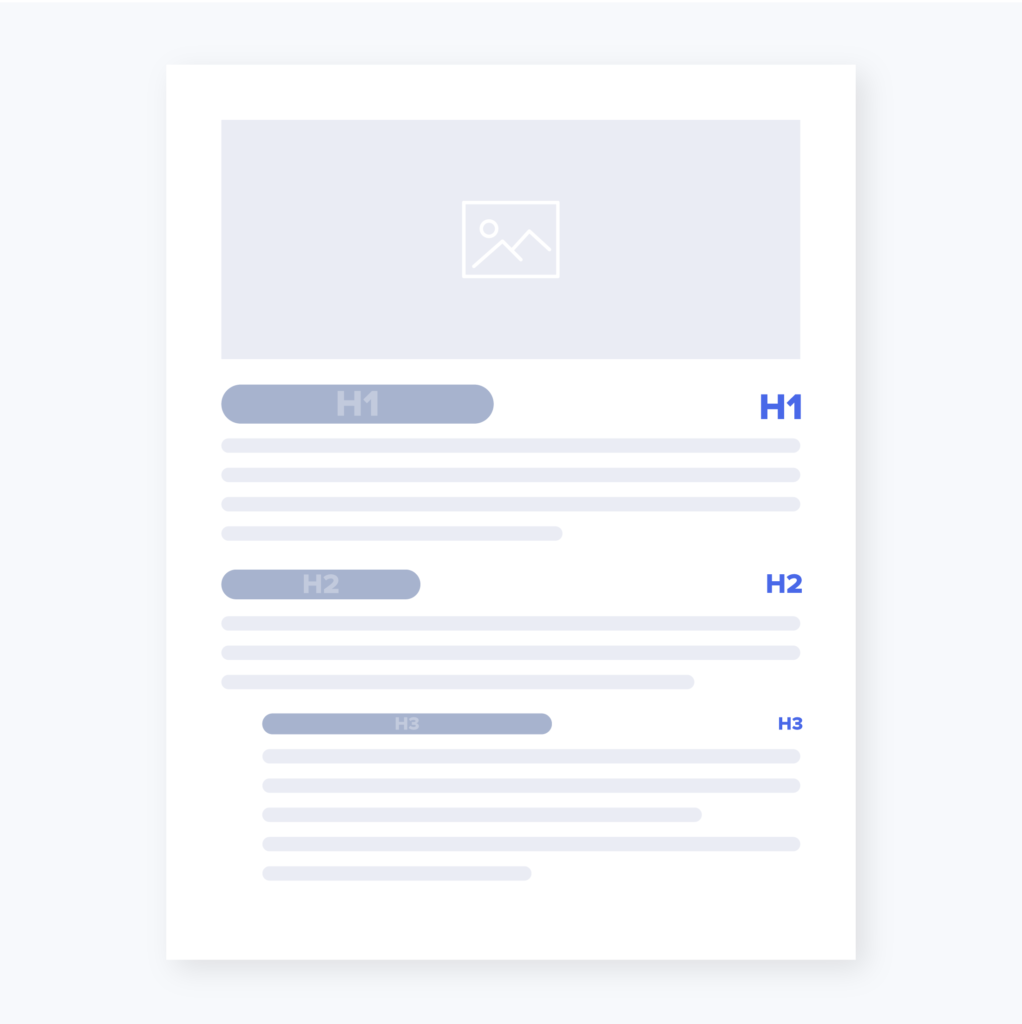 For example, if you are writing an article on "How to get a mortgage with bad credit" with the primary keyword used in the main heading then try to use the keyword "mortgage companies that specialize in bad credit" in subsequent subheadings.
URL
You should use the keyword in the URL. For the keyword "how to get a mortgage with bad credit", the URL should look like www.yoursite.com/blog/how-to-get-a-mortgage-with-bad-credit/
Now that you have content and set up to start capturing leads, how do you convert them?
Lead management and conversion
As you know, online lead convert between 1% to 2%, so you'll need to have the proper processes and systems in place to contact and follow up with your leads to convert them into clients.
Not sure how to design a lead follow up process? Use the 2x2x2 rule! Contact new leads within 2 minutes of them coming in (speed to lead), follow up with unresponsive leads over 2 weeks using 2 touch points a day (2x2x2).
The last thing you could consider adding to your process is a lead conversion platform like Hire Aiva to filter out bad leads from the ones that are ready.
A lot of online leads just do not want to transact right away and you might not be able to set aside to time and discipline to contact each of them to determine if they are ready or not.
In addition, we found that the vast majority of real estate and mortgage leads come in outside of business hours, making it extremely difficult to maintain speed to lead.
Aiva takes that burden off your shoulders. Aiva qualifies your leads using text messages almost immediately after they show up in your CRM and gives your leads that are ready to transact!
Online leads can be a powerful driver of growth for your business, but the easiest way to get started with online leads is using Google. With a little bit of research and work, you can start generating online mortgage leads using Google for free!