Are you thinking to dive into real estate content marketing to create a lead generation engine that significantly cuts down your recurring costs? If yes, read on!
A number of industries are turning towards the internet to generate leads due to a plethora of opportunities online. However, as they explore these web channels, they come to the realization that organically acquired leads from Google search queries are always of the best quality. 
This is what has started happening with the real estate industry very recently. A significant number of real estate agents who were generating online leads through advertising are now turning towards content marketing to create a self sustainable lead generation engine that does not have recurring costs, unlike ads.
Currently, agents are already using Instagram and Facebook to their advantage but it appears that they are slowly realizing the power of an integrated content marketing strategy with multiple content types geared towards educating the buyers and sellers at various stages in the sales and marketing funnel. 
In this post, we will talk about the multiple content pieces that are relevant in real estate content marketing and their application across the buyer's journey. We will learn how real estate agents can implement effective content strategies to generate high quality leads. 
How does Content Marketing work for Real Estate?
Content marketing for real estate is about putting the right form of content on the right platform so that buyers and sellers find them at the right moment in their journey. Here's an illustration to explain that: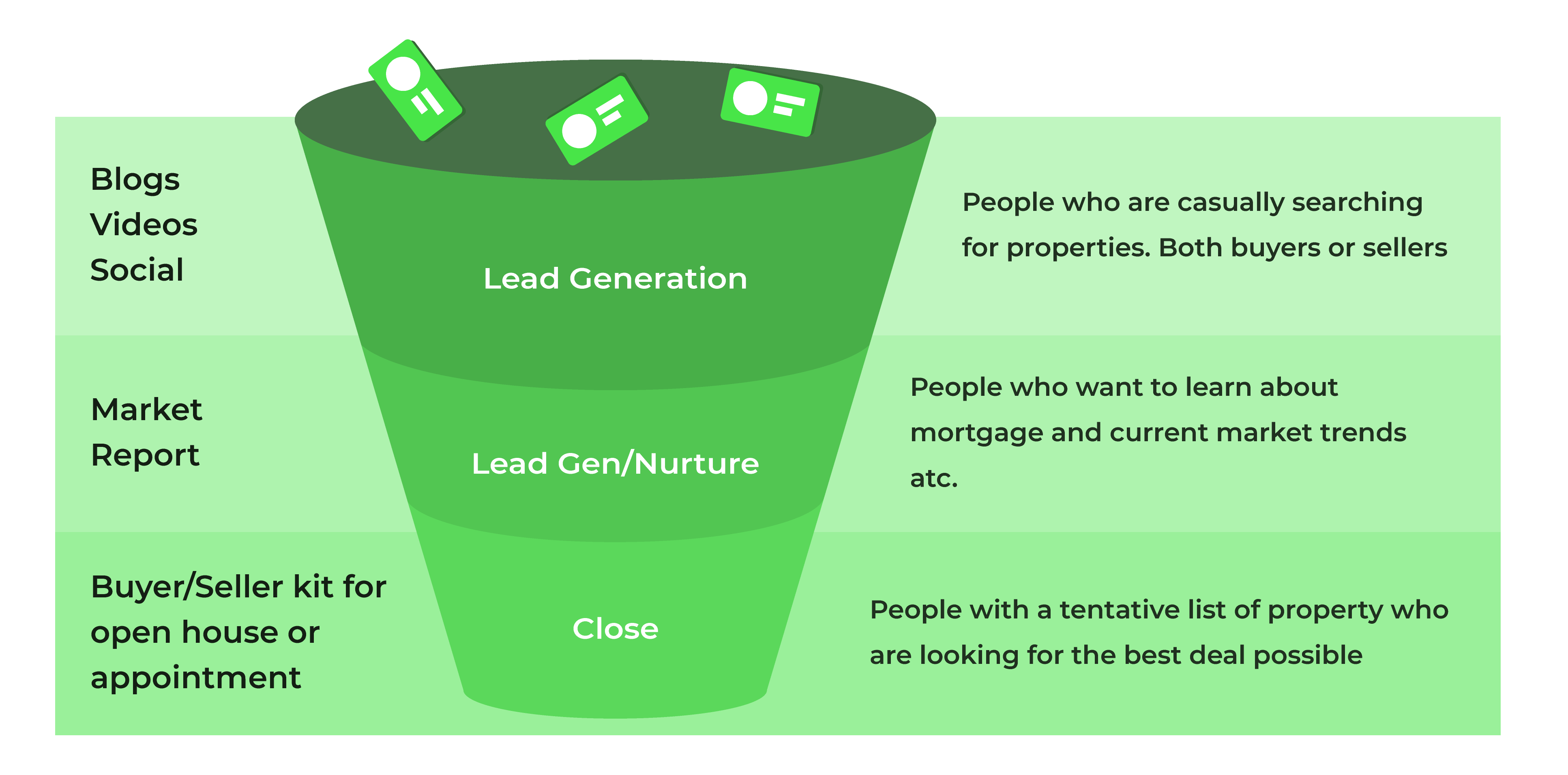 While the buyer's (or seller's) journey might have a number of steps, we have roughly divided them into 3 major stages. These are:
Upper Funnel. Leads that just started looking for properties online but do not exactly know what they want. These leads want some form of passive help to guide them about multiple things such as home affordability, mortgage, closing, etc. 
Mid Funnel. The buyer wants to buy a specific type of property and wants to learn about different types of mortgages.
Bottom Funnel. The buyer has shortlisted properties and is looking for the best deal possible. 
For an effective content marketing strategy, different stages need different content formats published at a certain frequency to attract traffic, stay ahead of the competition, and get leads. 
So what are these different content formats that work the best for real estate agents? Let's find out.
Upper Funnel Content
As discussed above, upper funnel content to gain traction from buyers and sellers is all about answering their first line of questions as discussed in one of our previous blogs. 
Unlike conventional marketing where all types of leads are acquired from ads, a content marketing strategy prevents mixing these leads. It is because Google is very smart at suggesting these content pieces to the buyers who have just started searching. 
Some important content formats for upper funnel marketing in real estate are as follows:
Infographics. Infographics are great at answering these first level questions from buyers in a clear visual style. You can create infographics on renting vs buying, selling the home before buying, and other frequently asked questions.    
Blogs. Blogs are the most popular form of content for the majority of industries doing content marketing right now. Blogs allow you to be descriptive with the text and also use inline images that help with visual demonstration.
At the same time, a single blog can post can rank for multiple queries that allow you to get to more users by spending comparatively little effort. 
Overall, blogs can educate buyers and sellers on relatively complex topics that cannot be done using infographics or social media posts. 
Some common blog topics for buyers can be home affordability, mortgage eligibility, closing costs, transfer of ownership, and much more. 
Blog topics for sellers can be created around total net proceeds, market valuation, reasons for selling in the current market, and so on. 
Live Video /Virtual tours. Live Videos have boomed during the covid pandemic due to their ability to cater to both upper funnel and lower funnel users. An open home live streaming using Instagram or Facebook can be essentially set up for a bunch of serious buyers but agents often call all types of buyers including the ones who are simply browsing through. 
For these users, the video serves as a demo of the type of properties they are expecting in a certain budget. The agents benefit by making these leads more informed and making their search more streamlined than before. 
Newsletters. Newsletters can be used to package the above content types and distribute them through emails. Newsletters are often sent to upper funnel users who might have read the blog and subscribed. The prime purpose of the newsletter is to warm the upper funnel leads by keeping in touch every month. If any of these leads decide to sell or buy in the future, the recent interactions of these leads with your newsletter can possibly turn them into customers.  
Mid Funnel Content
Mid funnel content is meant for leads who have got some level of qualification. These leads may know about the hope type they want to buy and how much of home can they afford but might need help when it comes to choosing the mortgage, finding a lender, building equity in their property, and so on. 
Some important mid funnel content formats that can be used to target these leads can  be:
Mortgage comparison chart pdfs. The majority of home buyers opt for a mortgage to buy their dream homes. This creates the need for real estate agents to come up with content that can educate the customers on the different types of mortgages, mortgage comparison charts. interest rates, FICO score, and other important factors. Educating the buyer on mortgages helps a lot to further push them towards conversion.
Market Report. Market reports are a necessity when it comes to educating your buyers and sellers about the current market trends. These reports often revolve around the pricing trends for a specific neighborhood. They can be shared as a pdf/ebook to the lead. Often the pitch revolves around the idea that why it is the best time to buy for the buyers and sell for the sellers. 
Website. These days a realtor site is integrated with Zillow, Trulia, and MLSs that can fetch real-time listings. Hence the moment the listing is live on the MLS or portal, it is also live on the website. These websites often require some kind of login to explore the listing. Hence, anybody who puts their details is captured by the 
Bottom of the Funnel Content
The bottom of the funnel content is the one that builds the brand reputation and trust of the agent. These are the content pieces that actually make up the lead's mind to choose 1 agent among others. There are 4 content types for the bottom of the funnel leads. These are:
Video Events. We have already discussed the role of Instagram and Facebook videos being used to convert leads. These videos are very helpful to pursue the leads to do business with the agent.  
Success Stories/Case Studies. Success Stories are great to establish your credibility and convince the buyer/seller to work with you. When the lead sees your competence with previous clients and how you solved their problems, it reinforces their faith in your abilities to represent their side and give them the best deal possible. Try to accumulate as many positive testimonials from your previous clients. 
Google my Business. A Google My Business Profile is more of a validation resource that allows these leads to get a glimpse of your performance with a single search. A Google My Business profile with a 4+ average ratings from 10-15 reviews really leaves a great impression on leads, especially millennials.  
Buyer/Seller pre listing Kit. A buyer seller kit is a collection of documents that establishes your rapport in front of the client. The kit may include, testimonials, your portfolio, your affiliation, your marketing plan, etc.