Thinking about hiring ISAs to expand your team? If yes, then this blog post gives you all information on the role, responsibilities, skills, compensation, training and everything else about ISAs, you would ever need.
Are you a solo real estate agent singlehandedly growing your business? If yes then, you are probably spending a lot of time juggling contacting those inbound leads, accounting work, scheduling open homes, coordinating with escrow, and probably a dozen other things!
Doing all of these tasks simultaneously can be tiring and highly inefficient for your business.
If you have reached this stage, you probably need a helping hand to take care of lead qualification, follow up, and prospecting, while you concentrate on the most important part: convert leads into customers.
In other words, it is now time to hire an Inside Sales Agent (ISA)!
Hiring an ISA could be a game changer for your business as it has the potential to save you a lot of time, boost your efficiency, and help you close more deals than ever.
In this post, we talk about how to go about hiring, training, evaluating, defining responsibilities, and compensating an ISA!
What is an ISA?
An ISA or Inside Sales Agent working in a real estate company is responsible for qualifying incoming leads, prospecting for new leads, and following up with past leads to make them sales ready for the agent.
An ISA can interchangeably be called a cold caller, lead scrubber, appointment fixer, or one of the numerous other phrases commonly used by real estate agents.
Irrespective of what they are called, ISAs can increase the revenue of your real estate business significantly by qualifying and following up with leads to help you convert better, and also help discover new business opportunities through prospecting.
An ISA may be doing a number of things depending on the specific roles they are assigned to by their respective agents.
ISAs are typically divided into two common functions. The first one (also called an FRA or First Response Agent) contacts and qualifies inbound online leads while the other does outbound prospecting by cold calling FSBOs and following up with past leads, past clients etc.
This may be a simple starting point to building your team, but we believe that there are other structures to set up your team that could be a lot more effective and efficient.
We will discuss this in the last section of this post. For now, let's zoom into the role of an ISA so that you can set the right expectations for this position.
Roles and Responsibilities of an ISA
The main role of an ISA is to transfer as many sales ready real estate leads to you as possible by qualifying new leads, prospecting, and following up with past leads.
Let's break them down further: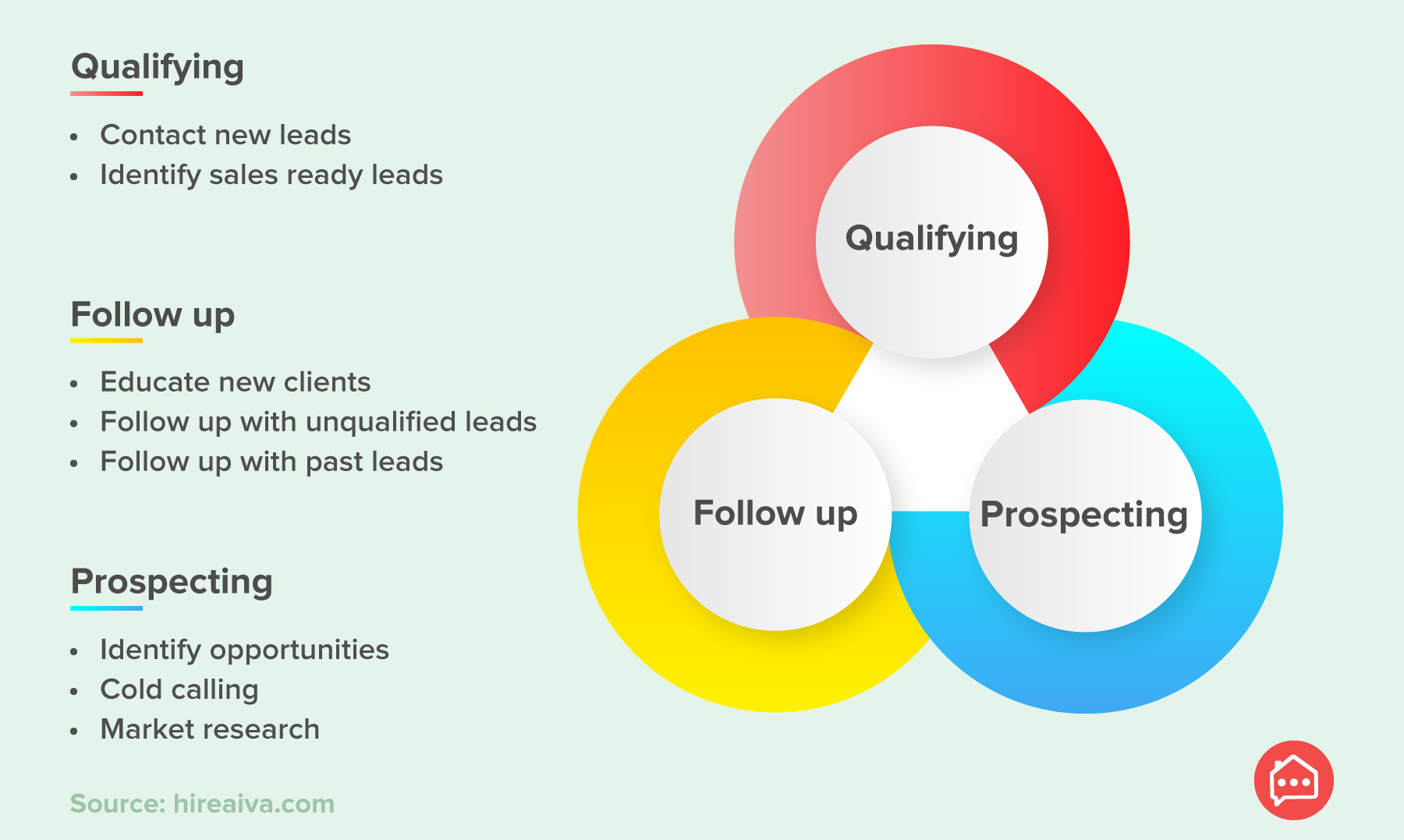 Roles and Responsibilities of an ISA
Lead Qualification
Contact and qualify inbound leads acquired from online websites, portals, Facebook Ads, open houses, postcards, flyers, etc.

Segregating leads into qualified and unqualified and feeding them into your CRM for appropriate follow up
Prospecting
Cold calling prospects such as FSBOs and Expireds

Identifying qualified prospects that are sales ready

Performing local market research to identify creative ways to target prospects
Following Up / Conversion and Closing
Convert unqualified leads into qualified ones by addressing their needs (ie. introduce them to a lender, send them listing alerts, send them market reports)

Answer follow up questions and other queries from past leads

Follow up with past clients to solicit referrals
Skills of an ISA
To excel in this role, a prospective ISA candidate must have the following skill set:
Should be an effective verbal and written communicator

Comfortable with making calls throughout the day

Should be self motivated and goal oriented

Energetic, problem solver, and friendly

An ability to handle rejections gracefully

Exceptional organizational skills

Should understand the sales process and company services

Good understanding of CRMs, drip campaigns, etc.
It is quite unlikely you will find a single person that checks all the boxes, so it is advisable that you start with hiring at least two ISAs with different personality types to find the ideal match.
How to hire an ISA?
Successfully hiring an ISA is about knowing where to look for qualified candidates and also how to properly evaluate each candidate.
Where to look for ISAs
Local College job boards. Post your job description on local college or university job boards. A lot of enthusiastic youngsters will be interested in taking up the role. You can also post a job from your side for interested candidates to find and reply to you.
Your brokerage. A good fit for an ISA is someone that's looking to become an agent themselves some day. Contacting the agent recruiting team at your brokerage to see if they can share ideas on where they recruit their agents from.
Chances are they have some interested candidates that are not yet ready to make the leap into the commission-only world of real estate but are open to working for an agent first.
Local career fairs. Another way to hire is to attend career fairs in local high schools or colleges. A lot of graduates look for some source of income to fund their studies further. An ISA could be an attractive role for them.
How to evaluate a prospective ISAs fit?
Determining the right personality type becomes extremely important for successfully hiring an ISA. Successful real agent and trainer, Brian Icenhower suggests using the DISC model to evaluate the candidate's personality type before you actually hire them as ISAs.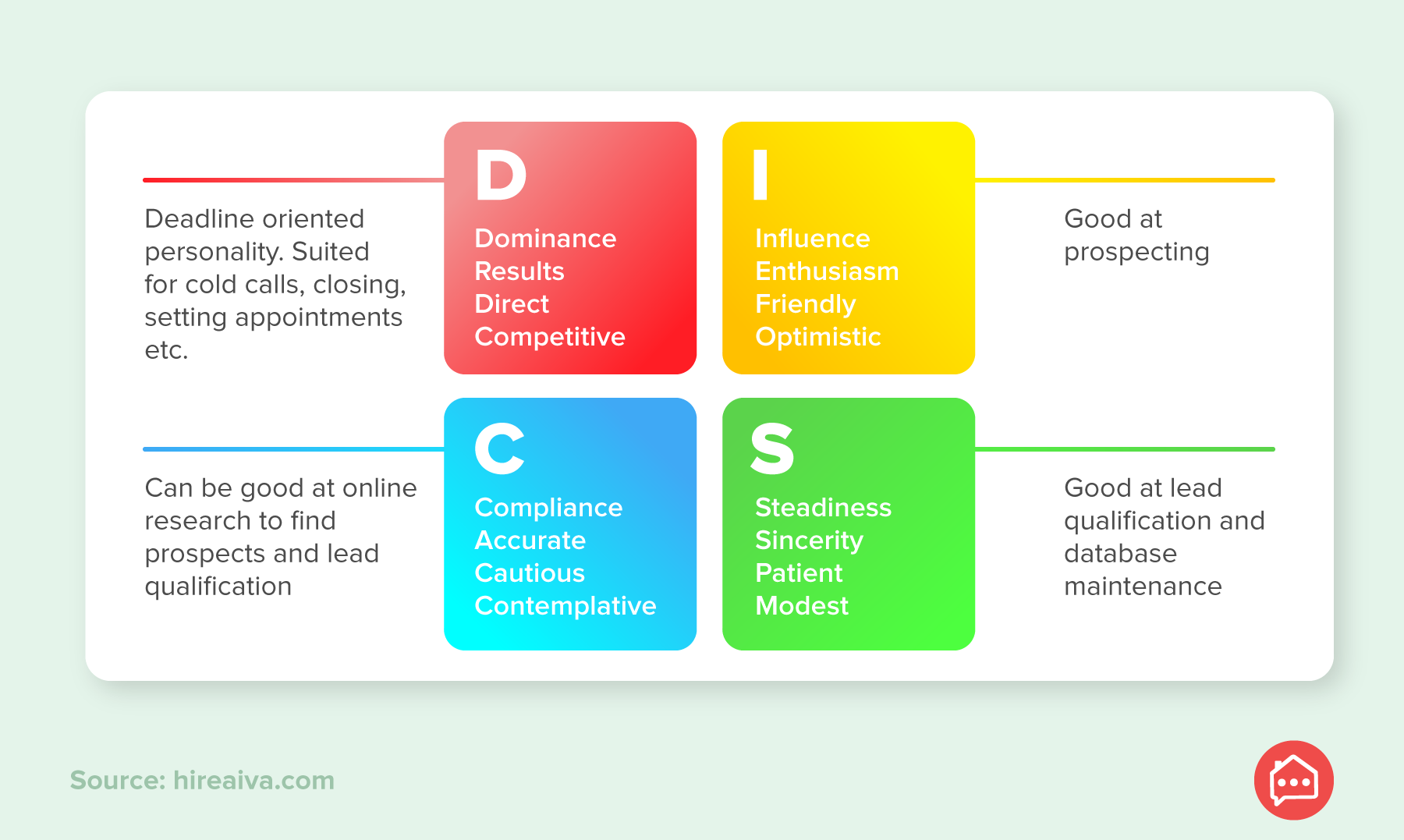 DISC model of personality assessment
You can see from the representation above, that an ISA with more Dominant behavioral traits can be a great fit for closing deals and delivering time bound results.
An Influential ISA, on the other hand, can be a highly social person and maybe a great prospector, but may not be as good as the dominant one with following up with past leads.
Candidates who are more Steady or Compliance oriented might be helpful in keeping you organized and qualifying new leads as well. They might be able to help you with administrative activities as well if needed.
Before you hire an ISA, think about your current team personality mix. If you already have an ISA who is a dominant type, then your second hire should be a cautious, steady and a risk averse personality to add balance to your team.
This online DISC assessment test can help you find out the exact personality type you are hiring.
Once you have your ISAs hired, it is now time to train them and drive results.
Training your ISA
An ISA's job mostly consists of contacting leads whether inbound, past, or cold. Hence, call etiquette, scripting, and tonality are some of the key things that your ISA training should focus on.
Popular real estate agent, Adam Bailey, shares some valuable insights on training ISAs in this YouTube video. These suggestions mostly include:
Tips to ace phone conversations and tonality

Phrasing the qualifying questions with the right tonality

Fitting the reversing question in the conversation without being annoying or obtuse

Training them to use a

lead qualification checklist

Training them to use a real estate CRM system

Supplying them with the right scripts
You should budget at least three to four weeks of training to get your ISA ready to start making calls. But how do you ensure your training is effective?
Evaluating your ISA
Evaluating your ISAs performance is critical in determining your team's success. An evaluation based on key metrics allows you to fine tune your sales pipeline and compensate your ISAs fairly. You can use these three key metrics to evaluate the performance of your ISAs:
Call to appointment ratio
Attempts per lead
Speed to lead / Average response time
You can easily measure these metrics using your CRM's features. A lot of our customers use Follow Up Boss and they frequently refer to the Call Reporting feature under to measure the performance of their ISAs.
Compensating your ISA
Assuming that you have zeroed on to the right personality type, your compensation model should reflect both a sense of safety and opportunity to your ISA.
Three common compensation models for ISAs are:
Fixed Salary (Hourly Rate) + Commission
No matter how many sales ready leads ISAs provide you, they get paid a modest, but reasonable hourly rate for the calls they are making. The rest of their compensation is in the form of commissions from the leads that you close every month that your ISA qualified and passed over to you.
Typical commission rates vary between 5% and 15% depending on your market and your ISAs hourly rate.
Fixed Salary (Hourly Rate) + Bonus per Qualified Lead
This compensation model offers a fixed hourly rate component along with an incentive bonus for every qualified lead transferred to you. The success of this model depends on your ability to track the activities of your ISAs in the lead nurturing process and specifically defining what you determine to be a qualified vs. unqualified lead.
100% Commission Model
While a lot of agents like this model, a majority of people, including industry experts dislike it. Here, the entire compensation is based on the number of leads that convert into customers. This makes the ISAs develop a tendency to focus only on the easiest to convert leads (inbound ones) and forget about the past leads that might take some time to close.
This is why a compensation model with 100% commission might not good for your business in the long run. Also, this model is highly averse for ISAs with "S" and "C" personality types on the DISC assessment. In effect, your follow up becomes a lot less effective and hurts your conversion rates in the long run.
Pitfalls to Avoid while Building your ISA Team
You should build your team of ISA with respect to your needs, budget and the efficiency you want to achieve for your real estate business. Here is a list of things that we think you should take into account while forming your ISA team.
Hiring two ISAs will allow you to bring a mix of personalities and some healthy competition into your team. Also, two ISAs with different personalities can each provide different types of insights back to you and help you determine what works best for your market.
Shifting your ISA team
According to our data, it can be established that your ISAs could be missing up to 80% of the leads in a lot of cases. This is why you should consider hiring ISAs with one doing a morning shift and the other doing an evening shift.
Lead qualification often becomes the bottleneck for growth to a lot of agents due to their lead volume. This is why a lot of agents use a lead qualification platform like Aiva that can qualify your leads 24/7.
ISAs are specialized with respect to the lead value they are nurturing. The ISA with more experience can be assigned high value leads while the one with lesser experience can handle low value leads.
Hiring an ISA might look like an easy task, but finding ISAs that can really add value to your business requires preparation, knowledge, and careful planning. By following the tips in this article, you can position yourself up for success when you are ready to hire an ISA.