Are you effectively qualifying your real estate buyer leads? Read this post to learn more about the most important qualification question you should be asking your buyer leads before engaging them further.
Real estate agents tend to agree that one of the most important stages in the home buying journey for their buyer leads is the mortgage pre approval. This is because a pre approval by a lender demonstrates a high chance of the lead converting to a client and a commission in your pocket!
However, it is essential to acknowledge that getting your clients pre approved for mortgage depends largely on your lender. In other words, your success rate is directly dependant on a third party where your influence is limited.
So, how do you ensure a high conversion rate of your leads despite being codependent on your lender?
Denial of Mortgage - A major factor that hurts real estate lead conversion
As you know, a big factor in the mortgage pre approval decision is the FICO score of the home buyer. If a buyer has FICO score less than 600, they can expect some difficulty in getting pre approved for a mortgage.

Image Credit - America First Credit Union
According to Fair Isaac Corporation, the creator of FICO score, around 20% of Americans had a credit score below 600 points in 2017, with more than 16% with serious credit delinquencies.
According to ATTOM data solutions, 34% of houseowners in American have full equity in their homes, meaning, that the remaining 66% have a mortgage that they are paying off.
Hence, when 66% of home buyers need a mortgage and 20% are unlikely to be eligible for one, you need to have some sort of filter in the lead qualification process to make sure you don't spend time with leads that are not yet financially qualified.
Ask your buyer leads about their financial status
In fact, at Aiva qualifying the financial status of buyer leads is an integral part of our real estate lead qualification process and it should be for you as well. Just asking your leads a simple question like this is sufficient:
"Have you spoken to a lender already? If not, I'm sure our team can introduce you to some great local ones!"
If the lead has already spoken to a lender or looking to pay cash, you have already crossed a major qualification hurdle, so start showing them homes! But since home buyer leads generally tend to speak to a real estate agent before they speak to a lender, chances are the lead may not be financially qualified yet and is not aware of how much home he or she can actually afford.
This is where your lender comes in. Your lender can assist with qualifying your buyer leads further by helping them complete the pre approval process and disqualifying leads that are not yet financially ready to borrow.
So how do you go about effectively incorporating a lender into your lead conversion process?
Bringing the lender into the conversation
Before you connect your home buyer lead to the lender, it is necessary that your agents send the lead a financing guide. The guide should be themed on basic information required by home buyers to qualify for a loan.
This is a great way to let your leads know the prerequisites they need to have in place for a mortgage. This will also help them streamline their application process and align expectations for everyone involved.
At the very least, the guide should cover the following topics:
Definitions for common terms such as FICO Score, interest rates, down payment, origination fee, lender credit, etc.

Documents the home buyer can gather before starting the application process

Suggestions for keeping a mortgage affordable especially useful for leads with pre existing loans
After you arm your leads with some high level context of the eligibility yardstick, you should connect them to your lender for a quick consultation call or meeting. Make it easy for the lead by sharing a link to the lender's calendar using services like Calendly or Acuity.
In addition, have the leads fill out a pre meeting questionnaire with some simple "yes" or "no" answers. You can work with your lender to create one and share it with the leads as a link to a Google Form or Typeform. The questionnaire could be as simple as this:
Have you filed your tax returns for the last two years?

Can you produce the tax returns?

Do you have a photo ID such as driving license or passport?

Can you produce proof of income such as pay stubs or recent W2s?

Is your credit score more than 600?

Are you okay with allowing the lender to access your credit history?

Have you rented a house before?

Are you ready to share your rental history or proof of payments from your landlord?
Collaborating with your lender effectively
Communication is key to success for any relationship and it is even more important here. To mutually succeed, a lender should let you know about the possibility of a lead getting pre approved beforehand. If the lead is likely to get pre approved, it is a green light for you to move ahead in the process with the buyer.
A lender should also keep you updated with the application process of the buyer. This is necessary so you can plan accordingly to schedule property visits for the buyer lead and manage your time effectively.
The best way to create a collaborative and transparent workflow between you, your lead, and the lender is by using a modern real estate CRM system like Follow Up Boss or Real Geeks.
For example, if you are using Follow Up Boss, you can invite your lender and grant him or her access to a specific lead. Under Contacts, go to Collaborator and select the person you want to include.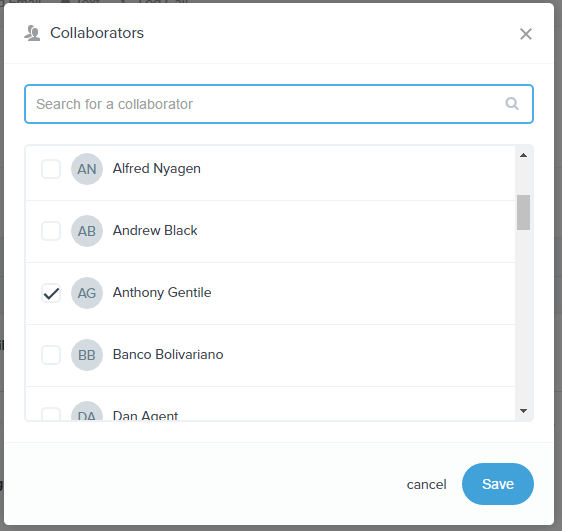 Image credit- Followupboss.com
Also, in Real Geeks, you can use the automatic Assign feature, in addition to manual assignment, to bring your lender into the loop so he or she can access the lead's information and the conversation history.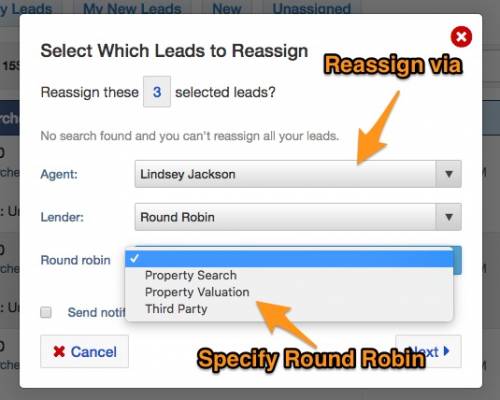 Image credit- realgeeks.com
Make sure to also ask your lender to keep these lead records updated with additional activity such as calls and meetings with each lead or updates to the pre approval process.
An effective partnership with your lender is crucial to converting more real estate leads to happy clients. In practice you should:
Always ask your home buyer leads about their financial situation as early as possible in the lead qualification process itself. If you use a lead qualification platform like

Aiva

, make sure to customize your scripts to get this question in there if it is not already.

If your buyer has not spoken to a lender already, send them a branded or co-branded financing guide connect them with your lender immediately before engaging with the lead further.

Lastly, make sure to invite the lender to your real estate CRM system so everyone can collaborate effectively to help your buyers navigate the home buying process successfully.