Are you trying to sell your home quickly and confused choosing between an iBuyer or conventional selling? If yes, then this post is a must read for you!
Selling a home is a tedious process. You must research the market value of your property, put it up on portals, schedule repairs, conduct open homes, and ready it for potential buyers hoping to get a price tag that you so desire. 
This is why sellers would rather pass the buck to an agent and pay their 6% commission to get the job done while avoiding all the hassles. But as the famous saying goes "Things should be made as simple as possible but not simpler, sellers now have an option beyond real estate agents called iBuyers who help sellers wrap up the transaction within a week or so for instant cash.  
What are iBuyers?
iBuyers, where I stand for internet, are real estate companies that buy homes online with a transaction timeline spanning not more than 10 days. Unlike traditional home valuation experts, iBuyers do not go by Comparative Market Analysis(CMA) but apply something called Automated Valuation Model or AVM to evaluate properties. 
Let's understand how iBuyers work and how AVM helps them achieve their goals. 
How do iBuyers Really Work?
iBuyers works based on the data and information provided by the seller on their websites. 
The first step is to put the property address in the address bar 

The seller shows his property by a live walkthrough and uploading pictures of the property features. 

The AVM takes all this information into account, looks into the property prices for similar properties in the same neighborhood, analyzes the property price appreciations according to the zip code. 

An iBuyer can also take into account the details of the home features such as brands of appliances, their capacity, and other factors as well.

Finally, the company gives you an initial offer with the total valuation of the property, their service charges, and the total net proceeds the seller is going to make. 

A home assessment and inspection by the iBuyer is done and a final offer is made to the seller

The closing date is selected when the deal is signed and the amount is transferred to the seller's account. 
The AVM performs a calculation considering a number of variables and then suggests a price tag. iBuyers believe that AVM does this job meticulously and outperforms the CMAs in the majority of the cases. The following illustration shows how iBuyers work.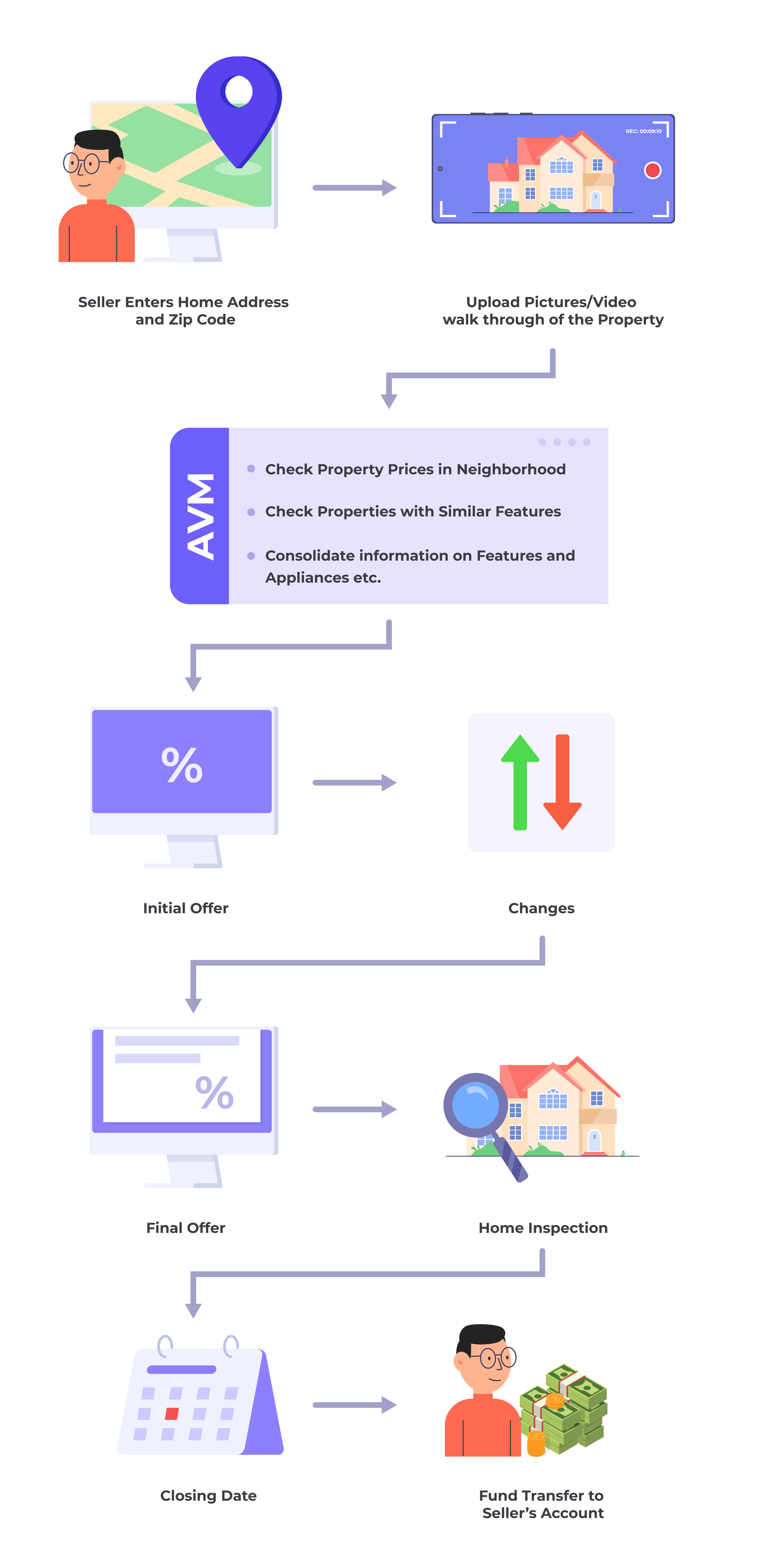 While the iBuyer buzzword is mostly associated with selling homes, their spectrum of services spans beyond buying home alone. Additionally, not all iBuyers buy the same types of properties. Some are very strict when it comes to the age of the property while others try to speed up the transaction and let the sellers get the best deal as quickly as possible. 
A company called Knock which often appears amongst the name of iBuyers, differs from the typical iBuyer model in the sense that it does not purchase the property over the internet. Instead, it allows home buyers to get a mortgage in order to get their new home while the company pays the mortgage for the old home for a certain time, till the time buyers take on the first mortgage and their old property is sold. 
This way buyers do not have to miss out on their favorite properties while waiting for the mortgage approval and do not worry about taking up two mortgages at the same time. 
Overall, there are 5 major companies that are active in this space. Let's look at how they stack up against each other. 
Major iBuyer Companies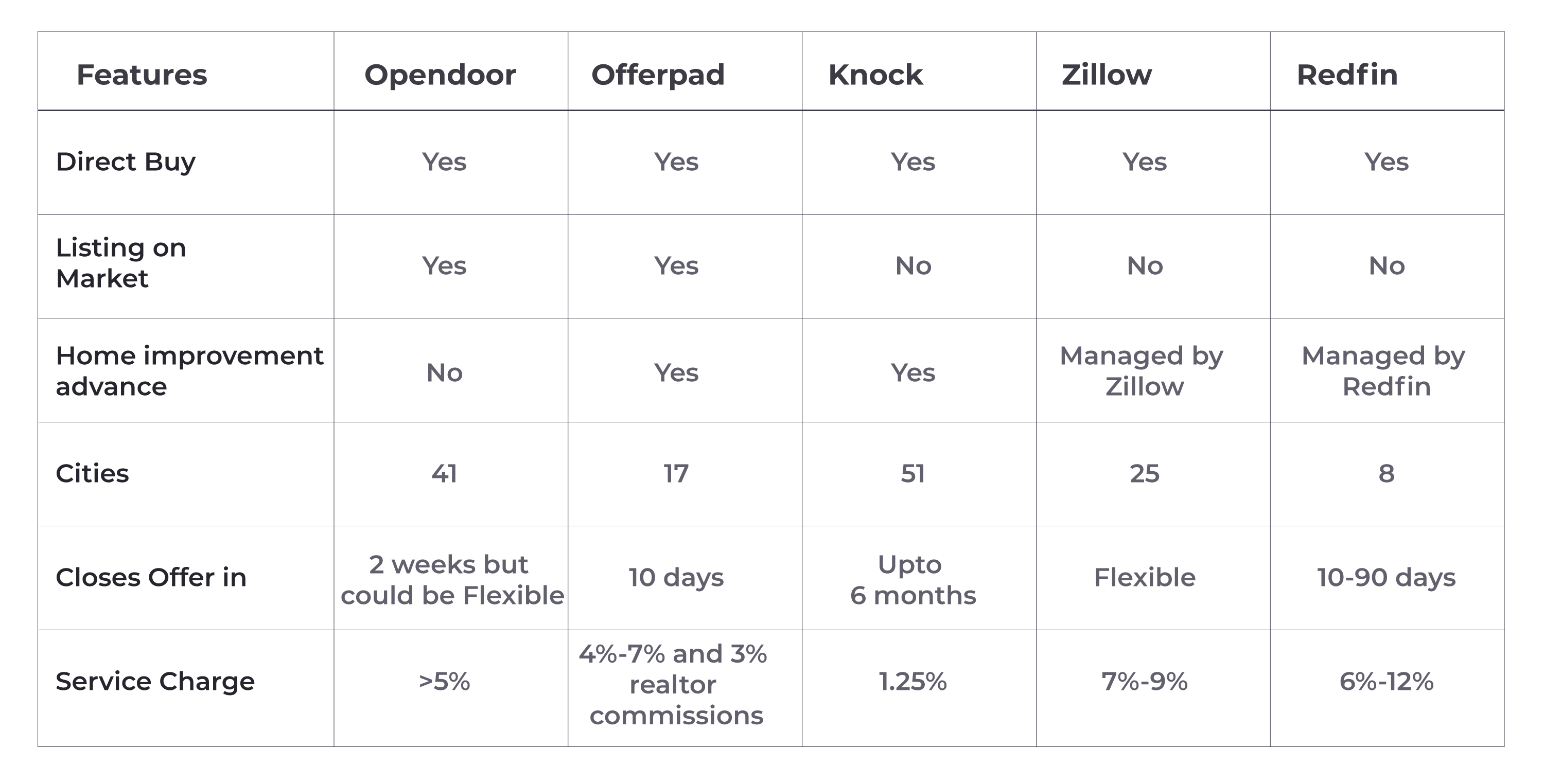 Opendoor. Opendoor is the biggest name among all iBuyers in the country with its operations spanned across 41 cities.
Selling to Opendoor requires sellers to upload their address and property details on their site. This is usually followed by an initial cash offer that is made within 2 days. Opendoor services charges generally stay below 5% which makes it the most cost effective among other iBuyers. However, the company does charge a significant repair cost that you may find on the higher side of the spectrum. 
Opendoor works directly with buyers as well as agents. Hence, if you have an agent managing the sale on your behalf, Opendoor will work with them as well and pay 1% commission on top of their regular commission from the sale. Since Opendoor also sells properties to buyers, it pays the commission to a buyer's agent (if they have one).
There are 4 types of property Opendoor buys. These are:
Single Family Homes

Townhomes

Duplexes (Certain Markets)

Condos (Certain Markets)
Offerpad. Offerpad is often the second name that appears in the list of iBuyers after Opendoor. Operating in 17 cities, the company buys single family homes, townhomes, and condos. 
The steps to sell a home are similar to other iBuyers, where the seller uploads the details of their home that allows the system to evaluate and present an offer. Offerpad usually comes up with the initial offer within the first 24 hours from the time a request is submitted.
Sellers can expect to pay a service fee of around 10% with Offerpad which includes the realtor's commission incurred. 
Knock. Like we already mentioned, knock differs from the typical iBuyers by being a transaction facilitator. It finds the best deal for the seller and the buyer by offering the property on a non contingent offer while also taking on the burden of the second mortgage from the seller's shoulder. 
Knock is also special in the sense that it allows a flexible transaction timeline of up to 6 months that really helps the seller get the best deal possible. Knock charges 1.25% of the total property value as their service charge.
Zillow Offers. Zillow Offer gives a lot of flexibility as far as the closing timeline is concerned. 
The selling process is similar to other iBuyers where sellers upload the pictures or videos of their property to receive an initial cash offer which is later followed by an in person inspection after which comes the final offer.
Zillow provides a 90 days closing window with the ability to close in 7 days. One of the best things about Zillow is its support service which is one of the best among all iBuyers. 
However, as far as charges are concerned Zillow comes at the top for being the most expensive of all iBuyers. You can expect around 12%-15% in most cases after considering the realtor's commissions, repairs, and other costs. 
Redfin. The Redfin iBuyer program is different from other iBuyer programs. The purchase criteria are not as rigid as other iBuyers as they purchase properties in poor conditions as well. Together with the repairs and everything the charges can go up to 12%.
Advantages of Selling your Property to an iBuyer?
There are many advantages to selling your property to an iBuyer. These are:
Quick Close time

You have control over the sale timeline

Most iBuyer companies get you interested buyers

You do not spend on pricy open home events

No compromise on privacy spent on multiple showings

No need for CMA or listings
Disadvantages of Selling to an iBuyer against Agents
Lower Net Proceeds. iBuyers gives limited exposure to your property, unlike traditional agents. Agents are neighborhood experts and they can reach many buyers who could be interested in the property and pay a higher price.
Less Ownership and Bargain.iBuyers do not represent your side unlike a professional agent does. A real estate agent will do everything that boosts your property value and leaves you with the maximum net proceeds possible. 
Lack of Control. With iBuyers, the seller is not in control as much as they are, when working with a real estate agent. As a seller, you can easily increase or decrease your property price or schedule repairs or anything that can potentially get you a better deal. 
When is it best to go for an iBuyer?
iBuyers should be preferred when you have got a limited amount of time to sell your property and move. These are: 
You want to sell it quickly for the least amount of effort

Relocating for a new job to another state

If you want to gain quick equity on a new property you are planning to buy

You are getting divorced and want to divide the assets as quickly as possible

You are located somewhere else and want to sell. Although you would still need to upload pictures or videos of your property

You want to sell an inherited property that you are not planning to move into
iBuyers present sellers with a convenient way to sell their property within a short period of time. However, they come with their own limitations. A real estate agent with his expertise and experience will always give you the best suggestion to boost your property value and get you a higher net proceeds.