Planning to track the right metrics to accurately measure your performance but clueless on how to get started? If yes, then this post helps you in coming up with the right metrics that you should measure.
Performance measurement in real estate is of paramount importance for agents. Irrespective of the fact that you are a single agent or leading a team, tracking performance using actionable metrics is the only way to improve your conversion rate. However, it is easier said than done. There could be a number of metrics and filtering the right ones out of them needs some brainstorming. 
In this post, we will propose a framework that points to the metrics that truly reflect your performance. We do this by jotting down 5 essential questions that every realtor ask themselves from time to time. This is followed by mapping these questions tot the respective stages of the funnel and then deriving a meaningful metric. 
Let's start with the questions first. 
The 5 essential questions that take you to the right metrics
One of the best ways to reach and filter out the most important metrics is to prepare a list of questions that any agent would think about when thinking about their performance. The idea is to relate these questions to the respective stages of lead follow up. 
Once we do that, we reach into factors that can be numerically measured which will be nothing but the essential performance metrics. From our experience of dealing with agents, we could think of 5 such questions. 
Am I calling my leads fast enough?
Speed to lead is important and we would all agree to that. Afterall, the first thing you do after the lead comes in is to contact them as soon as possible.
Am I missing leads when I am out for meetings or with family?
Smart agents set lead routing rules in their CRMs to avoid missing any incoming leads. You may already know that each Zillow lead can cost around $50 to acquire which makes it extremely important to follow up with each and every lead. 
Am I putting enough efforts to follow up with my leads?
A majority of leads, as you know, may need more than 20 calls to convert. And thus tracking your efforts and persistence is also important. Follow up is the most tedious part of the process and it is essential to track it to make improvements. 
Am I focusing on the right leads?
One of the major things about lead conversion is your ability to identify the right leads. An ability to segregate useful leads from time wasters will affect your performance by a great degree.
How effective are my lead conversion efforts?
The last factor talks about your conversion rates which makes it the most important of all. There could be 3-4 performance metrics to answer this question to reflect your performance.
Now that, we have jotted the questions, let's look into the 4 stages of the lead conversion process. 
4 stages of lead conversion and mapping them to the questions and metrics
The lead conversion process can be segmented into 4 parts and can effectively point you towards the most important performance metrics. These are:
Make contact:

The process of

calling leads immediately

after they show up in the system.

Consistent Follow up:

This step refers to the distribution of leads and the

frequency of follow up

made to convert them.

Qualify:

 This step refers to the

number of leads that

are now transaction ready after follow up. 

Convert:

The number of

leads who have signed the deal

and bought a home.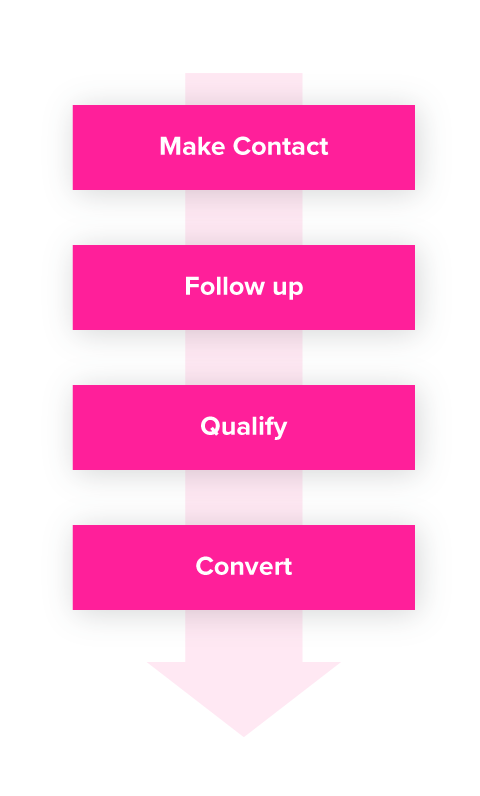 You can see that we can map the 5 key questions to the lead conversion process pretty easily. This provides you with a visual map of the questions and their relevance across 4 stages of lead conversion.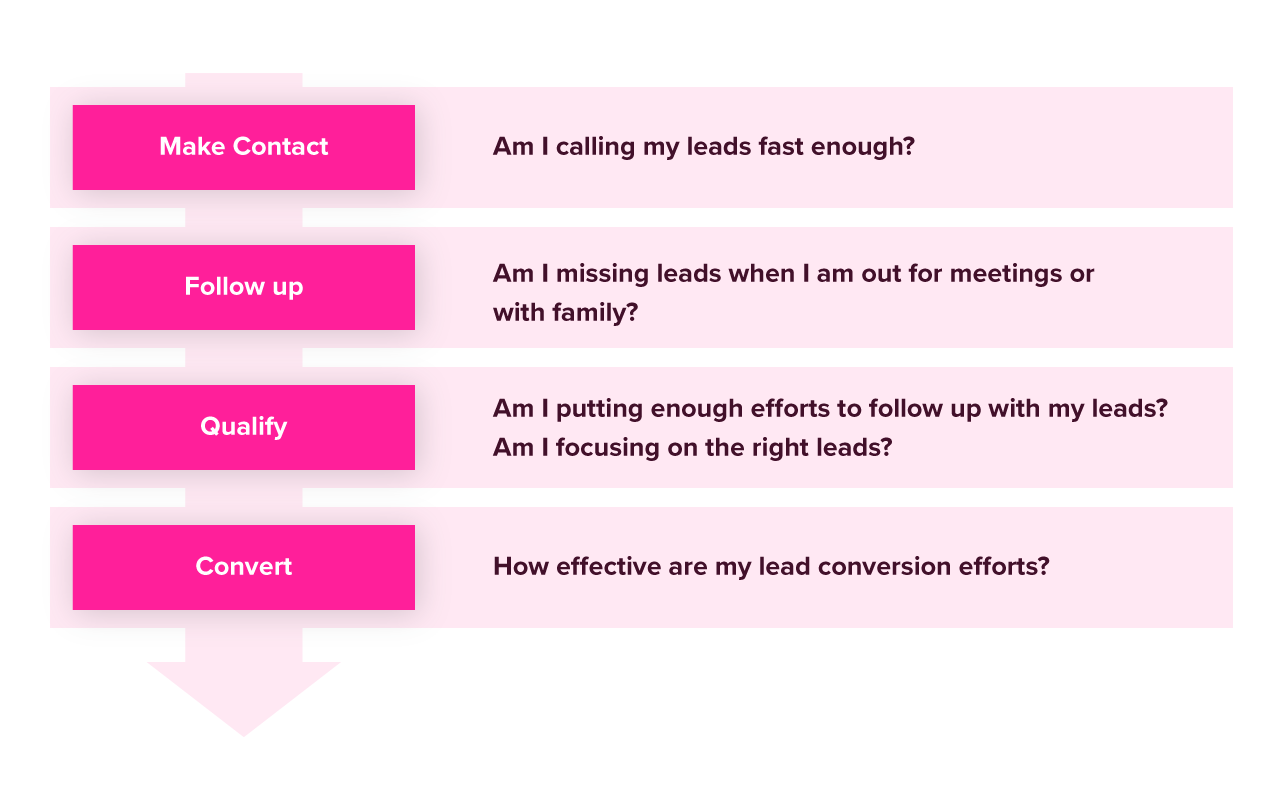 We can easily derive the metrics once we have mapped the questions to the stages. Here you can see that contacting the lead for the first time relates to speed to lead metrics. 
Following up relates to contact attempts while qualifying leads is mostly about attempts made to push as many top of the funnel leads and making them sales ready. Last but not the least, convert relates to conversion metrics that talk directly about conversion rates, deal value, etc. 
Let's map the metrics to the questions and the stages of lead conversion.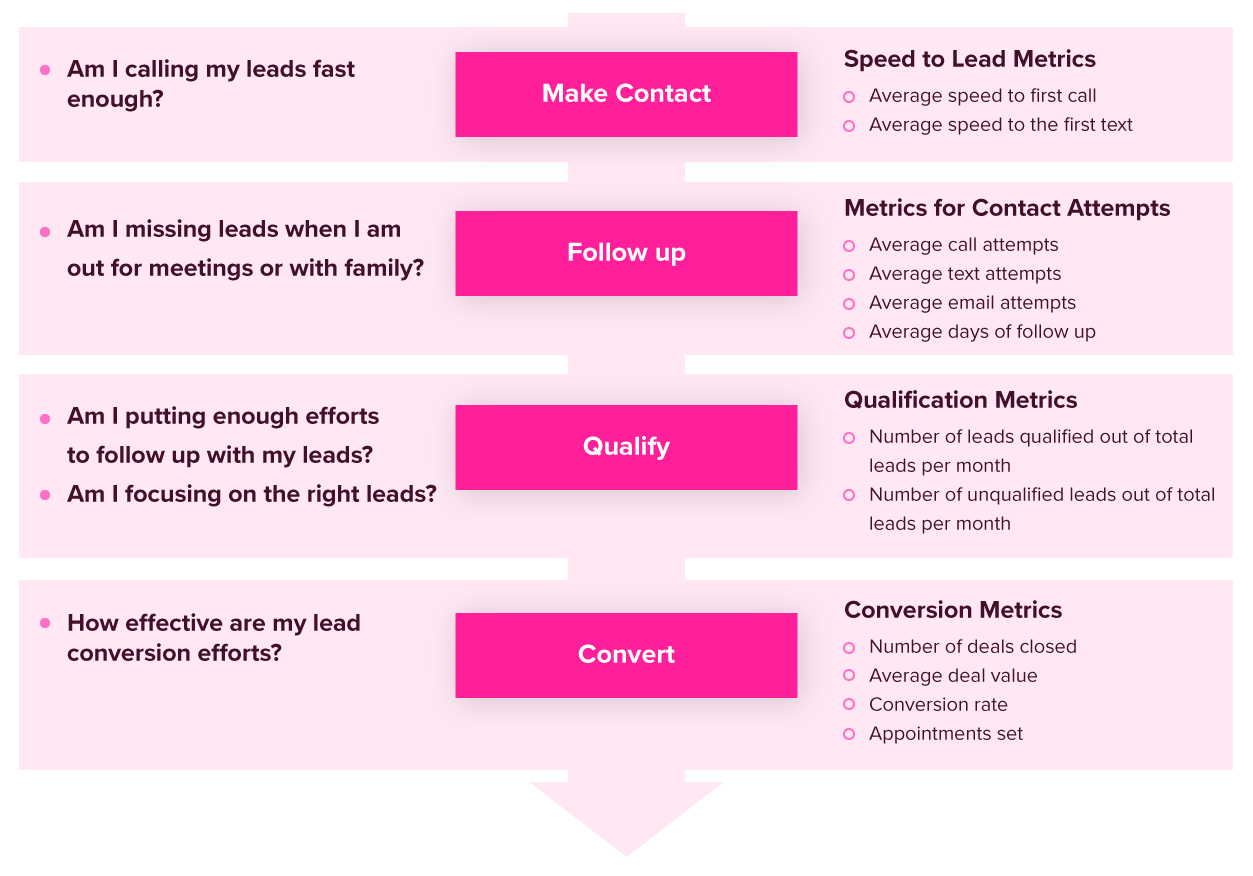 Definition and calculation of the 4 types of performance metrics
Speed to Lead Metrics:
Speed to lead metrics shows your promptness in following up with your leads. Good speed to lead looks like 2-3 mins after the lead has shown up in the system. 

Average speed to lead can be calculated by adding the total time spent in qualifying a lead for the first time for all leads and divide that by the total number of first contact attempts. Make sure to omit calls that did not connect.
Metrics for Contact Attempts:
Metrics for contact attempts show how persistent you and your team are to qualify and convert leads.

Average contact attempts can be separately calculated for calls, emails, and texts. For example, average contact via calls can be calculated by total call attempts to all the leads in a month divided by total leads. The same goes for emails and texts. 
Qualification Metrics:
Qualification Metrics reflects the degree by which you have been able to push your top of the funnel leads towards a transaction.

You can calculate the number of qualified leads from your sales funnel. Count the number of leads under "currently showing" at the end of the month and find out how many of them were under "nurture" when the month started.
Conversion Metrics:
Conversion metrics show how successful your overall attempts to attract the right leads and successfully closing as many deals as possible. 

You can calculate your conversion rate as total leads closed for the month /total leads acquired for the month X 100

The average deal value can be calculated by adding the total monetary value of all closed deals divided by the total number of closings for a month.
Tracking your performance is important to measure the effectiveness of your lead conversion strategies. I hope you find the insights in this post useful for your real estate business.