Learn about how our new real estate lead conversion analytics dashboard can help real estate agents keep tabs on the most important real estate agent performance metrics.
Real estate lead generation and conversion is an iterative process. First, you start small by investing in a single lead generation source like Zillow, Facebook, or Realtor. Then you proceed to contact leads yourselves to determine what tactics work best. Once you close a deal and start to get some ROI, you focus on streamlining and automating as much of the process as possible to help the system scale.
Over the last three years, we have spoken to many real estate agents who invest in online leads and their lead generation stories are never as simple as the one above.
We've heard stories of agents investing in lead sources for two years without ever converting a single lead and on the other end agents that have successfully scaled up their ad spend from $1,000 to $25,000 a month over a period of 6 months.
We found the key difference between agents who were successful with online leads and those who were not was how well they track their lead engagement and conversion numbers.
Specifically, we identified four different lead conversion metrics that agents should be religiously tracking in their lead generation efforts.
Lead Response Rate
The first step to converting a lead is getting in touch with them or, in other words, getting them to respond to you via phone, email or text. You can't close a deal if you aren't able to get your leads to respond in the first place.

At Aiva, we use a rigorous and disciplined lead contact strategy to maximize response rates by texting leads within 2 minutes 24/7 and following up with them for up to 90 days.
Our research indicates that response rates can vary significantly by lead source. In fact, we have seen agents generate response rates of up to 90%, specifically for portal leads from Zillow and Realtor.com, all the way down to 40% for Facebook leads.
A good benchmark you should set for your team is a 50% response rate or in other words, 1 in every 2 leads you generate should be able to convert to a conversation.
How do you fix low response rates?
If you rely exclusively on your agents to manually follow up with leads, your response rate should give you a good indication of how productive or persistent your agents are.
A low response rate generally indicates your agents are not persistent enough with your leads in terms of follow up. In this case, you should consider coaching your agents to be more persistent or improve their follow up discipline.
If your team is already following best practices for engaging real estate leads and yet, continues to experience a low response rate, this generally indicates that your leads are simply too early in the buying process and are not yet ready to talk to someone.
Depending on how patient you are with your marketing ROI, you can either switch to a higher quality lead source like a Zillow or Realtor.com or move your unresponsive leads into a longer term (ie. 6 to 9 month long) nurture process using emails, calls, and postcards.
Lead Qualification Rate
While the response rate is useful in determining how effective your agents are at contacting your leads, lead qualification rate helps you measure lead quality. A qualified lead is someone who is, or has a high likelihood of becoming, ready to transact very soon.

When you think about a qualified lead you should picture a lead that is looking to buy in the next 2-3 months, has already been pre-qualified or pre-approved, does not have an agent, has a rough sense of where they'd like to purchase their home, and has a realistic budget in mind for their preferences and criteria.
If you are not already qualifying your real estate leads across various criteria like budget, timeline, readiness, finances, you should be! Train your team to ask qualifying questions to your leads and mark each lead as qualified or unqualified by tagging them appropriately in your CRM or lead management system.
Qualification rates for lead sources can vary between 80%, for portal leads from Zillow and Realtor.com, and 20% for Facebook leads.
A good benchmark you should set for your lead sources is a 30% qualification rate or in other words, 1 in every 3 leads you speak to should be qualified.
How to fix low qualification rates?
Unlike low response rates which can largely be fixed with better follow up discipline, qualification rates are generally dependent on your lead sources.
If you find your team experiencing lower qualification rates than you should be, consider switching lead providers or improving your marketing tactics (ie. Facebook ad targeting, landing page questions) to ask more qualifying questions up front.
This will allow your agents to focus more time chasing down leads that are already qualified leading to less time wasted!
Busiest Days and Times For Leads
In addition to lead response and qualification rates, you should also keep tabs on what days and hours are the busiest for your team from a lead generation standpoint.
It is important to track both these metrics so you can properly plan your team's availability and ensure your processes align with when your leads come in.

For example, if you find that the majority of leads you generate respond after business hours and your agents clock out at 5p, you should consider switching up your team's hours to align better with your leads'.
Our research indicates that over 80% of real estate leads come in outside of business hours and on weekends. This means you should generally expect your team members to work on a shifted schedule to cover weekends and weeknights to maximize lead conversion rates.
Phone Number Types
Another useful lead conversion metric agents should be tracking as well as the type of phone numbers their leads submit. Specifically, you should be measuring:

What percentage of your leads submit a valid cell number?

What percentage of your leads are missing a phone number?

What percentage of your leads submit a landline number?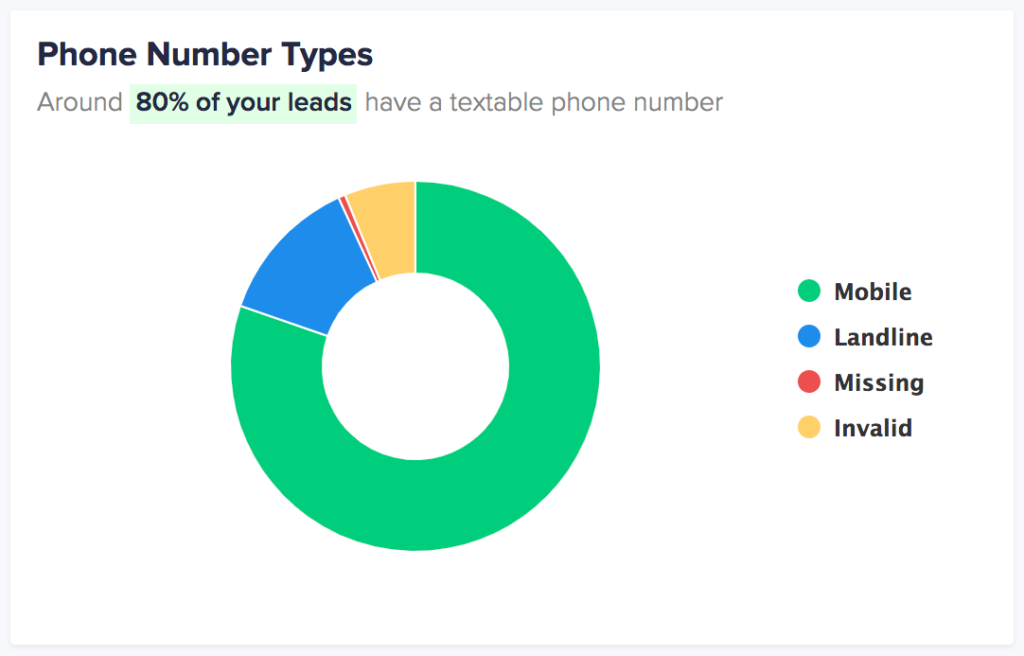 You can easily check the type of a phone number a lead submits by using a free service like Phone Validator or White Pages Phone Lookup. Ask your agents to make it a habit of checking a phone number type before contacting a new lead and tagging the lead appropriately in your CRM or lead management system.
Leads that submit a cell phone number are generally a lot easier to get in touch with because you can text them! Text messages have the best open rates and are much more effective at converting real estate leads into appointments than any other channel. You should expect the vast majority of your online leads to be submitting a cell phone number.
What about non cell phone numbers?
Leads that submit a landline phone number tend to convert at a lower rate than leads that submit a cell phone number. This is because getting in touch with someone with a landline requires them to be at home and you're limited to calling as the only means of contact.
In addition, landline ownership is steadily declining and most owners of landlines tend to be much older than those submit a cell phone number. If you find yourself generating a lot of leads with a landline number, update your lead capture forms to specifically request your leads to enter their cell phone number.
You should avoid, at all costs, leads that do not submit any phone number. While email marketing is useful for nurturing leads over the long term, email response rates are negligible as compared to those of texting. You should make sure you are requiring leads to enter a phone number in all your lead capture forms.
You should work toward having at least 80% of your leads submitting a cell phone and 0% of your leads not submitting a phone number.
Aiva Analytics Dashboard
After speaking to thousands of agents about their lead generation stories, we built the Aiva Analytics Dashboard to help agents track the most important metrics and use the information to quickly maximize their lead conversion rates.
Specifically, the dashboard allows agents to:
Measure lead response and qualifications rates by lead source

Measure busiest days of the week for leads by lead source

Measure busiest hours of the day for leads by lead source

Measure phone number types by lead source

Measure the type of leads generated by the lead source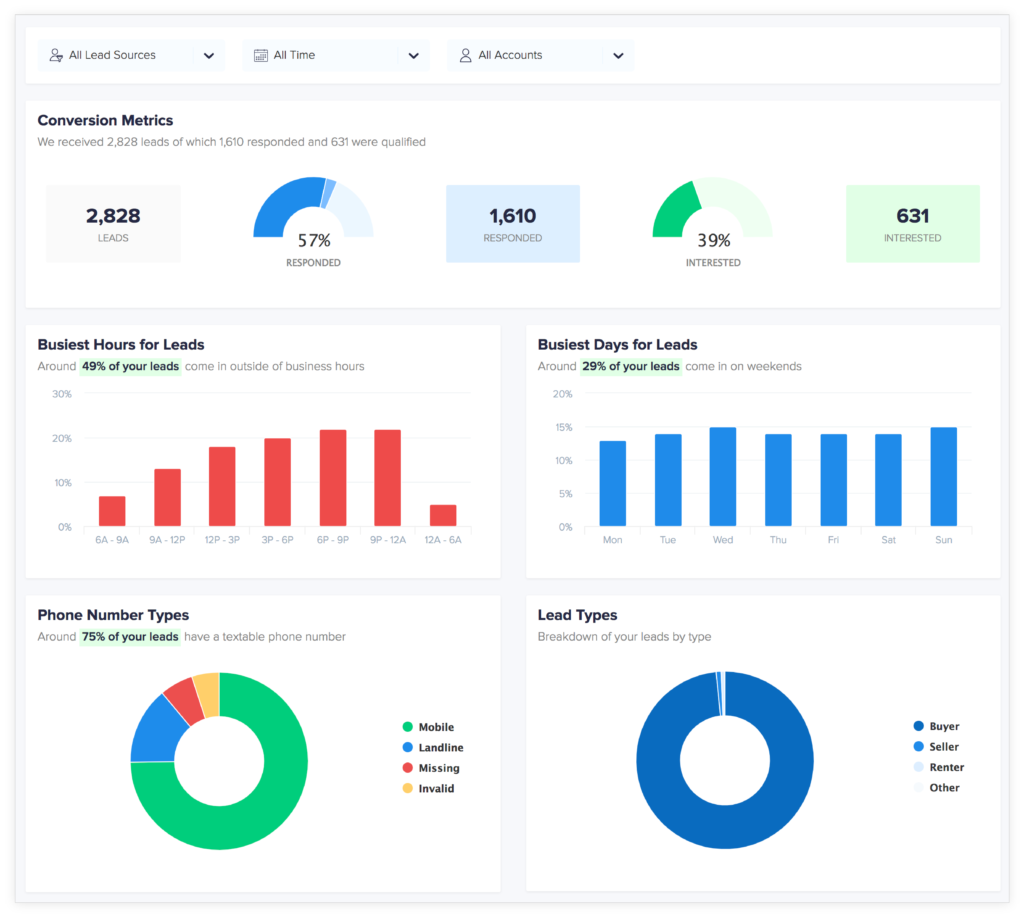 With the new Analytics Dashboard, we hope to provide agents like you with the right data you need to make important business decisions about your lead sources, team processes, and lead generation tactics to maximize your lead conversion rates!