Learn how to fine tune your real estate lead text messaging strategy to build a powerful home buyer appointment setting machine.
It is no surprise that texting has indeed emerged as a highly effective medium to reach leads and generate replies as well. According to a report from Mobile Marketing Watch, texts have an open rate of 98% and only 1% of texts are marked as spam. That is nothing short of incredible, especially compared to that of emails!
One of the best ways to validate this fact is to follow industry leaders such as Mitch Ribak, Tom Ferry, and Brian Icenhower. Almost all of them agree that texting has become one of the best ways to follow up with your leads and have their own texting scripts as well.
In fact, our research on the effectiveness of calling real estate leads revealed that only 3% of calls to real estate leads receive a positive reply, while a whopping 97% just end up in the voicemail box, "call me later", and "don't bother me"  requests.
While it can be established that texting is a highly effective way to follow up with real estate leads, not all text based follow up campaigns are effective enough to generate a response. Comfortable with calling leads, a lot of agents do not understand the nuances of texting and fail to generate the response rate they need to convert effectively.
In this post, we will talk about how to turn your text messaging into an appointment setting machine.
Focus on Personalization
The first challenge is getting your buyer leads to respond to you. Most agents use some form of an auto-response text message to engage leads. Real estate leads are incredibly wary of receiving text messages that even remotely look like an auto-response.
Personalizing your communication is a proven way to deliver better email open and response rates, thankfully it does for texting as well. Also, personalization is key to differentiating your text message from an auto response text.
According to a report from Evergage, 9 out of 10 marketers say that their customers expect a personalized experience across digital channels, and from our experience interacting with over half a million real estate leads at Aiva, we can validate that personalization works wonders for response rates! In fact, we found that personalized text messages generate 1.5x the response rates as generic text messages.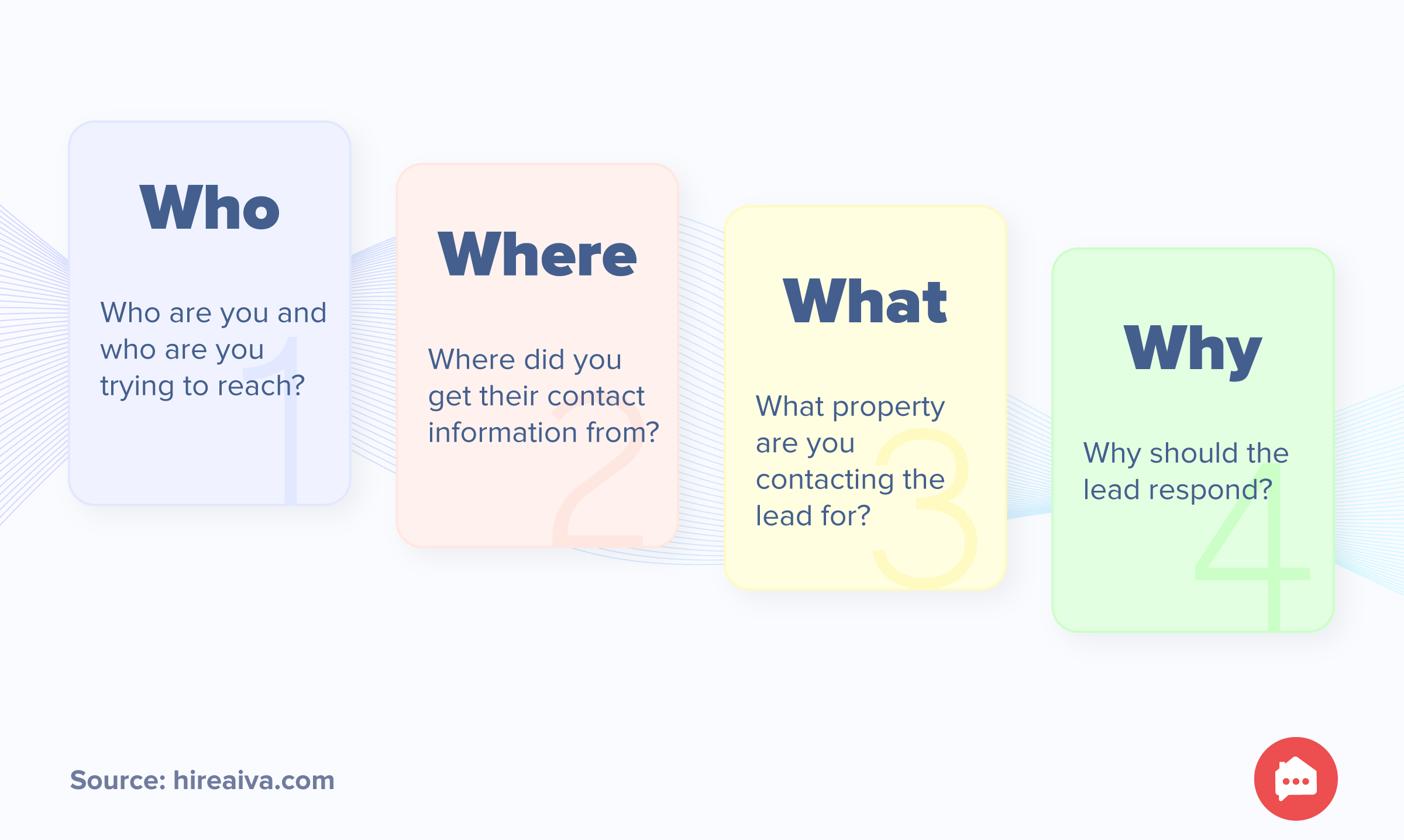 So how do you go about personalizing your text messages? Use the 4Ws of personalization!
Who? Who are you and who are you trying to reach. Not only is using the lead's name in the text message important, using your full name and company or brokerage name is absolutely crucial.
Hi Jerry, this is Sarah Englewood from Livewell Realty ...
Where?

Where did you get their contact information from. Leads can be suspicious of receiving messages from unknown numbers, so tell them where you got their information from.
Hi Jerry, this is Sarah Englewood from Livewell Realty, I saw you submitted your information on our website at LivewellRealty.com ...
What?

What are you reaching out to the lead about. Let the lead know what prompted you to reach out to this lead. Mentioning a specific property address or the nature of the lead's request should be sufficient.
Hi Jerry, this is Sarah Englewood from Livewell Realty, I saw you submitted your information on our website at LivewellRealty.com and wanted to schedule a tour for 123 Elm St.
Why?

Why should the lead respond to you? Give the lead an incentive beyond just a "

Hey we're reaching out to you to see if we can be helpful

". Ask a specific question the lead can respond to easily.
Hi Jerry, this is Sarah Englewood from Livewell Realty, I saw you submitted your information on our website at LivewellRealty.com and wanted to schedule a tour for 123 Elm St. When's a good time for you to view this listing?
If you are in a hurry, download this ebook to access a list of essential scripts tailored for inbound and outbound leads.
Keep your Conversation Quick and Simple
The first conversation you have with your lead can form a strong impression of you and your team in your lead's mind so it is important to get it right. So how do you go about effectively managing your text conversations?
Use Yes or No questions when possible
For your leads, answering a yes or no question is always easier than answering an open ended one. Your text messaging should follow the same principles.
Bad:
Which locations are you looking at properties in?
Good:
Are you looking at properties in this specific neighborhood only?
As you can see, answering the first question will require the lead to type out the names of each neighborhood they are looking at properties in, whereas, the second one allows them to respond with a simple Yes or No. Based on their answer you can ask the lead further questions to qualify them.
One Question per Text Message
Make sure you ask only one question for each text message.
I was curious what piqued your interest in this property? Also, have you thought about a budget you'd like to stay within?
Not only this text has two questions put into one but also asks for a lot of details that could be subjective to the buyer. This message is unlikely to get a response that you are looking for.
A better way is to wait for the buyer to answer the first question and then ask them about their budget in the next message.
Agent: I was curious what piqued your interest in this property?

Buyer: (Gives details)

Agent: Ok Great. So one more question, have you thought about a budget you'd like to stay within?
Don't Promote Yourself
Never promote yourself during your first interaction with a real estate buyer lead. No lead is ready to hear a sales pitch from a stranger right off the bat, they are simply looking to get more information or schedule a viewing.
By the way, we have helped over 2,000 homeowners find their dream home across Madison County with a consistent 5 star rating on Zillow! We can definitely do the same for you!
A message like this is likely to turn off your buyers from responding back to you.
Remember that your buyers need someone they can trust to guide them appropriately at the beginning of the relationship. They must be able to put their faith in you and believe that you will take care of their interests, walk them through the potentially complicated and stressful process of buying a home, and give them the best value for their money.
Your first conversation should purely focus on gathering information from your buyer lead to understand his or her situation and get them to book an appointment with your team.
Use Links to Demonstrate Value
As you learn more about the lead by asking them questions, their answers will help you understand how close they are to transacting or where they are in the real estate buyer timeline. For example, if your buyer is still thinking about which neighborhood to buy in, send them a link to your neighborhood guide to help them understand the various options.
Part of building trust with your leads is about showing value in subtle ways. Use links strategically in your text messages to help educate your buyers, show them your value, and push them down to the next stage in the funnel so they are ready to transact.
Send them a neighborhood guide
Agent: Have you narrowed down your search to just this neighborhood?

Buyer: No, we're still thinking about where to buy
Agent: Got it! We've put together a handy neighborhood guide on our website at bit.ly/2NiXqUh
Send them a financing guide
Agent: Have you spoken to a lender yet?

Buyer: Not yet, we don't really know how that process works

Agent: No problem! We'd be happy to introduce you to some local ones, meanwhile, we've also put together a home financing guide here -- bit.ly/2Guh7rr
Using links strategically in your text messages can help you educate your leads, show how valuable working with you can be, and move them down the real estate buyer timeline strategically.
Set the Appointment
Once you've asked your lead all the relevant qualification questions, you should attempt to book the appointment. However, your phrasing can make or break your conversion rates because not all real estate leads are ready to talk to someone or book an appointment right away.
Agent: Great! How about I get our agent to give you a ring in the next 20 minutes to chat?

Lead: Sorry, I'm not ready to talk to anyone yet, give me some time I'll reach out when I'm ready
You should make it easy for the lead to book an appointment and also give them a way out. One way to achieve this is by sending your lead a link to your calendar to book time themselves when they're ready:
Agent: Great! Our team offers a free home buyer consultation for prospective buyers like yourself. When you're ready, feel free to book time on our calendar over here --- bit.ly/livewell-appt
If the lead is ready, they'll book a time right away. If they're not, they'll thank you, but at least they have the link to book an appointment with your team in the future on their phone.
In addition, sending them a link to book an appointment reduces unnecessary back-and-forth on finding a mutually convenient time.
Conclusion
While most agents use text messaging to communicate with their leads, we have found that very few follow best practices which can hurt response rates which leads to fewer appointments and conversions. With the right messaging strategy in place, you can turn texting into a serious appointment setting machine.