Tired of going back-and-forth with your leads to try and schedule a listing appointment? Have you experienced double bookings and no-shows? Learn how calendar service apps can help you solve your scheduling woes.
Real estate agents know how crucial it is to set an appointment for leads to check available properties. But finding a mutually convenient time can be frustrating.
Most of the time, long back and forth messages are needed just to set a single appointment. And then you still have the risk of a no show. It is tedious and costly. Imagine the more essential things that you can do instead of having back and forth scheduling emails. Imagine minimizing or eliminating the risk of no-shows.
Fortunately, some folks have had enough of these scheduling problems and created apps to solve them! Calendar service apps like Calendly, Acuity Scheduling or HubSpot Calendar are proving to be lifesavers for agents. Top real estate teams are using these calendar service apps to book appointments while keeping those time wasters away.
Home buyers or sellers often submit home inquiries during odd hours and to set up meetings during those time slots can be challenging. You can easily solve that problem by using calendar links across all mediums of lead follow up. They add a lot of value and look totally contextual!
Where to use calendar links?
Have you downloaded the apps? Good. Now you can set your availability and preferences. Completed that part, too? Great. The next thing you should do is to share your calendar links. And the best thing about calendar links is that you can easily share it on several valuable platforms.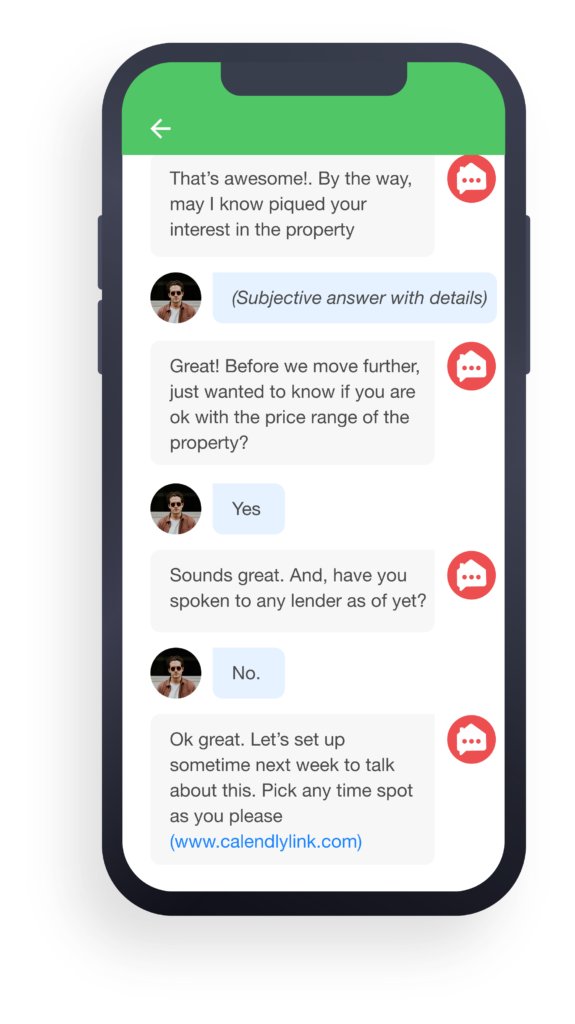 Right after leads sign up
Make sure to follow up with your leads by texting them your calendar link directly after they sign up. Here's a sample conversation on contextually using scheduling apps to fix appointments.
As pointed out, home buyers expect instant response from real estate agents. In such scenarios, you can rely on a human powered lead qualification platform to qualify them instantly.
In your email signature
Don't waste any opportunity to set an appointment. If your drip campaigns are sending out a large number of emails, make sure to place your calendar link in your email signature so leads don't need to compose an email to book time with you.
On your Zillow or Realtor profile and your website
The goal of calendar links is to make it easy for leads to book time with you. That's why it is important to share it anywhere you can. Place your calendar links on your Zillow profile or your website.
Ensure that it is in a space where leads can see and access it easily. Don't hide the links and make it part of your call-to-action.
Advantages of using calendar service apps
If you still aren't using these apps, don't think twice. You should try these calendar service apps immediately. But if you are still not sold to the idea of using the apps, here are some of the advantages that might just convince you:
No back and forth
With a calendar service app like Calendly, leads have a clear view of your availability schedule and can pick the most convenient time for them.
Once a time slot is selected, meeting invites are sent automatically. That easy! No need to spend time find mutually convenient times. The time you spend going back-and-forth just to set an appointment can now be used to engage more leads.
Availability and preferences set-up
Calendar service apps make it easy for real estate agents to set up their availability schedule and preferences. Need to travel from one home viewing to another? No need to worry! You can schedule meetings 30 minutes apart with calendar service apps or add a meeting buffer. Want to schedule appointments only during specific hours of the day? That's easy to do with scheduling apps, too!
Reduce no-shows 
Have you ever experienced setting an appointment but your lead is nowhere in sight? It stings, right? Calendar service apps can minimize no-shows.
Through these apps, you can send multiple reminder emails and text messages. Constant reminder messages can make sure that your leads won't forget your scheduled appointment and you remain top of mind!
If you're still using a regular calendar to book appointments, you might be wasting time and missing out on better lead conversion. Using calendar links helps you schedule more meetings, reduce no-shows, and ultimately convert more leads.