Thinking to explore smart lists in your real estate CRM but unsure of how to get started? Here's a post to help you understand smart lists and put them into use.
We have seen the usefulness of tags in our previous blog. Tags are one of the most basic lead management tools used to meaningfully segment real estate leads. In fact, a lot of real estate agents use tags in their day to day lead schedule follow up with lead but they come with their own limitations. 
Tags can get overwhelming due to an ever increasing number of leads with time. You must manually remove leads from each tag to keep them manageable. This is why agents need something that dynamically updates the list once a follow up action has been made. This is where Smart Lists come into play.  
What are Smart Lists?
A smart list is a dynamically generated list of contacts that is automatically updated upon taking a follow up action such as calling or texting a lead. Smart lists ensure that agents have a manageable number of contacts each time they access the CRM. 
A lot of agents know about smart lists and use them to manage leads as well. But at the same time, it is not uncommon to see agents not using them, or not being aware of the potential of smart lists. In this post, we will try to help these agents out.
We will learn some smart lists that are must have for every agent. We will also see the most important data points and filters in order to configure smart lists and chart out an efficient lead follow up schedule. So without further ado let's get started. 
5 Essential Smart Lists and Data Points to Create Them
There are a total of 5 smart lists that we think are important for every agent. These are:
New List

Hot Prospect

Current Clients

Nurture 

Past Clients
The following illustration shows the respective stages of a lead and the frequency of follow up for each of them. We can name the smart list the same as the stages.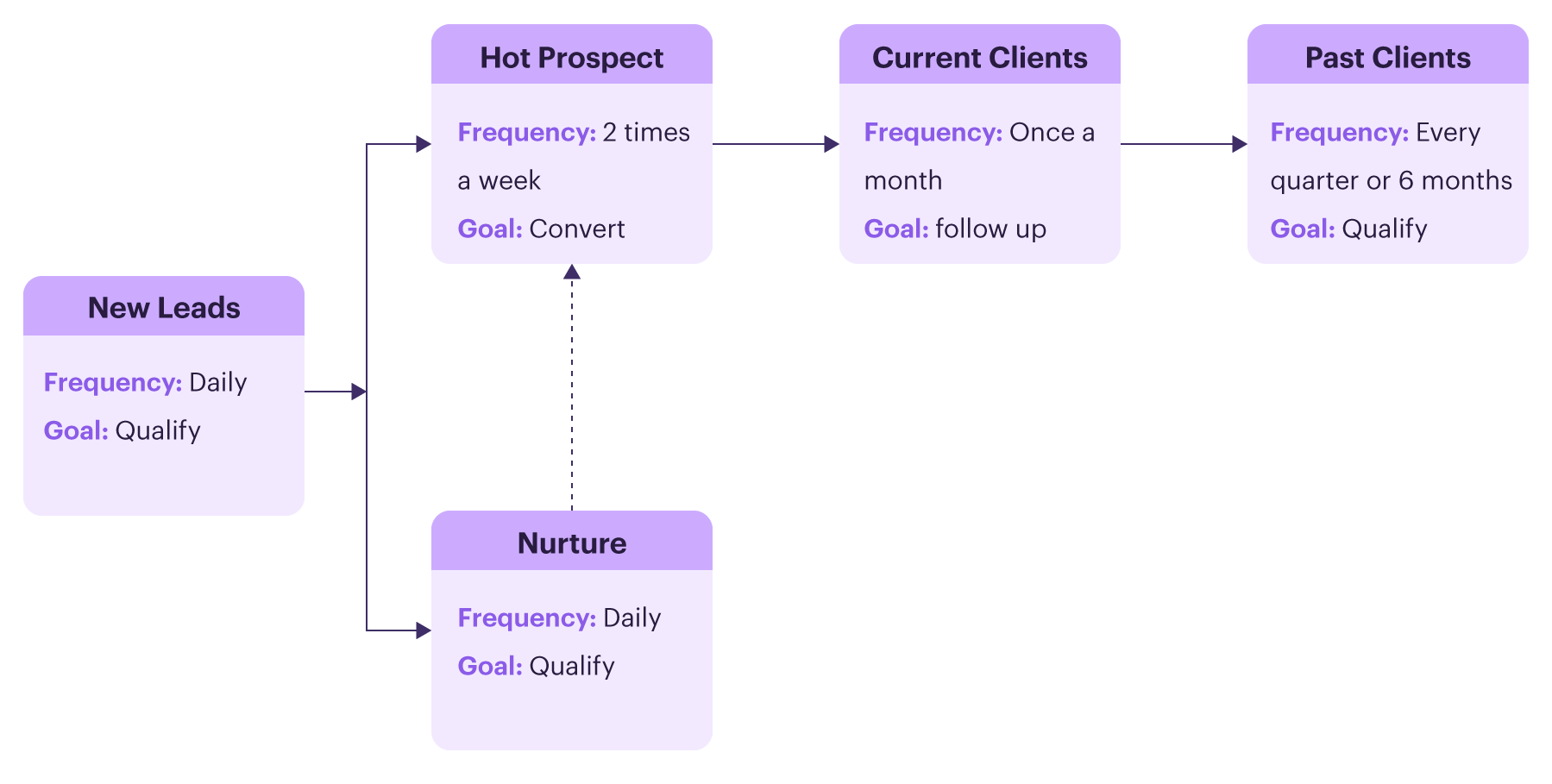 The first step in the process is to choose a list of filters and set them to predetermined values. 
For example, a filter for "creation time" may refer to the age of the lead. If it is a new lead created less than 3 days ago it is likely to appear in the "New List". Now, after a follow up action on that lead, it will automatically disappear from "New List" and may appear in some other list after a few days.
Overall, we need a total of 4 filters to run these 5 smart lists we listed above. These are:
Lead Stage.

Which stage in the home buyer's journey the lead is currently in?

Creation Time.

How old is the lead?

Last Interaction Time.

The last follow up through phone call or text

Tags.

Tags created by the agent within the CRM 
You may choose 2 or more of these filters to create a smart list. When the conditions in these filters are met by a lead, it moves forward and appears in another smart list. Now lets configuring the 5 Essential Smart Lists along with their respective frequency and action.
New List
This list can be used to track new leads and qualify them. Essentially, the New List will help you maintain your speed to lead for all incoming leads. Three filters for New List are the age of the lead, lead stage, and last interaction. To appear in the New List, a lead must be 14 days old or less with the last interaction being 3 days ago or less.  
Frequency and Actions: 
The new list should be checked every day for new leads and qualify them instantly. Engage the lead in a conversation and try to qualify them across a list of criteria such as pre approval status, credit score, important documents, etc.  
Hot Prospect
These leads are almost ready to transact. They are likely to have a list of properties they want to check out. The smart list for hot prospects can be filtered by the lead stage and last interaction. The lead stage should be set to prospects and the last interaction should be set to less than 3 days ago.  
Frequency and Actions: 
Hot prospects should be engaged in a face to face conversation as soon as possible. You can check this list twice a week to follow up with all the leads and stay updated on their status. 
Current Clients
Current clients are the ones that are being actively assisted with their home search or listing process. These leads may be waiting to correct their credit score or might want to explore more property options before they decide to sign the deal. 
The smart list for current clients can use the lead stage and set it to "prospects". You can also employ the last interaction filter and set it to less than 1 day. This way you end up with a list of people that you must follow up every day till they finally give find their dream home. 
Frequency and Actions: 
Current clients require frequent interactions on a day to day basis to speed the qualification and conversion process. You can use this smart list to follow up with them every day. Additionally, you can look into their search history in the CRM and send them relevant listings.
Nurture
Leads in the nurture list must be qualified to a point where they can finally make a decision. You can employ the same filters for lead stage and last interaction. Set the lead stage to "prospect" and last interaction to "less than 30 days."  
Frequency and Actions: 
You can check this list once every month and send them market updates, new listing alerts, regular check in emails, and texts. 
Past Clients
Past clients are leads that you have successfully helped buy or sell properties in the past. Keeping up with past clients is important to generate fresh seller leads. These leads can be emailed once every three months. 
Hence, you can employ the last interaction filter to "less than 90 days" and lead stage to "past clients". 
Frequency and Actions: 
Check this list every quarter or 6 months. As for the follow up action, you can send them market reports, local news, etc. to generate referrals and seller leads. 
Smart lists can present you with the most important leads that are populated and sorted according to your priorities. It is not a fact unknown that smart lists have become an important way to manage and prioritize your leads. While you can create numerous smart lists, the 5 listed in this post are essential and a great way to get started.