Thinking of engaging your unresponsive leads using emails? Learn how real estate email drip campaigns can help you engage them and generate replies.

Success with real estate lead generation is all about focusing on the numbers. Response, qualification, and conversion rates are the three most important metrics top teams track to measure the health of their online lead strategy.
While response rates are the easiest to improve, on average, even the best agents only ever connect with 50% to 65% of their leads. To put things in perspective, if you consistently generate a 100 leads a month for six months, you will have built a list of up to 300 unresponsive leads!
While unresponsive leads can be easy to discount as immediate opportunities, they can, with the right follow up and engagement strategy, turn into a gold mine of future prospects. In this post, we explore the various reasons why real estate leads remain unresponsive and talk about how you can use that information to design effective email drip campaigns to engage them.
So, why are real estate leads unresponsive?
A robust lead follow up strategy consists of both speed-to-lead and at least 10 days of consistent follow up in order to maximize response rates. If a lead has remained unresponsive despite your follow up attempts, there are several possible reasons.
Your lead provided false contact information. It is incredibly easy to mistype a phone number or misspell an email address when submitting a lead form on the internet. Consequently, it is not uncommon to find leads with incorrect contact information in your database.
Your lead is on vacation. Your lead may simply be on a long trip out of the city or country and is simply unreachable because of the time difference or poor cell reception. Although quite unlikely after 10 days of follow up, there is still a small possibility.
Your lead has decided to rent. Data shows that more than two-thirds of Americans live in places where renting is more financially sensible than buying. While buying a home is something most people aspire to do, not everyone is ready to take that step just yet. A common reason why your buyer lead may be probably unresponsive because they are not ready to buy right now.
Your lead is working with another agent. This one could be disappointing, but it is bound to happen. Buyers often submit their details across a number of portals and inevitably receive calls from multiple agents. They might have already engaged another real estate agent and are no longer interested in speaking to others.
Your lead is not yet ready to buy. Buying a home is one of the biggest financial decisions people make in their lives. However, the excitement around buying a home might not translate into actual action for most leads. If a lead continues to be unresponsive, he or she is simply not ready to buy yet, it could be as simple as that.
Now that we've established some common reasons why leads tend to be unresponsive, let's talk about how to use these insights to design effective drip email campaigns.
The two types of emails you should be sending
There are two types of drip emails that you should be sending to your unresponsive leads: Automated and Personalized emails.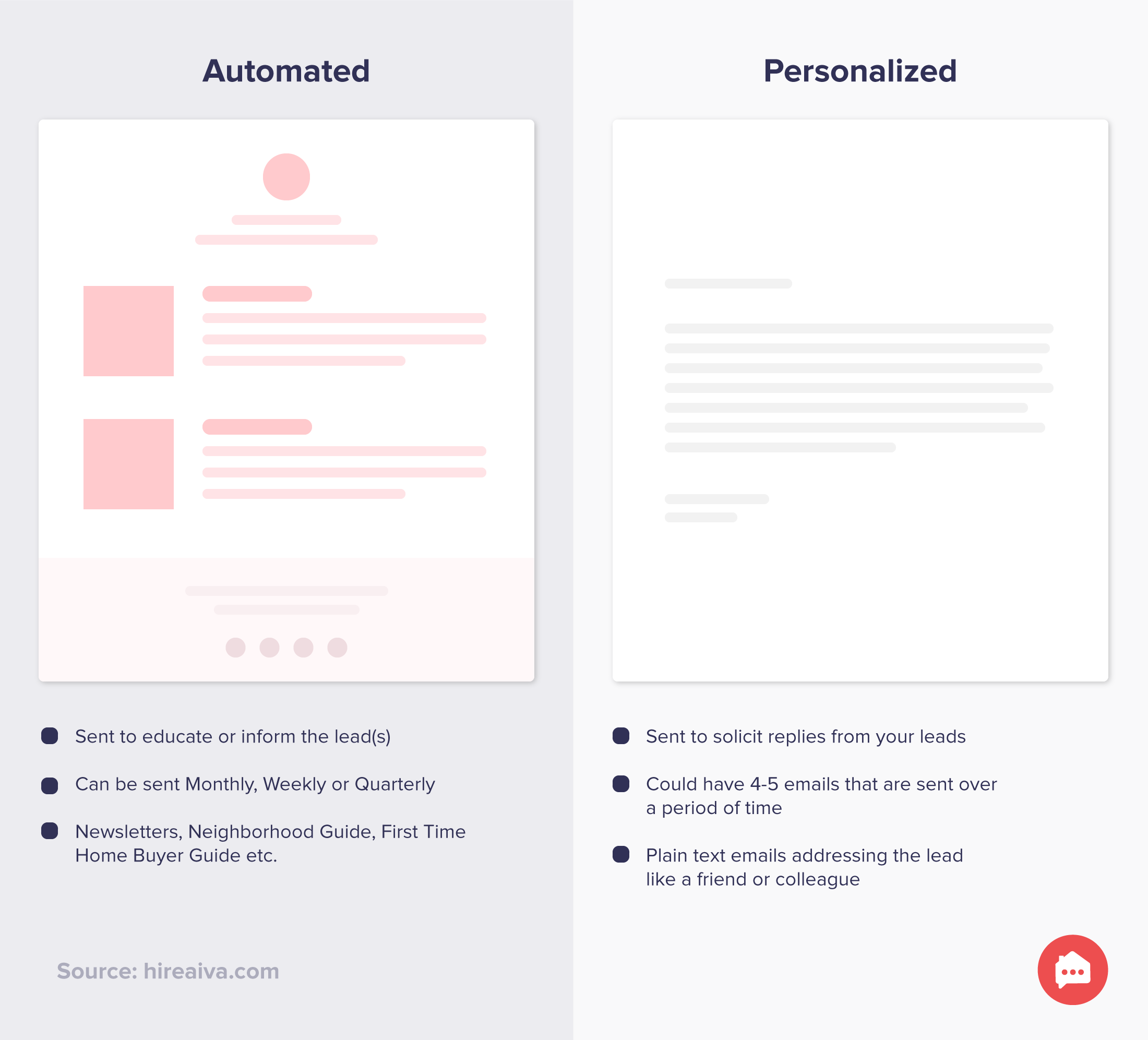 Automated emails are sent with the intent to inform or educate the lead. Examples of automated emails include newsletters, listing alerts, neighborhood guides, first time home buyer guides, new construction list of homes, etc.
These emails can be sent on a recurring basis (ie. monthly, weekly, quarterly) and also whenever a specific event happens such as a new home being listed or sold. However, automated emails are not meant to solicit replies, instead, the focus should be about educating and demonstrating value to the lead.
Personalized emails should be sent with an intent to solicit a reply from the lead. Unlike automated emails that can be in the form of a well designed newsletter, personalized emails are simply plain text emails that talk directly to your leads, just like something you would send a friend or colleague!
While agents tend to gravitate toward one or the other type of email, an effective email drip marketing strategy should make use of BOTH types of emails to engage unresponsive buyer leads.
Most email marketing tools like MailChimp, Constant Contact, or Campaign Monitor allow you to send both types of emails, however, if you're using a CRM system, you might only be limited to sending personalized emails so you should consider supplementing it with a more robust email marketing solution.
Using personalized emails to generate responses
Personalized emails are a great way to figure out where your leads are in the buying process so you can align your sales expectations accordingly. Here are a couple of questions personalized emails to your leads can help you answer:
Did the lead provide the right contact information?

Is your lead looking to rent instead of buying?

Has your lead already found an agent?

What is your lead's buying timeline?
Below, we've put together some sample email templates you can use to determine your leads' current situation.
Correct contact information
What should it say?
Ask the lead if you're reaching the right person
When to send?
Day 15
Hi there, I want to make sure I'm reaching the right person here since I haven't heard back after several attempts.
Is this Sarah? And your number is (XXX) XXX-XXXX?
Renting vs. buying
What should it say?
Your email should focus on how you can help the lead decide between buying and renting
When to send?
Day 25
Hi Sarah,
Are you looking to rent a property instead of buying? Did you know that renting will cost you X times more over 10 years than buying would?
Typically, a rent of $XXX/month can translate to a $YYY/month mortgage payment since you get to deduct mortgage interest payments on your taxes.
If you're debating between the two options, I'm here to help you make the right decision, text or call me at (XXX) XXX-XXXX anytime or just reply back to me here!
Already have an agent?
What should it say?
Simply ask your lead if they've already found an agent so you can stop bothering them if they are already committed
When to send?
Day 35
Hi Sarah,
I've been trying to get in touch with you for a couple of weeks now unsuccessfully. Have you already found a real estate agent?
I don't mean to be a bother, but just want to make sure your real estate needs are being taken care of by someone.
Buying timeline
What should it say?
Ask the lead what their timeline to buy is and how you can help them prepare for when they're ready
When to send?
Day 45
Hi Sarah,
I see that you may have not made further progress into your home hunting journey. Do you have a sense of the timeline you're thinking about buying within?
Just want to make sure that I'm being relevant to your situation here.
If you're a little further out from buying, I'm happy to walk you through some tips on how to start preparing so you can position yourself for success in the future when you're ready!
Text or call me at (XXX) XXX-XXXX anytime or just reply back to me here.
After 60 days of personalized emails, if your lead has still not responded or engaged with you, it's time to change up your strategy!
Automated drip emails
While personalized emails help you identify which buckets your leads fall into, automated emails help keep your leads engaged until they're ready to talk to you. Your focus with automated emails should be about generating opens and clicks by demonstrating value to your leads.
Here are some ideas for bi-weekly or monthly automated emails you can easily incorporate into your drip email strategy:
Home Buying Checklist. Help educate your leads on what the home buying process actually looks like when they're ready to buy. Even if the lead isn't ready to buy right now, they'll appreciate the gesture and keep you in mind when they're ready.
Neighborhoods Guide. Show the lead what it's like to live in different neighborhoods or cities you service. Include schools, shopping malls, local attractions, and grocery stores in your guide. Your leads will eventually do the research themselves before they decide on a city or neighborhood. So, make it easy by doing the work for them!
Market Reports. Put together a monthly or quarterly market report on real estate buying and selling activity within your area. Blast out an email to your leads with a link to the market report and some brief commentary on what's going on to keep them informed on local real estate happenings.
New Listings. If you have an integrated website and CRM solution like Real Geeks, Commissions Inc., or Sierra Interactive, you can set up automated listing alerts to be sent to your leads based on their last search criteria. Any new listings within the criteria that hit the market will automatically be emailed to the lead on a weekly or monthly basis.
Just Sold. Recently closed a deal? Turn your clients' experience into a quick video or a blog post and blast it out to your leads. By showcasing your success to your leads, you can establish yourself as a local market expert so when a lead is ready to buy, they know who to call!
Even though a large portion of real estate leads online tend to be unresponsive, they should continue to be engaged in the off chance that they turn into a future opportunity for you. With a consistent follow up strategy using carefully thought out email campaigns, you should be able to pull out commission needles from the haystack of unresponsive leads!