Creating targeted real estate Facebook ads to capture leads, and qualifying them using lead qualification software must be your go-to strategy.
Real estate leads are more expensive than ever before. If you are a real estate agent, you are probably advertising on Zillow at $50/lead or more.
Consequently, a lot of real estate agents are now turning towards Facebook to try their luck with real estate Facebooks ads. And the reason is obvious -- Facebook leads are 10 times cheaper than portal leads.
We know that you might already be muttering "Ah those leads don't even wanna take a call". But hold on! You might be oversimplifying the problem because Facebook ads are not that bad.
Yes, they come with a long conversion timeline, but with the right ads and a tailored follow up strategy you can squeeze out better ROI on those Facebook ad dollars.
In this post, we will talk about the fundamentals of Facebook advertising to effectively attract quality home buyer leads. In addition, we will also discuss ways to nurture and qualify those leads to maximize client conversion!
So, why should you advertise on Facebook in the first place?
Facebook drives volume and deep pockets don't always win
A popular article from Inman states that Facebook ads are all about targeting. Facebook places a lot of emphasis on meaningful interactions and this also applies to the type of ads they serve.
On Facebook, it is not about the highest bid price of the ad that wins. Instead, the platform puts contextual relevance at the forefront -- what they call the relevance score.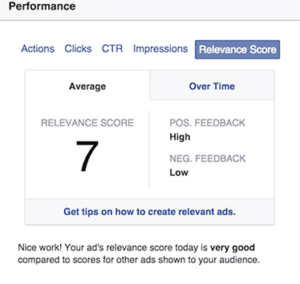 In other words, the more relevant your ad is, the more likely it is going to be served to your target customers. Facebook allows agents with relatively shallow pockets create highly targeted ads and generate quality leads.
In addition, a third of the world uses Facebook, which means your leads are most likely on Facebook.
However, it is important to note that lead generation on Facebook is only half the game, your follow up and lead qualification strategy is just as important to closing deals and shortening your sales cycle. So how do you create targeted ads on Facebook and generate qualified leads?
How to form your Facebook targeting strategy for real estate?
Your Facebook ad strategy must be focused on creating targeted ads for all the stages of home buyer's journey from search to sale. You need to make sure you customize your Facebook ads and the appropriate follow up based on each stage of the home buyer's journey.
The home buying cycle looks something like this, and you should create ads targeted to each of these stages. Adespresso has some great examples of ads that follow a similar strategy!
In addition, your lead follow-up strategy should be customized based on the stage of the funnel your ad is targeting. For example, a home buyer that's looking for financing options does not necessarily need a neighborhood guide.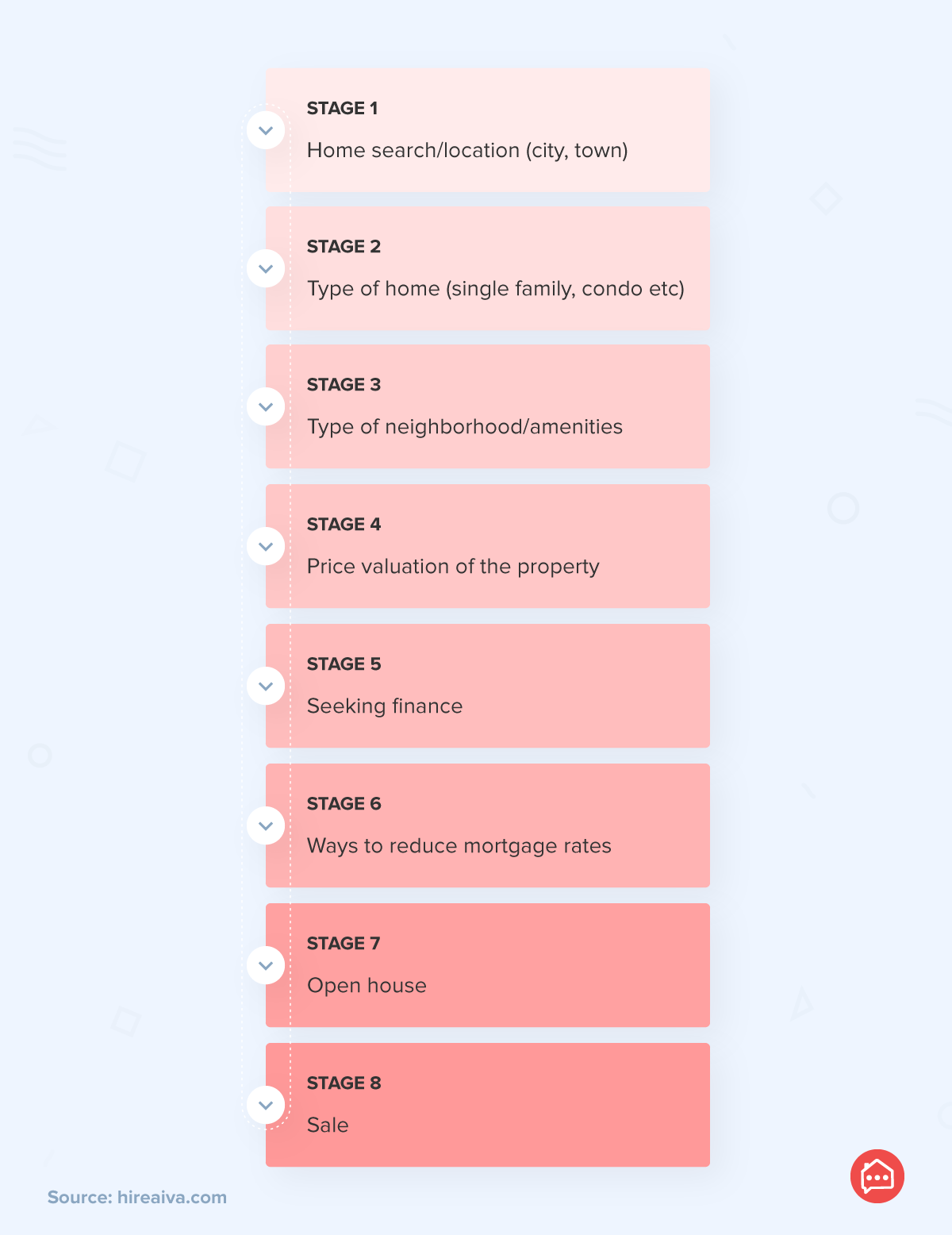 Buyer's journey through various stages in home buying. Multiple Facebook ads should target these stages individually.
So, let's look at a few real estate Facebook ad examples!
Real Estate Facebook Ad Examples
Example #1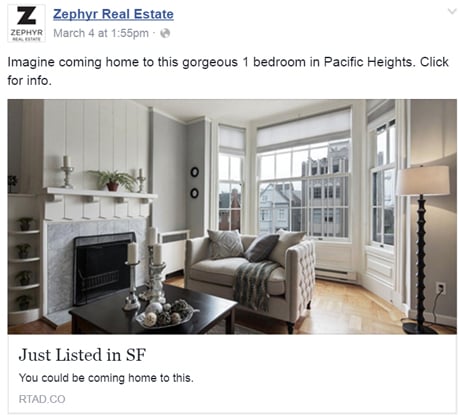 Appeals To: Stage 1 buyer who is still learning about the various neighborhoods they could consider buying a home in.
Suggested Follow Up: Focus on educating the buyer on the various neighborhoods or cities and possibly sending them a lifestyle guide.
Example #2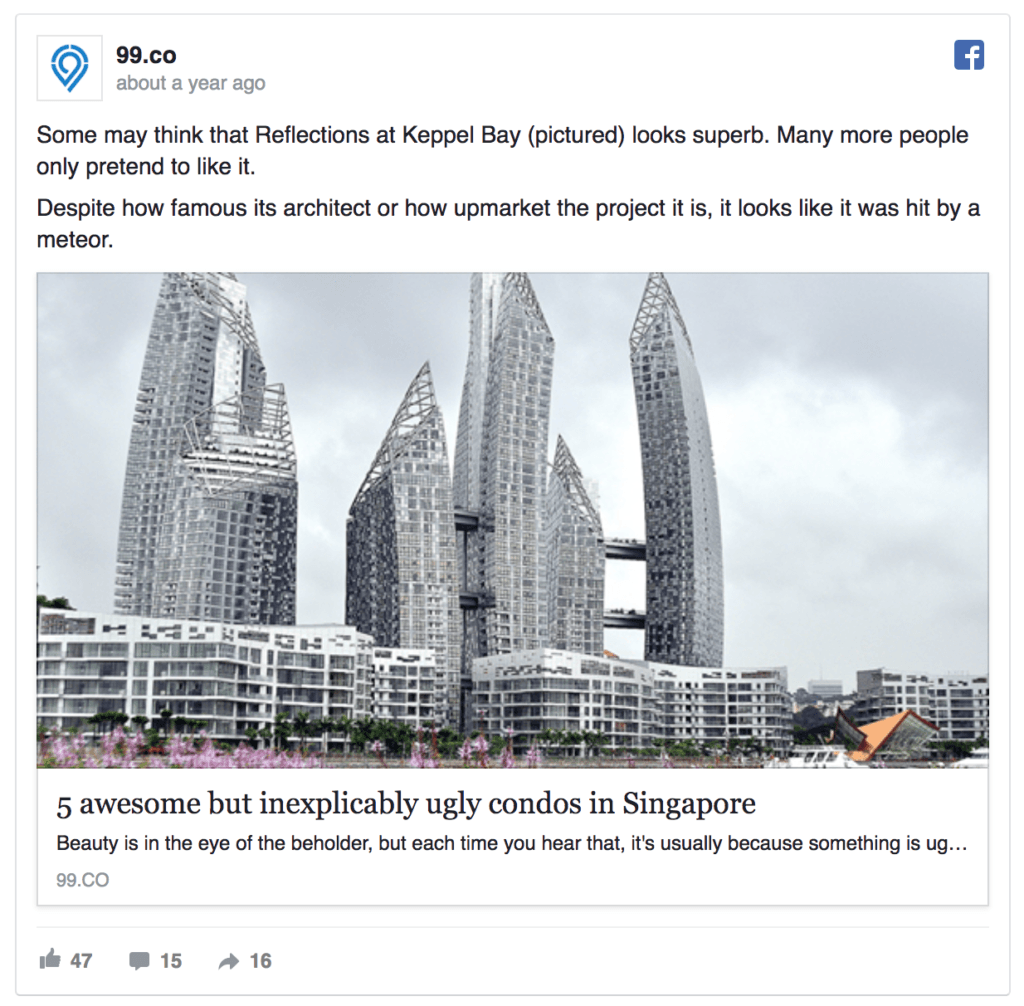 Appeals To: Stage 1 buyer that is still learning about the various types of homes they want to live in (condos, townhomes, etc.)
Suggested Follow Up: Focus on content that educates the buyer about the various home type options available by neighborhood and a rough price range they can expect each option to be within.
Example #3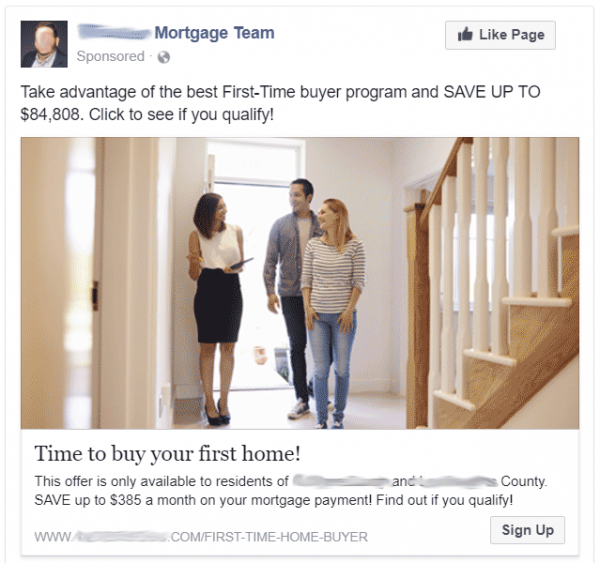 Appeals To: Stage 5 buyer looking to learn more about the home financing process and loan options available to them.
Suggested Follow Up: A first time home buyer financing guide, a free consultation with your preferred lending partner, or even a loan payment calculator.
Example #4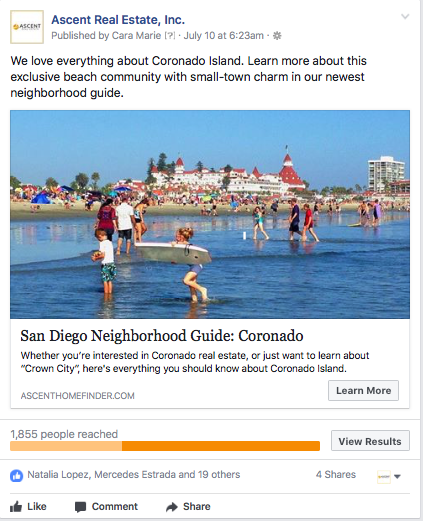 Appeals To: Stage 3 buyers who are evaluating various neighborhood options.
Suggested Follow Up: Send in a neighborhood guide and a list of things to do for fun across various neighborhoods.
Example #5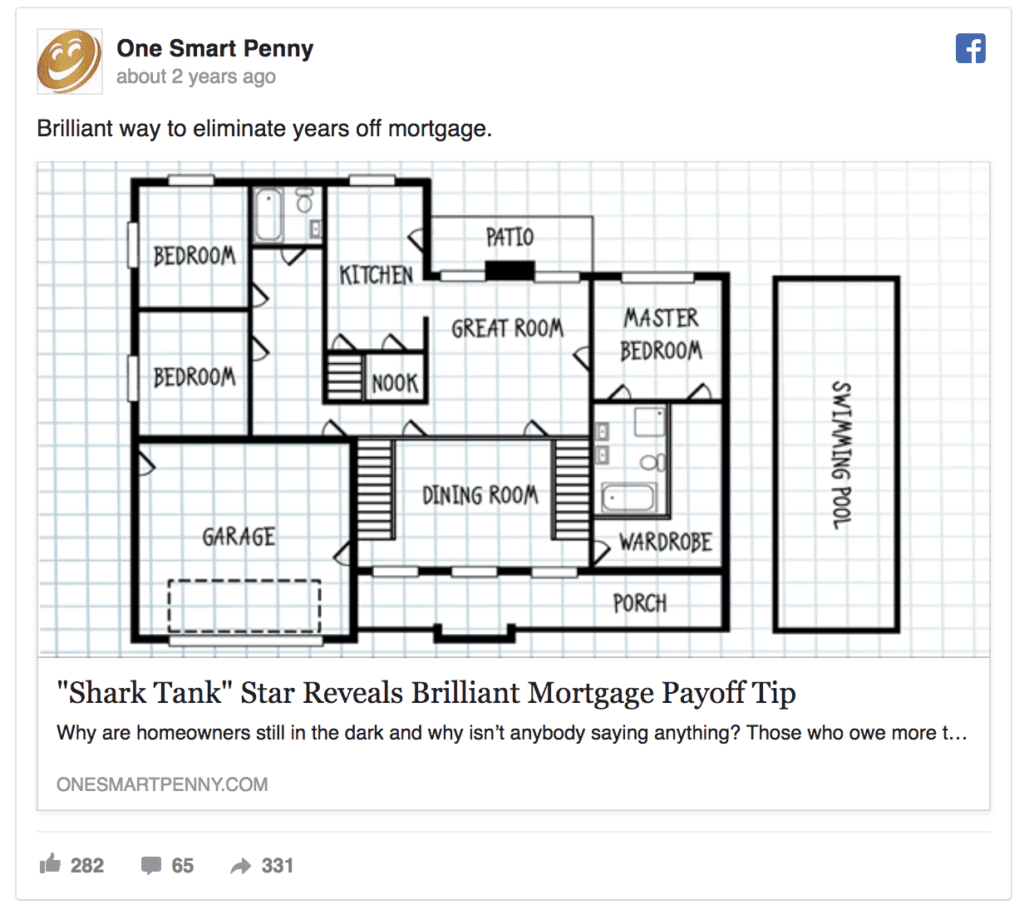 Appeals To: This is targeted to users who are facing challenges with mortgage (much deeper into the buyer's journey). Hence, it is targeting a stage 6 buyer.
Suggested Follow Up: A lender consultation, referral to a credit repair agency, or a loan repayment calculator.
As you can see, Facebook offers the ability to target home buyers across the entire home buying journey. It's a great channel to generate a large volume of leads at low cost, but there's a high chance Facebook leads are very early in the home buying process. So can you set up your lead qualification process to identify those high-value leads?
Lead qualification - The missing piece of the puzzle
Buying a home is usually the largest financial transaction most adults engage in within their lives. Leads want some space and time to do their own research before they are open to speak to a real estate agent.
It is important to recognize that calling is a high touch communication channel early on, it might be a bit too much of a commitment for a lead that's early in the home buying process.
According to our data, nearly 75% of calls are automatically transferred to voicemail while 99% of follow up texts are read. This is in stark contrast to the popular belief that calling a lead is the best way to convert them.
Often what agents do is call the lead straight away in what they say "an immediate human interaction". But according to our findings, human interaction only adds value to the transaction when the buyer has upgraded to a certain level of qualification.
Without a system for streamlining lead qualification to help with follow up and assess how ready a lead is to buy a home, you can waste a ton of time contacting buyers that just aren't ready to buy a home.
Conclusion:
In brief, your go-to strategy for Facebook should be:
Be mindful of the home buyer's journey when you're creating Facebook ads

Tailor your follow up to ensure you are qualifying leads effectively to understand where they are in the buyer journey

When a lead is more qualified (moves further into the buyer journey), make your move and give them a ring!
Overall, Facebook ads have a lot of potential to attract your desired type of home buyers, provided they are done right.
If you are seeking more information on creating the right Facebook ads, download this guide. We have compiled a number of actionable Facebook ad examples, analyzed with respect to the elements of the Facebook ad format.