Too many real estate leads in your system? Not sure which ones to contact? Read this article to learn about the 3 types of leads and the methodology to prioritize them for prospecting.
One of the major challenges faced by real estate agents is prioritizing leads for prospecting. Which one to contact first and which ones to ignore is always an intriguing question. Leads coming from multiple lead gen websites further add to this confusion which makes it further difficult to filter bad leads from the good ones. Consequently, a lot of agents end up following an inefficient prospecting framework that does not bring them the desired conversion rate.  
In this post, we will discuss how to segregate your leads based on 9 critical factors of lead information and activity from your CRM. We will then shuffle these 9 factors into a set 3 groups with the first being most important and the last being the least important for prospecting.
So let's dive into it straight away.
The Parameters Derived from CRM
We derive 9 parameters from the CRM. It does not matter which real estate CRM you have, these factors are common across all CRMs irrespective of which brand you are currently using. Here is the list:
Sent Inquiries

- Leads that sent you a message

Pre Qualified or Not?

- Is the lead pre qualified and eligible for a mortgage?

House to Sell or Not?

- Do they want to sell their existing home first?

Timeframe to Buy

- What is their home buying time frame?

Budget

- What is the price range of the property they are looking for?

First Time Buyer or Not?

- Are they buying home for the first time?

Properties Searched

- How many properties have they searched on the site?

Properties Favorited

- How many properties have they favorited on the site?

Last Activity

- When did they last login?
It is pretty obvious that a lot of these factors change in time while others do not. For example, a first time buyer implies inexperience on part of the buyer, making it easy to convert these leads.
On the other hand, factors such as properties searched or properties favorited may change over time. These leads are yet to find a suitable home or simply have not been able to make up their minds yet. They are likely to come back to browse until they find their perfect home.  
A better analogy to understand this situation is to think about shopping on Amazon. If you are browsing on Amazon, your preferred price range, brand, etc., will be counted among static factors as they remain unchanged. The static factors decide what you search on Amazon. 
On the other hand, the time you spent on each webpage (product), adding certain products to your wishlist, etc. could be counted as behavioral factors as that is likely to change based on your preference as you browse and discover better products.  
Real estate leads show similar patterns in their activity. Factors such as pre qualification, budget, buying timeframe, etc. are all static factors. They are dependent on the lead and you cannot change them.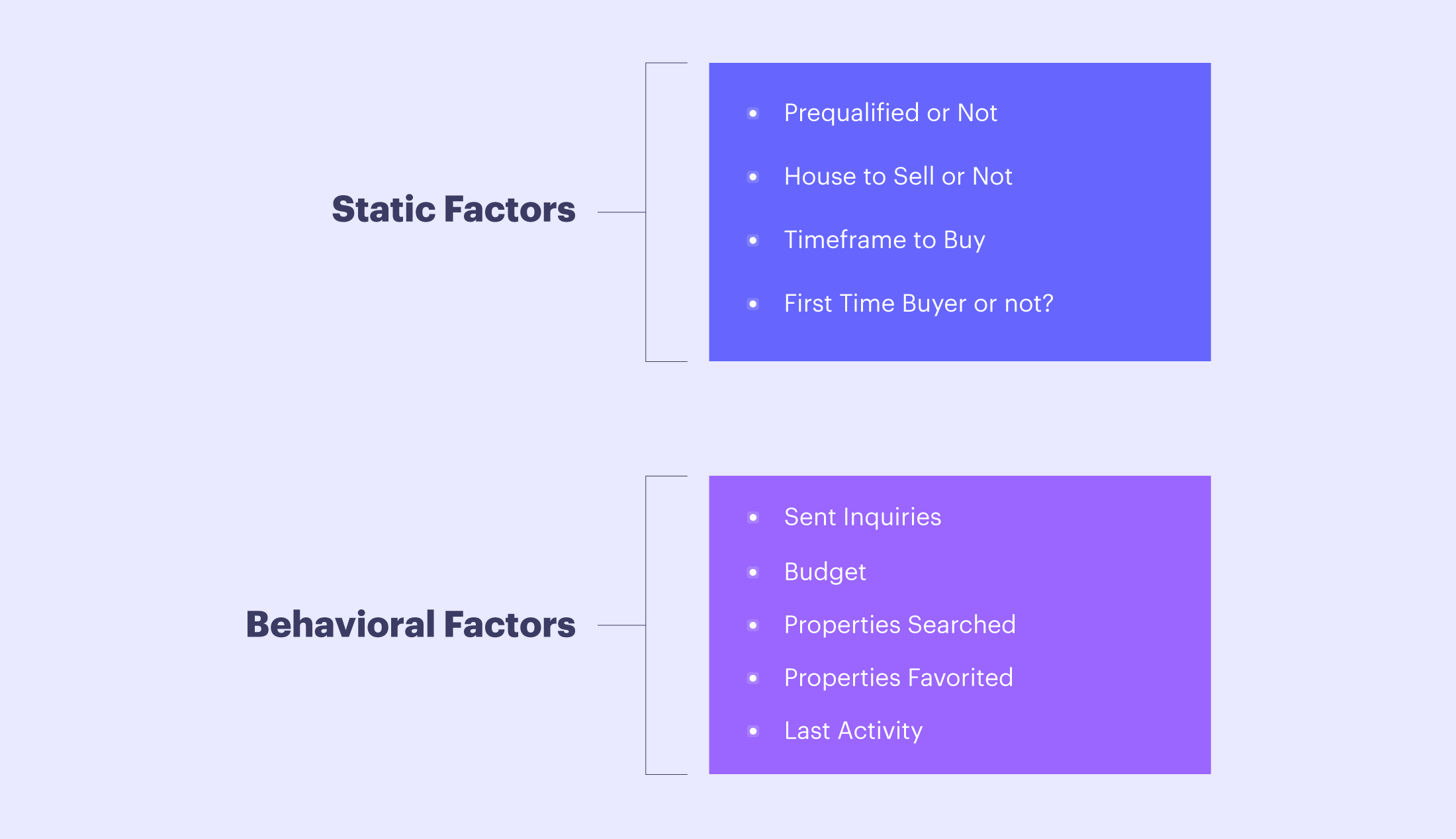 On the other hand, behavioral factors such as an inbound inquiry, property views, etc., allow you to understand the qualitative aspects of the lead. 
How to Build the Prospecting Framework?
The prospecting framework is made up of three types of leads. These are:
Inbound.

Leads that have sent you a message  

New Sign Ups.

Leads that have signed up on the site

Behavior.

Leads that are browsing properties and yet to decide
You should approach the "Inbound" leads followed by "New Sign ups". Approach the "Behavior" leads in the end.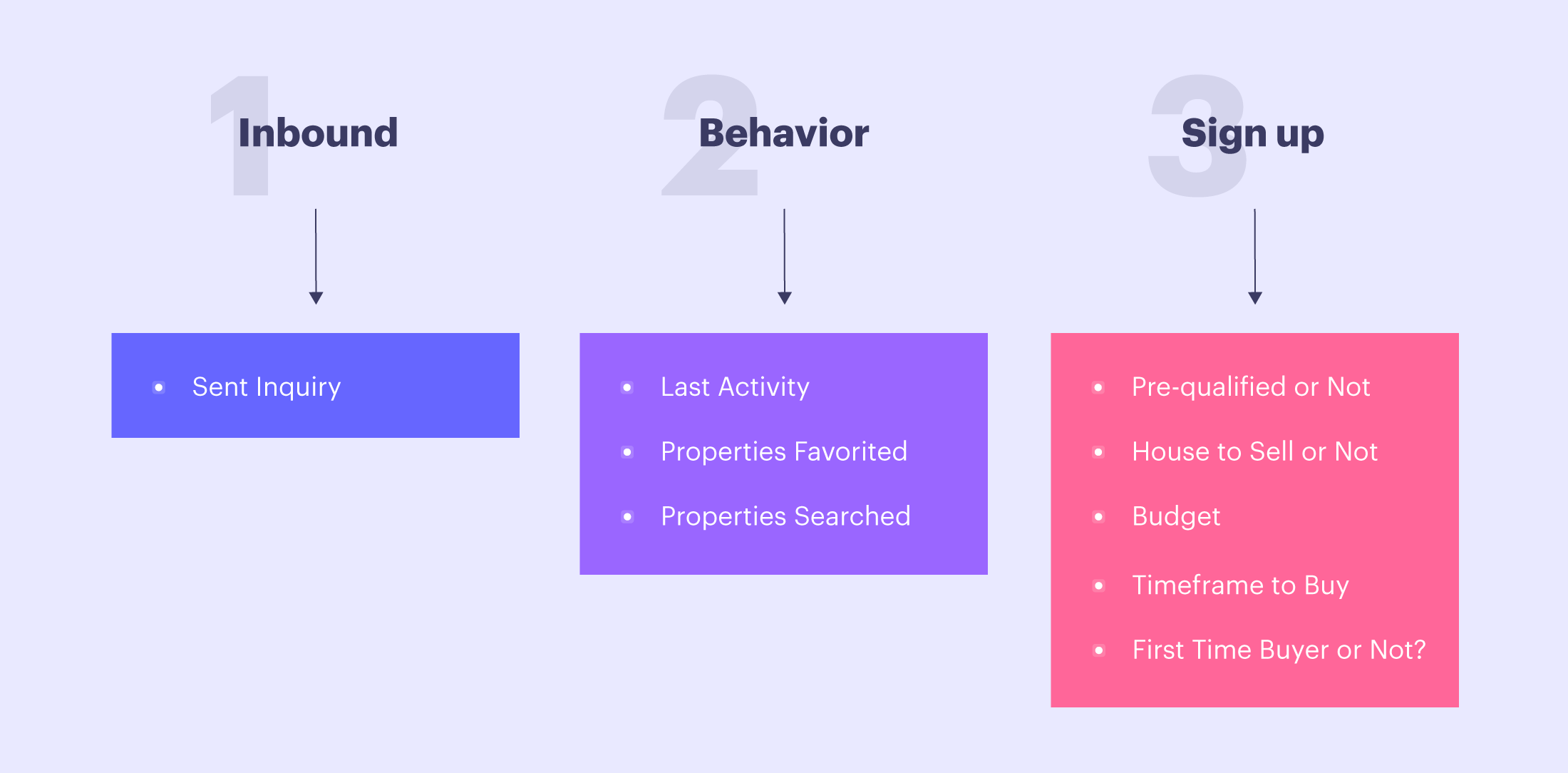 Approaching "inbound" leads. The first thing you should do every day is to look into your inbox for "Inbound" leads. Inbound leads will be straight forward in their approach and most of them will have a tentative list of properties they are interested in. Call them without any delay and try to schedule a face to face appointment. If their credit score is good enough for a mortgage, schedule an open home for the lead. 
Approaching "New Sign ups".New sign ups should be given the second priority in prospecting after "inbounds". You can instantly identify all the static factors for new sign ups. This helps you understand their motive to craft an effective prospecting strategy. For example, If a lead is pre qualified but does not have a timeline in their mind, they probably are undecided about the property. So, despite that lead being pre qualified, they are unlikely to transact soon. 
On the other hand, a lot of new sign ups may want to buy in the next 2-3 months but they can only do so if they sell their existing house first and repair their credit score as well. While these leads require a lot of work, they have a high likelihood of transacting. Additionally, you earn commissions from both sides. 
There can be a lot of challenges when we juggle all the static factors for new leads. If you deal with a high lead volume, it may end up as a prospecting bottleneck where you may end up a lot of time on tire kickers. This is why it is recommended to employ a lead conversion platform to filter the leads that really matter.
Approaching "Behavior" leads. These leads should be kept at the end of your prospecting spectrum. Monitor these leads from time to time and keep them engaged with email drip campaigns. Additionally, you can send relevant listings to the ones who have some properties favorited. You can also contact them if you see a lot of favorited properties of similar configuration. 
Crafting an effective lead prospecting strategy is often overlooked by a lot of agents due to a myriad of reasons. Agents have to be at their best if they wish to survive in this competitive industry that is driven by numbers. And in order to do that, building an effective prospecting framework is the first step towards that direction.