Home buyers are increasingly contacting lenders before they contact a real estate agent. We explore what this means for real estate agents and how they can effectively collaborate with lenders to keep their conversion rates high.
Technological disruption and increasing digital awareness of home buyers are changing the real estate industry. While all stakeholders are affected by the transformation, lenders, in particular, are affected the most.
A survey from Loan Depot shows that home buyers these days search for a lender well before they look for a real estate agent. It is safe to assume that buyers already understand that financial eligibility is one of the keys to home ownership and it is better that they figure that out as early as possible.
In fact, opinion leaders within the real estate industry believe that buyers should get pre-approved first before they find a real estate agent. Simply put, lenders are becoming the first point of contact in the real estate industry.
This means that the partnership between a lender and a real estate agent is becoming even more important than it was before. As a real estate agent, your ability to properly structure your lender partnership can significantly improve or hurt your lead conversion rates.
In this blog post, we explore and compare three common agent and lender collaboration workflows you can put in place tomorrow to boost your lead conversion rates!
Workflow 1: Simple and Easy
This is the most common workflow used by real estate agents and lenders. Leads comes in directly to the agent through a digital lead acquisition medium or any social media platform such as Facebook.
Once the agent connects with the lead and runs through a quick buyer qualification checklist, the lead is passed off to a preferred lender to start the pre approval process if they haven't already spoken to one.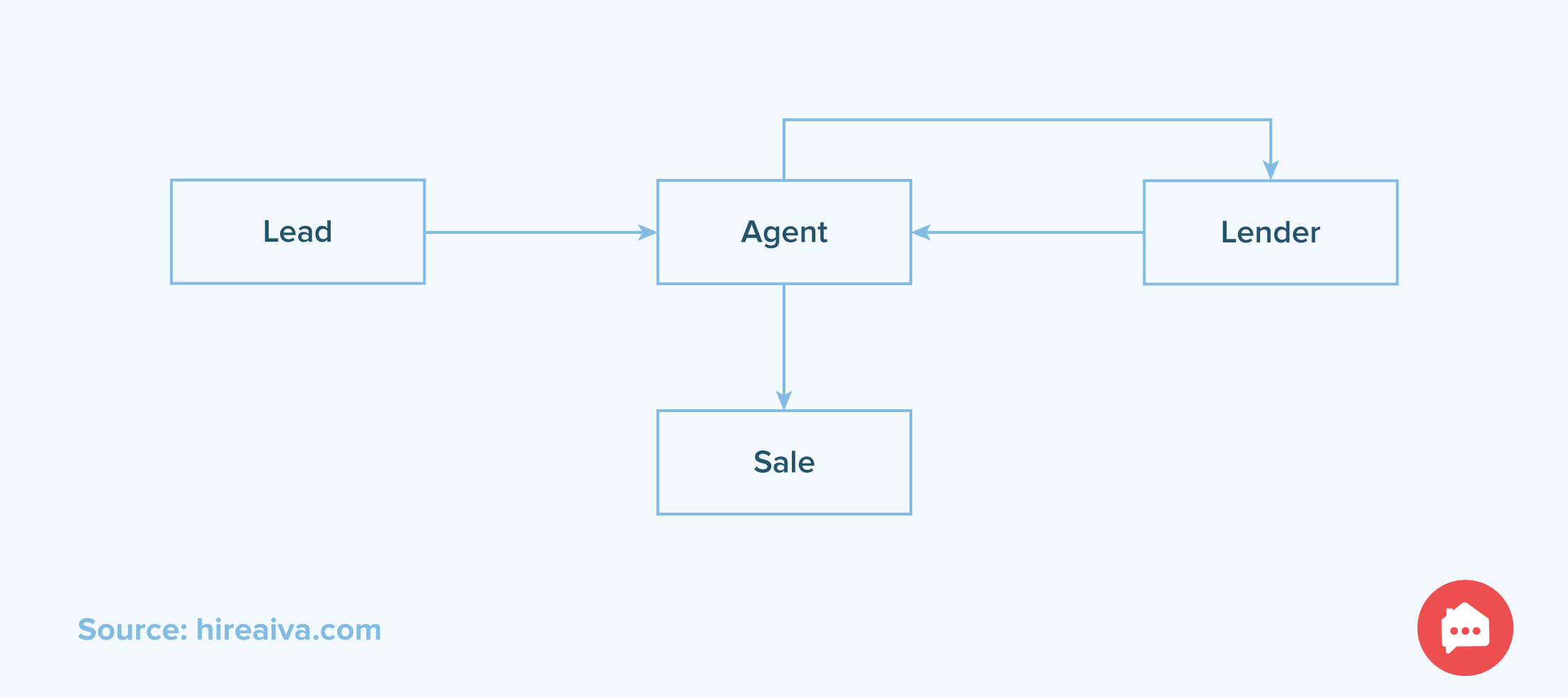 Most agents we speak to typically hand off the lead to the lender via an email intro or handing the lead the lender's contact info. Once the lender has successfully pre approved the lead which can take a couple of days to a week, the agent re-engages the lead to start the house hunting process.
Who's it good for:
New agents just starting out in the business

Existing agents that generate very few online leads (less than 50 a month)
Advantages:
Simple structure.

You don't need to set any system up to follow this process, an Excel spreadsheet and email can get you pretty far

Easy to manage

. The process is simple and easy to manage especially when you only generate a small handful of leads each month
Disadvantages:
Not scalable

. If you're generating more than 50 leads a month, this can start to get overwhelming really quick for you and your lender

Lack of transparency

. You may not always know without frequent follow up with your lender on the pre approval status of a specific lead

Longer sales cycle. What if your lender does not follow up with the lead? Relying on a manual handoff can add unnecessary delays for the lead and reduce conversion rates
Workflow 2: Multiple agents and lenders
As you and your lender grow your lead volume, it is important to start thinking about scalability to ensure your conversion rates don't take a hit.
This second model requires the use of a CRM or lead management system to help keep track of leads, share leads between multiple agents and lenders, and provide transparency around where leads are in the process.
Once a lead comes in, it goes right into your CRM system and is assigned to one of several agents on your team. Most modern systems like Follow Up Boss, Real Geeks, and Total Expert accept leads from many sources and can assign leads based on customizable rules.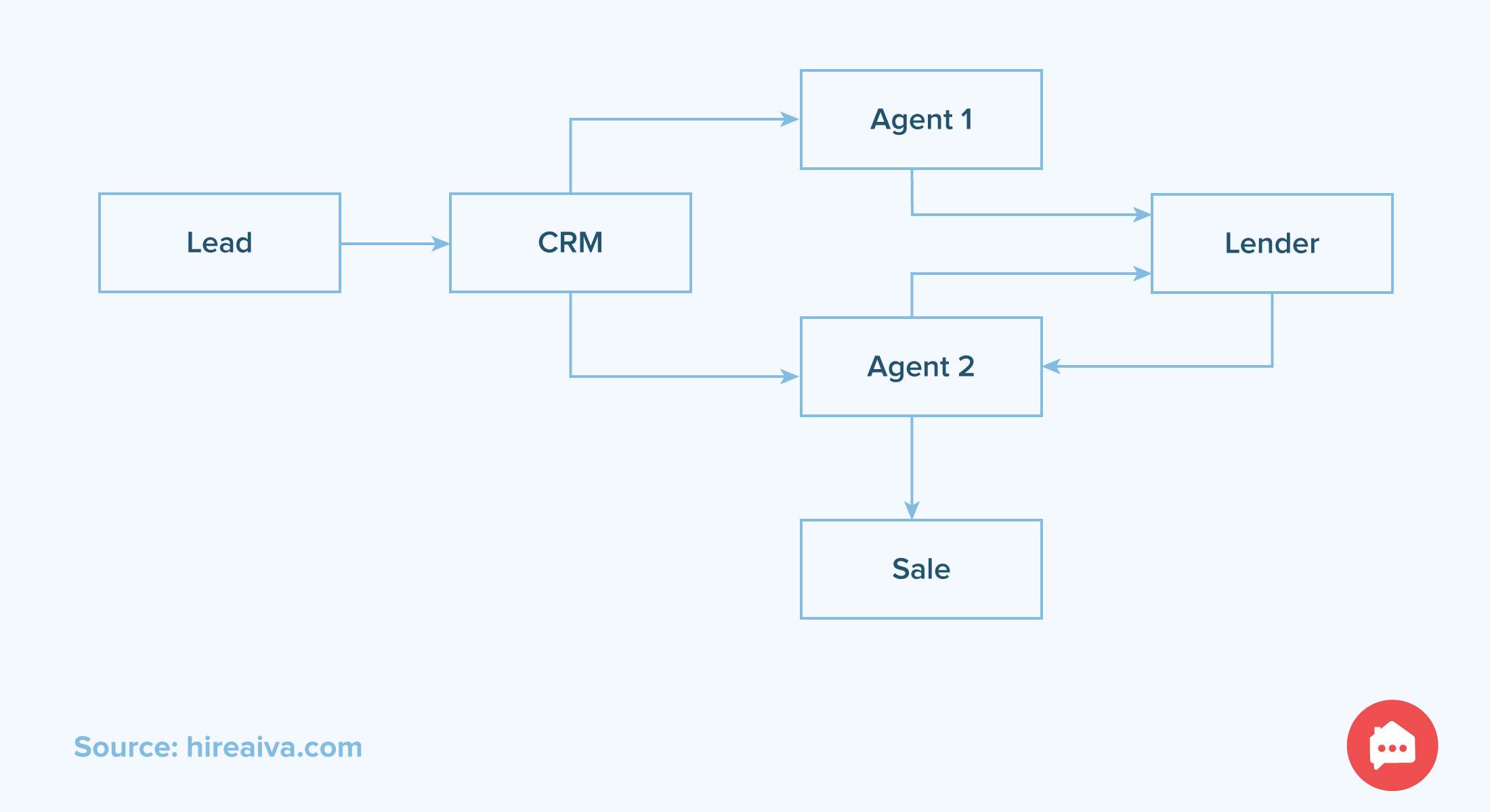 Once your agents qualify the lead, they can easily assign the lead to one of your lender partners right in the system triggering an email or text notification to your lender. Your lender can immediately access the lead's contact information and review all the communication that has taken place so far between your agents and the lead.
After your lender completes the pre approval process for the lead, they can easily reassign the lead back to the original agent or notify them using your CRM system to proceed accordingly.
This ensures a smooth handoff between your agents and lenders and improves the chances that your lead is quickly pre approved.
Who's it good for:
Agents generating more than a 100 leads a month from online sources

Brokers or team leaders looking to invest in online leads for their team members
Advantages:
Scalable

. As you grow your business and recruit multiple agents and lenders, this workflow can help you scale without compromising on conversion rates

Seamless handoffs

. Using a CRM makes the handoff between the agent and lender seamless ensuring no leads slip through the cracks

Diversifies lender risk

. By incorporating multiple lenders in the process you always have a pool of partners you can rely on if one relationship goes sour
Disadvantages:
Potentially longer sales cycle

. By pulling in your lender only AFTER contacting each lead means you'll be waiting for your lender to get the lead pre approved

Lead drop off

. While leads are waiting for your lender to pre approve them, they are at risk of finding another agent which can cost you a commission
Workflow 3: Speed to lead!
Filling out the paperwork needed to receive a verified pre approval letter from a lender takes time. Even the most advanced lenders like Rocket Mortgage and Better Mortgage need at least a day to get a borrower pre approved.
While a lead is waiting for their pre approval letter, they are at risk of contacting another real estate agent or even starting to place a bid on a property they like!
To ensure you are maximizing your lead conversion rates, you need to focus on making the qualifying process as quick as possible for the lead.
As soon as a lead comes in you should consider sending them into a lead conversion platform like Aiva to do the initial lead qualification within 2 minutes 24/7. Aiva can even get a lead to start a mortgage pre approval application right away to cut down waiting time.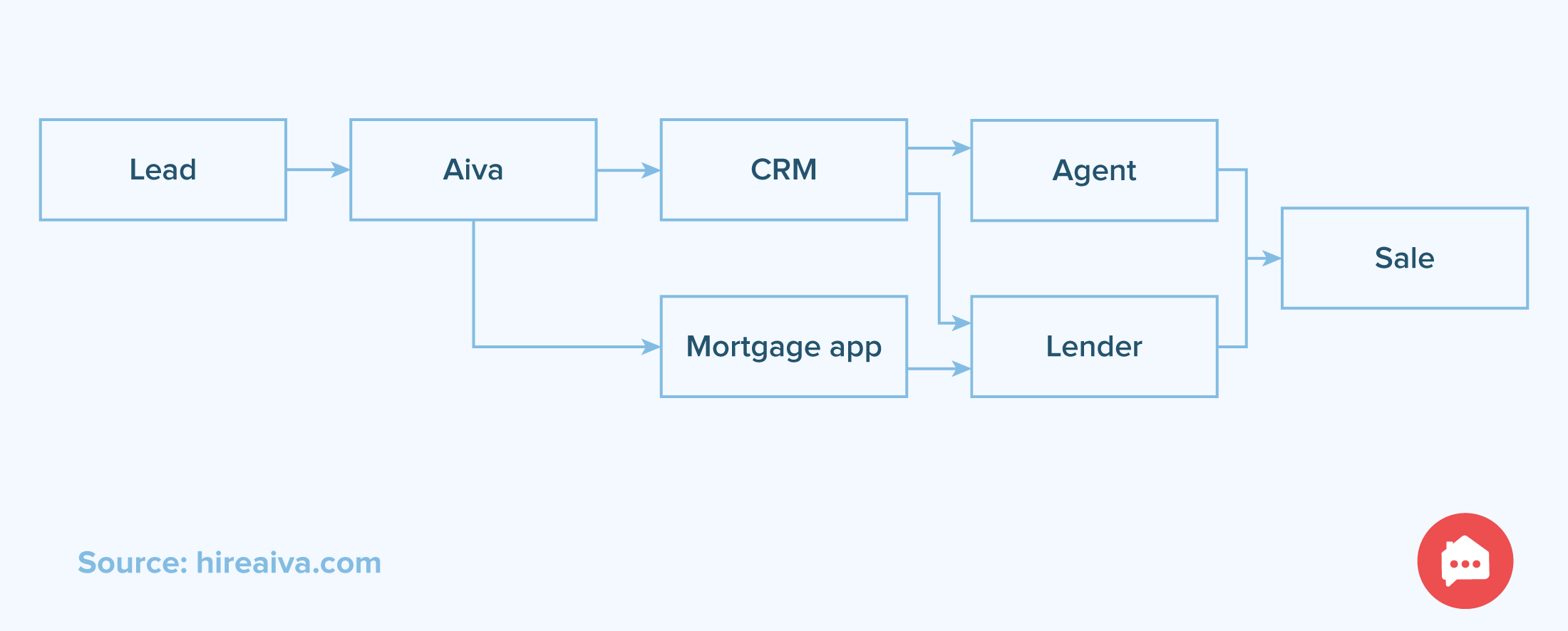 Once Aiva does the initial qualification and gathers information about the lead's situation and preferences, the lead is sent over to your CRM system and assigned to an agent and lender so the lead can be followed up with immediately by both parties at the same time.
Your lender should focus on helping the lead complete the pre approval process as quickly as possible if the lead has not already completed it.
Your agents should focus on setting up relevant property alerts for your leads and/or scheduling appointments for that same week to start showing some homes! Remember you can always politely cancel those appointments later if you find that the lead was not pre approved or is not financially ready.
This workflow is all about speed! By minimizing or even eliminating as many bottlenecks for leads as possible, real estate teams who use this type of workflow achieve better conversion rates and shorter sales cycles!
As lenders become more important in the early stages of the home buyer's journey, real estate agents must adapt their workflows to properly include lenders in the process. These workflows can not only help you keep lead conversion rates high but ultimately help you create a better home buying experience for your clients!