Learn how you can use Facebook retargeting ads to strategically nurture your buyer leads and bring them back to life
In our previous post, we explored how you can use email campaigns strategically to engage unresponsive buyer leads. While email campaigns can be an effective way to nurture and engage your unresponsive leads, they do have their drawbacks.
Emails do have notoriously low open and click through rates, compounding this problem is the fact that your emails might be miscategorized by Gmail as promotional or head straight to the Spam folder for some recipients. Our research shows that supplementing your email campaigns with Facebook retargeting ads can significantly improve your results!
Your leads spend a lot of time on Facebook
The fact is that almost everybody has a Facebook account. In fact, more than half of Facebook's users visit the site several times a day. This is what makes Facebook retargeting ads highly effective in reaching your unresponsive buyer leads.
Data from NAR shows that 44% of the home buyers started their search for a home online. It makes a lot of sense to run real estate Facebook ads to target those leads exactly where they spend a lot of their online time!
But before we dive into the retargeting ad strategy, let's quickly learn how Facebook retargeting works.
How do Facebook Retargeting Ads work?
There are two ways to retarget your leads on Facebook. The first one is by retargeting your website visitors. When a prospect visits your site from their computer or mobile phone and leaves without submitting an inquiry, you can retarget them with ads to bring them back to your site and encourage them to submit their information.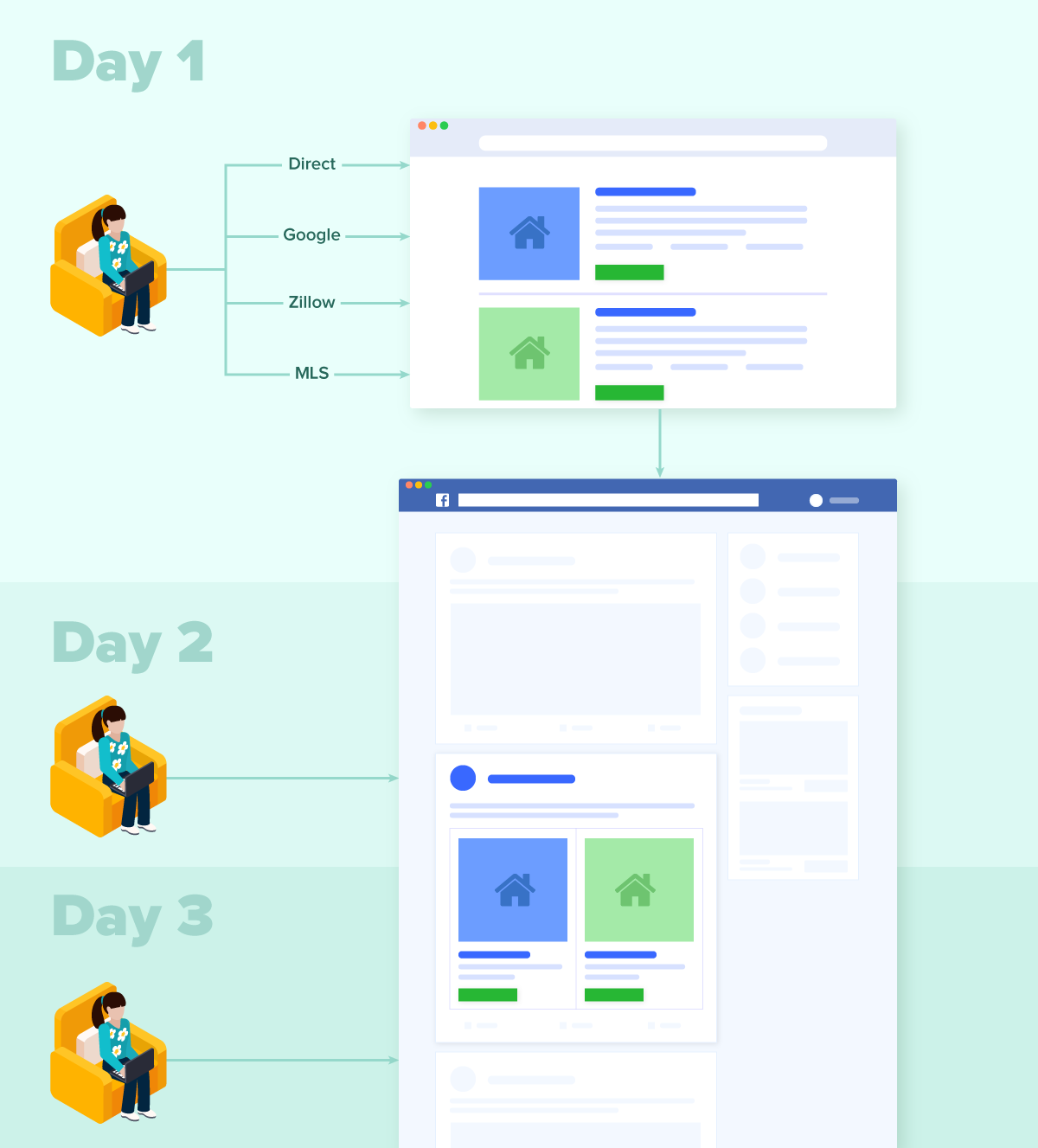 The second way to retarget your unresponsive buyer leads is by uploading a list of their emails and phone numbers into your Facebook Ad manager. Facebook will match your list up with their own user list and start showing them ads. Since a lot of real estate agents build up large lists of leads, this is the preferred way to engage unresponsive buyer leads.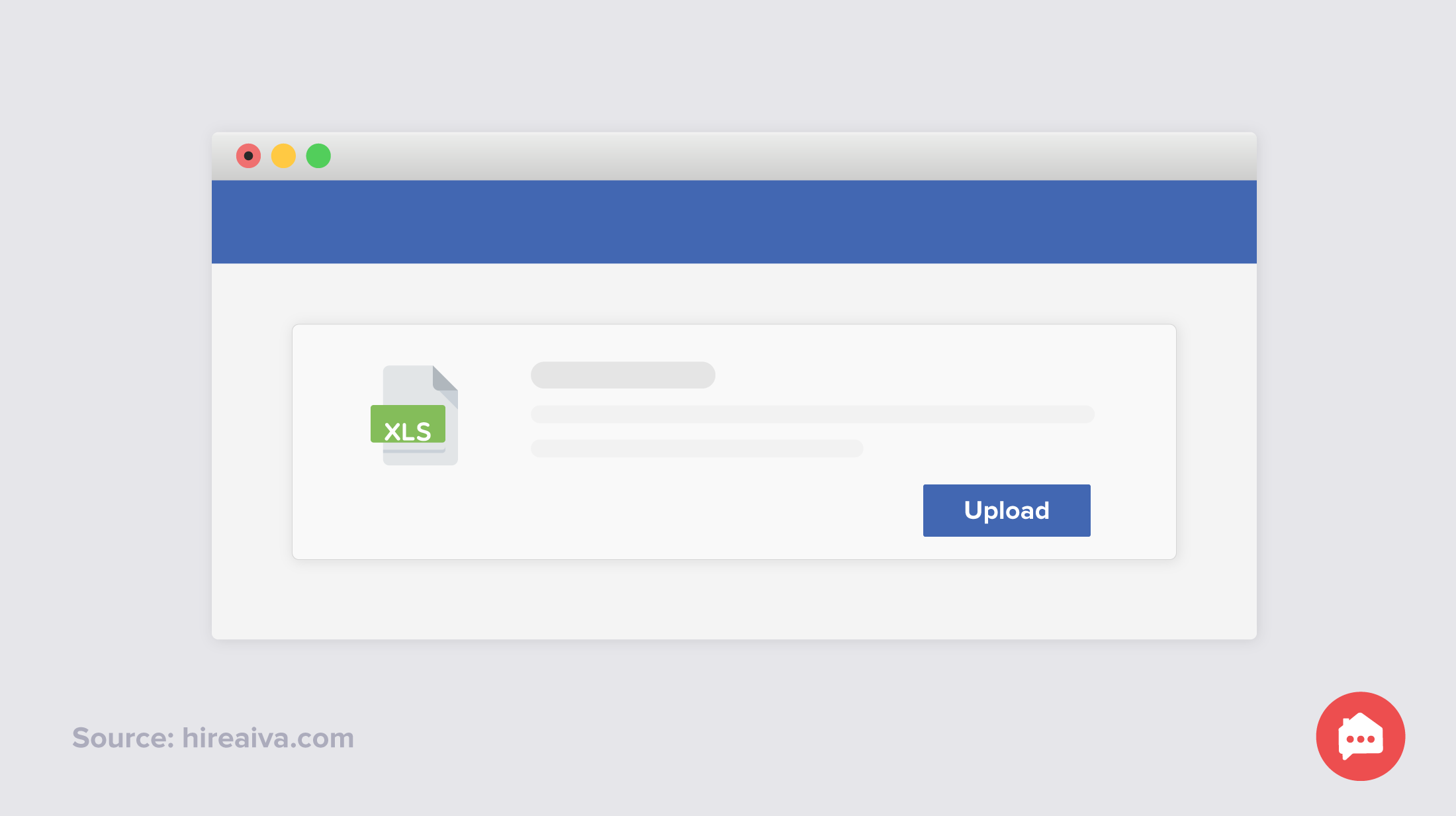 Now that we have the basics covered, let's look at how to go about building an ad strategy.
Your Facebook marketing funnel
Conceptually, every home buyer goes through a journey which starts with her feeling a need or want to buy a home and ends with her moving into a new house. For those of you that are curious about how the journey looks like, you should read our article on the home buyer journey!
Somewhere in that journey, most of your leads will want to find a real estate agent they want to engage. You want to be that agent! So how do you ensure you have a high chance of converting those leads into customers?
Let's put together a simple framework to help you think about your ad strategy, let's call it your real estate Facebook marketing funnel! There are three parts to your real estate Facebook marketing funnel: the Upper, Mid, and Lower.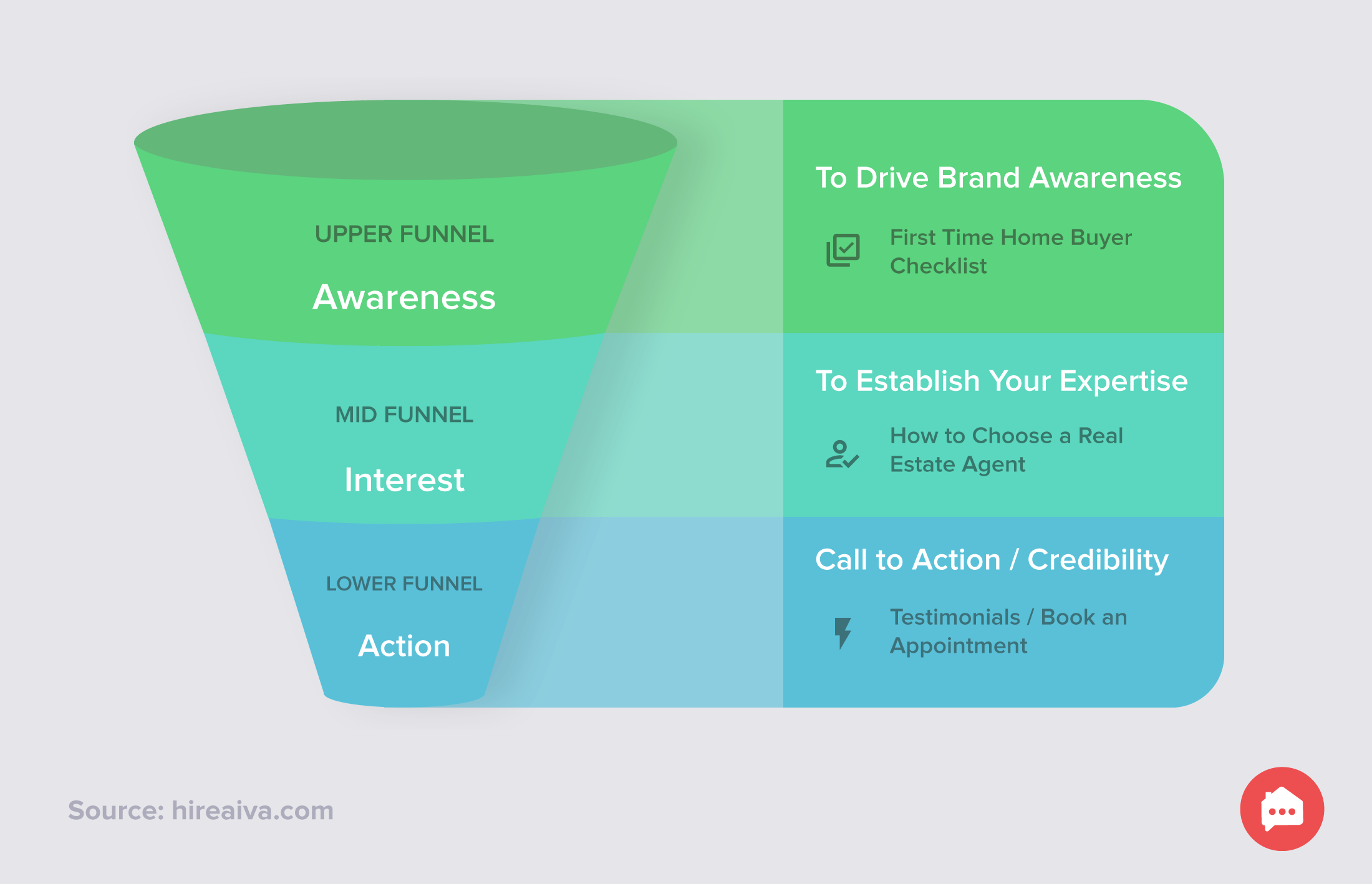 Upper funnel ads should be used to drive awareness of your name and brand among your leads. Your name, face, and brand should start to sound familiar to them. If your leads can't recognize your brand or remember your name, how can you expect them to engage you as their agent!
Mid funnel ads are really about driving interest and consideration. Once your leads are aware of your brand, they need to know that you are good at what you do. Offer them free market insights or lists of homes that are about to hit the market to add value to their home search process. When your lead is ready to make a decision, you want to be in their consideration set!
Lower funnel ads should be used to drive action. Whenever your leads are ready to make a decision on the right real estate agent for them, your lower funnel ads should make it easy for them to contact you or book an appointment. Showcase your client success stories and online reviews to show them the variety of clients you have served successfully.
Now that we have our Facebook marketing funnel framework in place, let's dive into each one!
Building Awareness (Upper Funnel Ads)
Building awareness of your real estate name and brand is important because if your leads don't know who you are, they'll never work with you. However, building awareness on Facebook has to be done in a subtle way, a simple ad showcasing your name, photo, and logo will not suffice.
Facebook's algorithms tend to show ads to users who have engaged with your ad before. Hence, it is important to ensure that your upper funnel ads are good at generating clicks so that Facebook targets the next batch of ads to those users.
A common way to build brand awareness on Facebook is to share something of value with your leads. It could be as simple as a first time home buyer checklist, a guide to local neighborhoods, a financing guide, etc. Give your leads a reason to click on your ad, visit your website, and submit their information to download your content!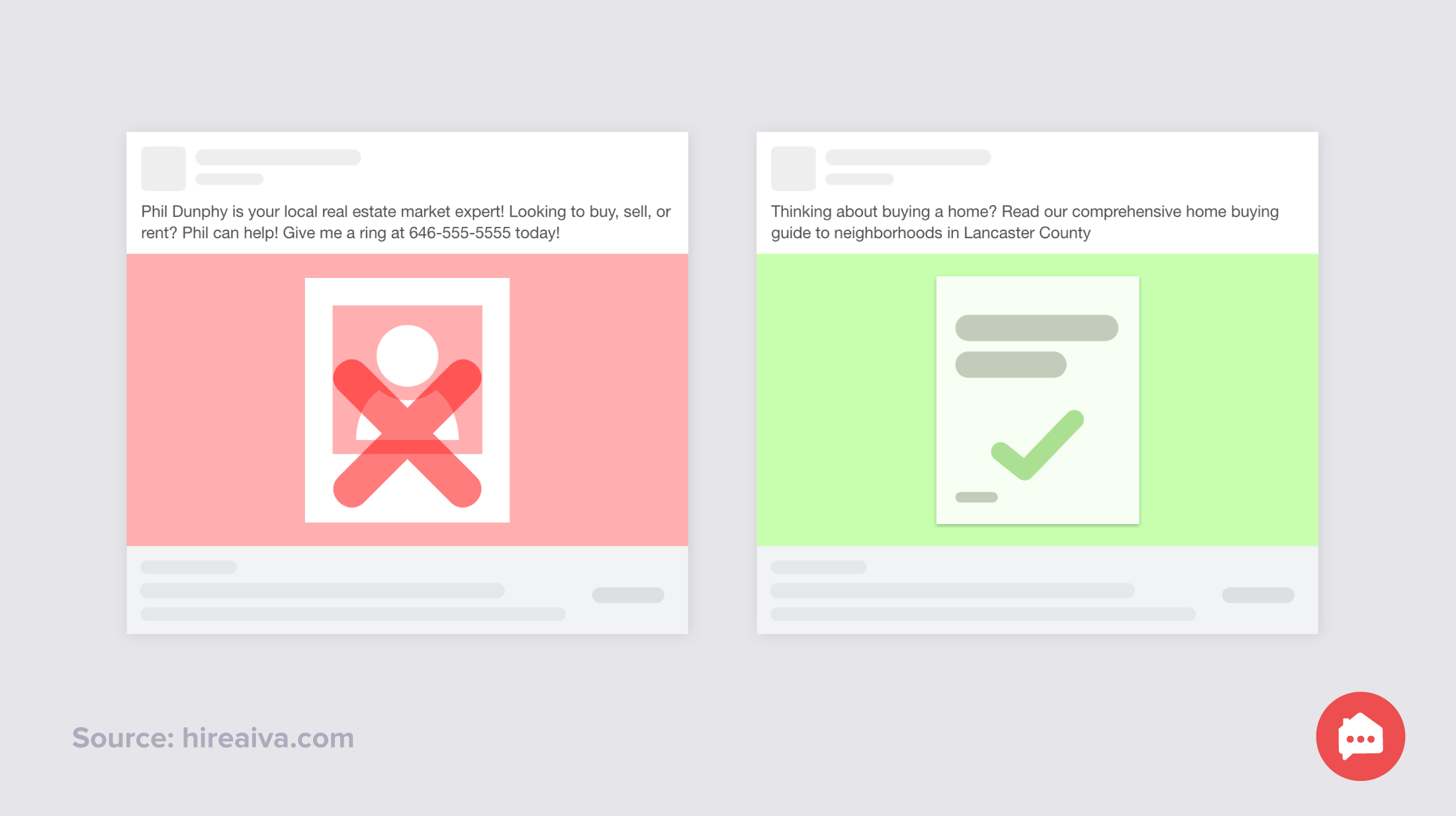 To recap, your upper funnel ads should:
Help your leads build awareness of your name and brand

Help your leads along with their home search by educating them

Generate clicks and downloads
Driving Consideration and Intent (Mid Funnel Ads)
As leads start to recognize your name and brand with the content you produce, it is now time to educate them further and push them deeper into the home buyer journey. Specifically, you want them to consider working with you when they're ready to buy.
One way to build consideration among your audience is to advertise content specifically geared toward helping your leads become as prepared as possible for their home journey process. Here are some examples of content you can advertise:
Pitfalls to avoid for the first time home buyer

List of criteria to look for in a Real Estate agent

Tactics to help get your offer accepted

Lancaster County Home Sales Market Report

List of Lancaster County Homes that are about to hit the market
By writing content that clearly demonstrates your experience helping home buyers deal with various situations and your market expertise, your target audience will start to not only recognize your brand but also identify you as a real estate expert. When the time comes to buy, you have a much higher chance of making it in their shortlist of prospective real estate agents.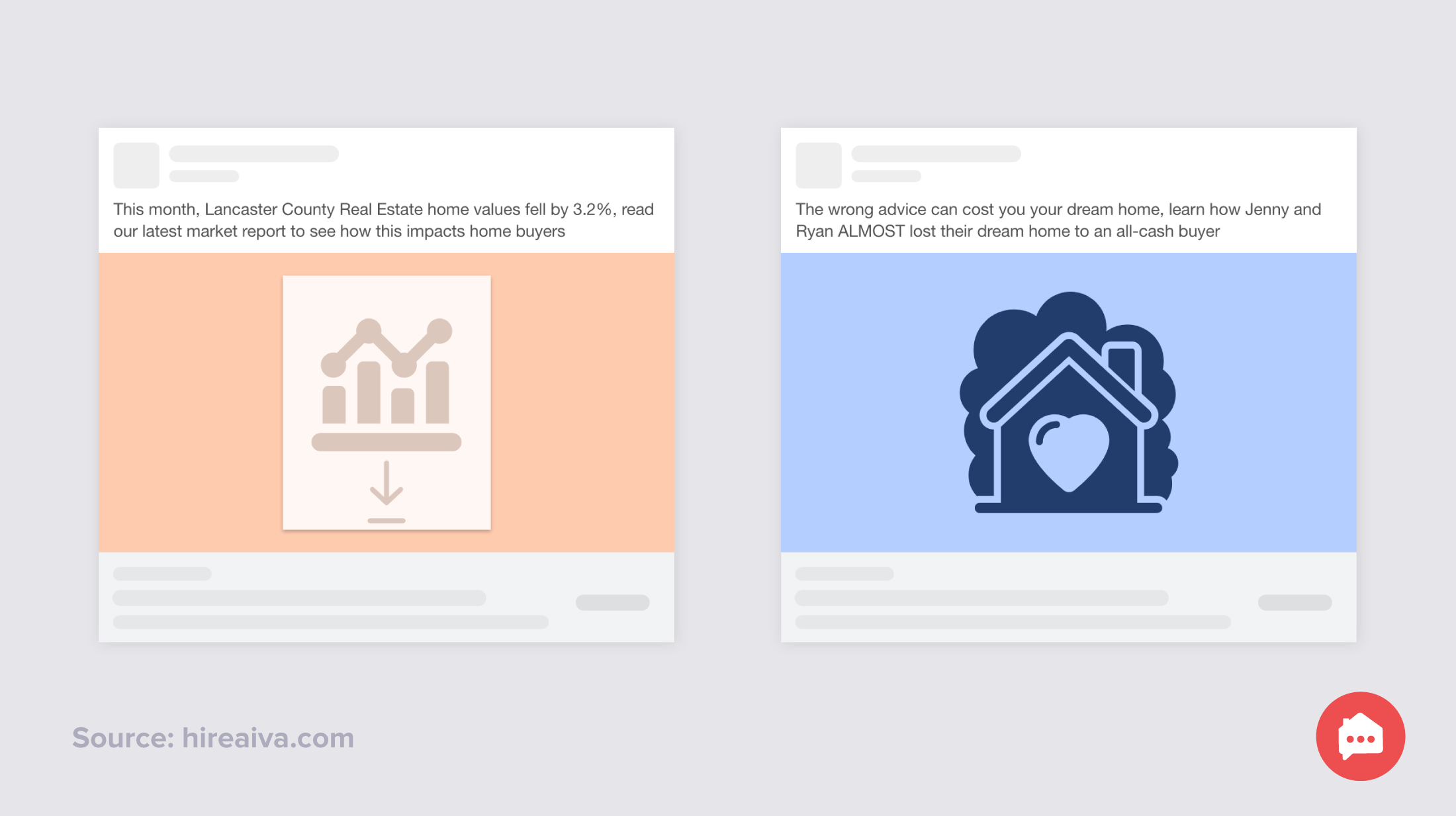 Like upper funnel ads, mid funnel ads are also meant to generate traffic to your site. However, you should strive to generate engagement in the form of likes and comments. You should ask your leads to type in their questions in the comments section of the ad or like your ad to receive an exclusive list of homes that are about to hit the market. Facebook's algorithms love likes and comments even more than clicks!
To recap, mid funnel ads should:
Educate your leads about the home search process

Position you as a local market expert

Demonstrate your experience in real estate
Let the Appointments Roll In (Lower Funnel Ads)
Lower funnel ads are all about action! After a series of upper and mid funnel ads your leads should now be in the market to engage a real estate agent. Your lower funnel ads should make it easy to and motivate your leads to book a meeting or appointment with you!
So how do you get leads to book an appointment with you? By showing off your successes! Roll out ads that showcase stories of specific clients you've helped successfully. Video ads can work wonders here, have your happy clients make a quick 30 second video talking about their experience working with you.
Have some amazing client reviews on Zillow? Show them off! Turn your best Zillow reviews into Facebook ads and link them straight to your calendar or website so your leads can get in touch with you.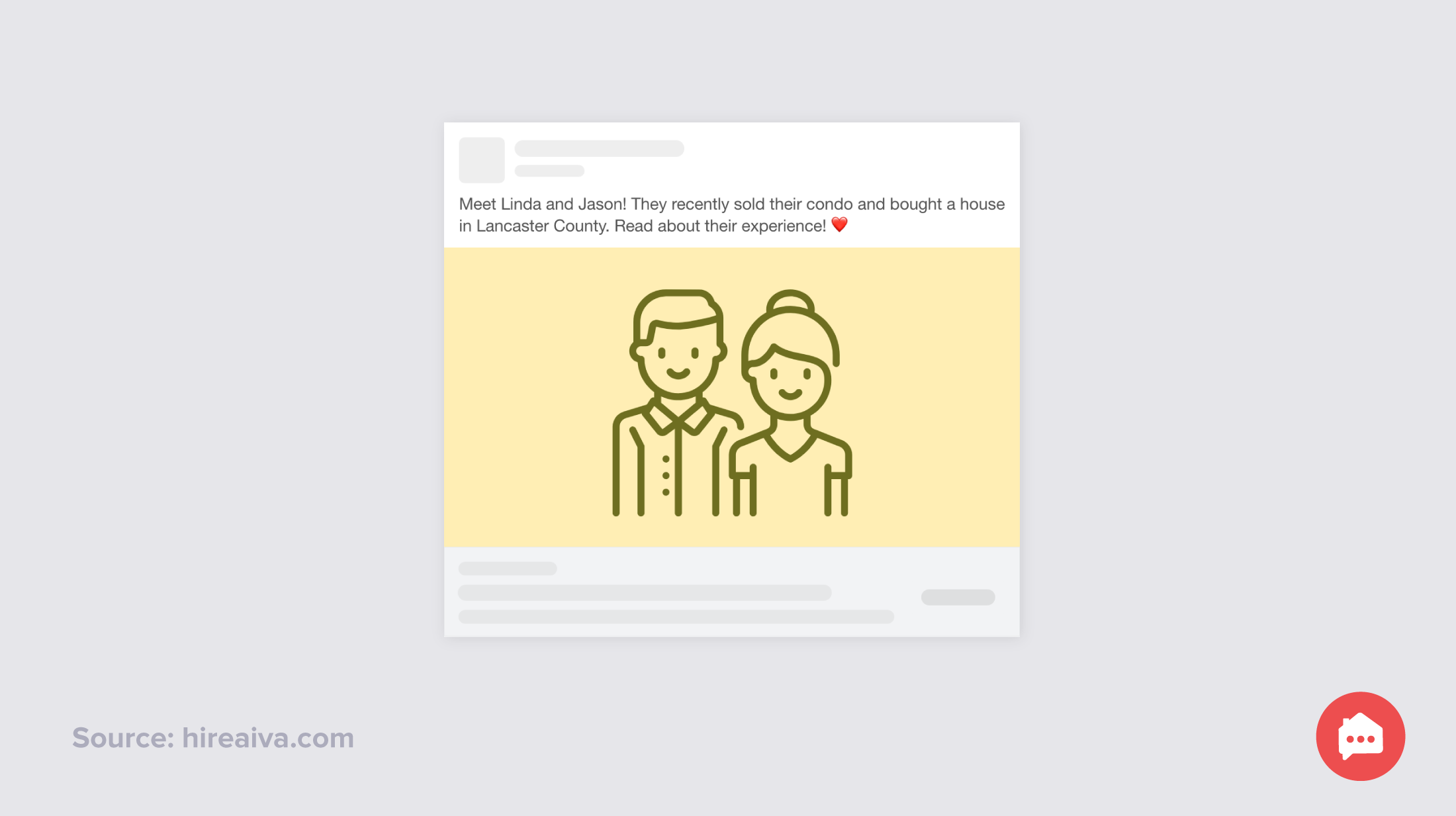 To recap, your lower funnel ads should:
Showcase your experience helping a variety of buyers successfully

Demonstrate social proof using customer reviews from Zillow or other sites

Allow your leads to book an appointment straight away
While Facebook retargeting ads are a powerful channel to engage unresponsive buyer leads, in order to generate real results your ad strategy should be informed by the marketing funnel in a meaningful way. Combined with other channels, Facebook retargeting ads are a great tool to revive your unresponsive real estate leads and make your online lead generation efforts a lot more meaningful!