As borrowers increasingly expect a quick mortgage experience, lenders are having to incorporate more digital tools in their business to stay competitive. Learn about four types of digital tools you can put in place tomorrow to help you convert more leads into funded loans.

For home buyers, applying for a mortgage is an incredibly complex process. There are dozens of documents to submit and lengthy paperwork to fill out all of which can be highly discouraging.
However, industry experts believe the ongoing digital transformation within the lending industry has the potential to solve this problem. In fact, a study from Columbia Business School found that non banking entities are winning at processing mortgages while traditional banks are falling behind.
The success of non bank entities is largely attributable to their use of digital features compared to the conventional branch networks traditional banks employ.
While providing an easy experience for home buyers is necessary to win business, it can also help build a better relationship between you and your real estate agent partners. If you take care of their leads, agents will keep coming back to you with more referral business!
Also, a lot of agents often complain about the lack of transparency from their lenders. Having the right digital tools in place will help you score well in that department as well.
In this post, we explore four parts of your business you can implement digital systems to improve the borrower experience, provide transparency to your agents, and convert more leads into loans!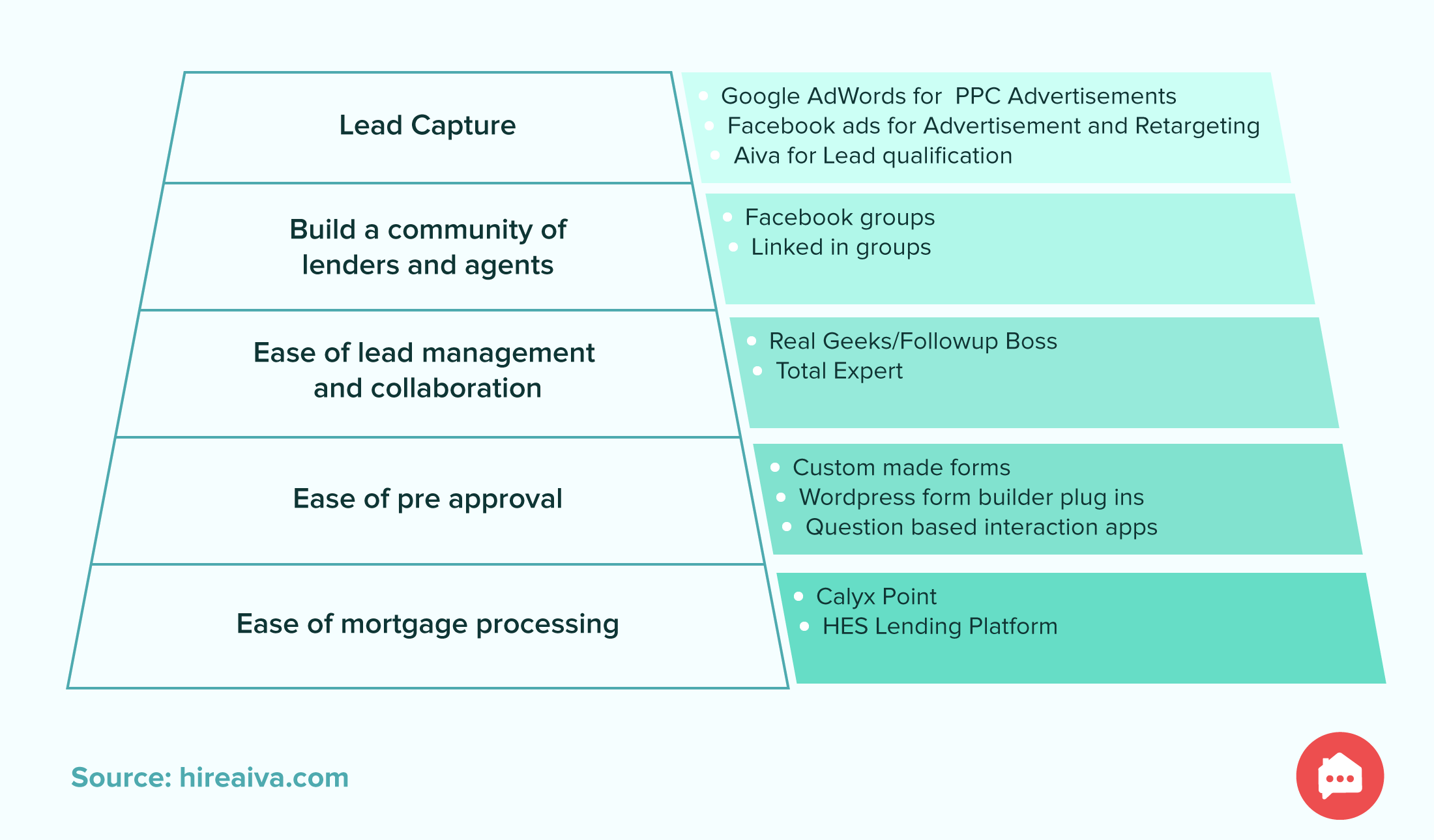 Capture and qualify the right lead
Everything starts with a lead, but capturing the right leads is important, doesn't matter where they are coming from, as long as they are ready to apply for a mortgage!
One of the best ways to attract mortgage leads is through Google. However, based on our experience Google leads tend to be at least a couple of months away from transacting. Hence, it is important that you diversify your digital ad spend across several different sources.
Facebook is also a great medium for attracting mortgage leads, provided you know how to create highly targeted Facebook ads. The most successful loan officers usually capture real estate leads through Facebook and pass them off to their real estate agent partners to be qualified until the lead is ready to apply for financing.
In addition to attracting new leads, Facebook ads are also a great way to retarget existing leads that aren't quite ready to transact just yet. Retargeting lets you stay top of mind until your leads are ready to move forward.
After you capture a lead, it is extremely important to contact them instantly, under 2 minutes, or you risk losing out on a potential opportunity. In addition, our research shows that 80% of real estate leads come in outside of business hours so you need to be comfortable working early mornings, evenings, and weekends.
Lead management and collaboration
Once you start consistently generating online leads, you need to focus on managing those leads effectively. Specifically, you need to be able to track communication with leads, assign leads to team members, assign leads to real estate agents, and track where leads are in the home buying process.
According to a BCG white paper on digital transformation in the mortgage industry, borrowers like receiving real time notifications on application updates.
Setting up a CRM system allows lenders to keep all stakeholders in the loop and communicate with their leads in real time as they progress through the pre approval and the mortgage application process.
There are a number of CRM systems available in the market that lenders find useful including Hubspot (free), Contactually, and Follow Up Boss.
However, if you want a system specifically designed for loan officers, Total Expert is a great choice. In addition to serving as a CRM system, Total Expert also lets you manage co-marketing activities with your agent partners in a compliant way. For lenders who generate leads for their real estate agent partners, TotalExpert can be an invaluable tool!
Speedy pre approval process
The first step for most borrowers is to know how much home they can afford after completing a pre approval application. The very best digital lenders like Better Mortgage or Rocket Mortgage are able to issue pre approval letters within 3 minutes and verified pre approval letters within 24 hours.
If you haven't already done so, consider adding an online pre approval application to your website. Direct your leads to this form as early in the process as possible to save time and provide a superior mortgage experience.
You can use simple online form services like Google Forms (free) or Typeform (paid) to request as much information as possible from your borrower to make the pre approval process quick. Take a look at Zillow's pre approval form or that of Rocket Mortgage for some inspiration on how to make your form easy!
Also, if you run your website on WordPress, there are a number of form builder plugins available that are built right into your website.
Adding an online pre approval application will save you and your leads a ton of time, and can help convert more leads into potential opportunities!
Quick mortgage processing
Once your lead has found their ideal home and is ready to close the loan, you need to make sure you can quickly fund the mortgage or you risk losing the lead!
As you're probably aware, mortgage underwriting can be a long process with a lot of potential back and forth between you and your borrowers. Borrowers state that submitting a mountain of paperwork is what they hate the most about applying for a mortgage.
According to a white paper by BCG, lenders cited Document Management as a top priority. Specifically, you need to digitize the following processes:
Provide an online document checklist

. Provide your borrowers with a checklist for all the documents they need to put together as early as possible. A simple PDF document or a web page with a document checklist is sufficient.

Easy document upload

. Give your leads an easy way to share documents with you by creating a shared folder on

Google Drive

or

Dropbox

for each borrower to upload their files into.

Online document sharing and e-signatures

. Make it easy for your leads to view and sign documents like disclosures and consent forms online, tools like

PandaDoc

,

DocuSign

, or

Right Signature

can take you a long way.
As borrowers increasingly expect a more digital mortgage experience, lenders are needing to adopt more technology into their processes to stay competitive. While this may seem intimidating at first, incorporating simple off the shelf tools like these can help you provide a truly digital experience for your borrowers and convert more leads!