Considering signing up for Commissions Inc (CINC)? Thinking about switching to Commissions Inc (CINC) from a different system? You definitely want to read this review before you do!
Real estate agents spend a lot of time and effort generating, engaging, and qualifying online leads to convert them into clients. It is a complex process that involves persistence, coordination with multiple stakeholders, and most importantly proper organization. Having the right system in place to help you manage that complexity is crucial!
Commissions Inc (CINC) has serious potential to be that single system that you and your team can use to consolidate your marketing, lead generation, and lead management efforts in one place. With a strong reputation for comprehensiveness, Commissions Inc (CINC) is often the first choice real estate marketing system for ambitious real estate agents and teams alike.
We, at Aiva, have been fortunate enough to work with a lot of top real estate agents and teams across the United States and Canada, a lot of whom use Commissions Inc (CINC) to manage and grow their real estate businesses. All the information we present in this post was gathered directly by doing independent research and talking to our mutual customers.
In this post, we look at Commissions Inc's (CINC) lead generation services and capabilities, and also the most important features of Commissions Inc (CINC) including its website, marketing, and lead management features. We also highlight the biggest pros and cons of using Commissions Inc (CINC), various integration options, and information on Commissions Inc (CINC) pricing.
Table of Contents
What is Commissions Inc or CINC?
Real Estate Website Features
Lead Management Features
Communication Features
Marketing and Campaign Management
Integrations
Commissions Inc (CINC) Pricing
The Final Word
What is Commissions Inc or CINC?
Commissions Inc or as it is more commonly known as today, CINC, is a real estate lead management platform for real estate agents to generate, manage, nurture, and convert real estate leads into clients.
Out of the box, Commissions Inc (CINC) comes with:
A

website

to capture and generate leads, and also to maintain a professional online presence for you and your team

An

integration with your MLS

to pull listings from and display them on your website and also showcase specific listings to your leads

A

lead management or CRM system

linked to your website to help you manage, contact, collaborate with, and nurture leads into clients

A

suite of integrations

with popular lead providers like Zillow and a host of other lead marketing systems you might already be using
In addition, Commissions Inc (CINC) also offers managed lead generation services across pay-per-click (Google) and social media (Facebook) advertising channels to complement or supplement your own lead generation and marketing efforts.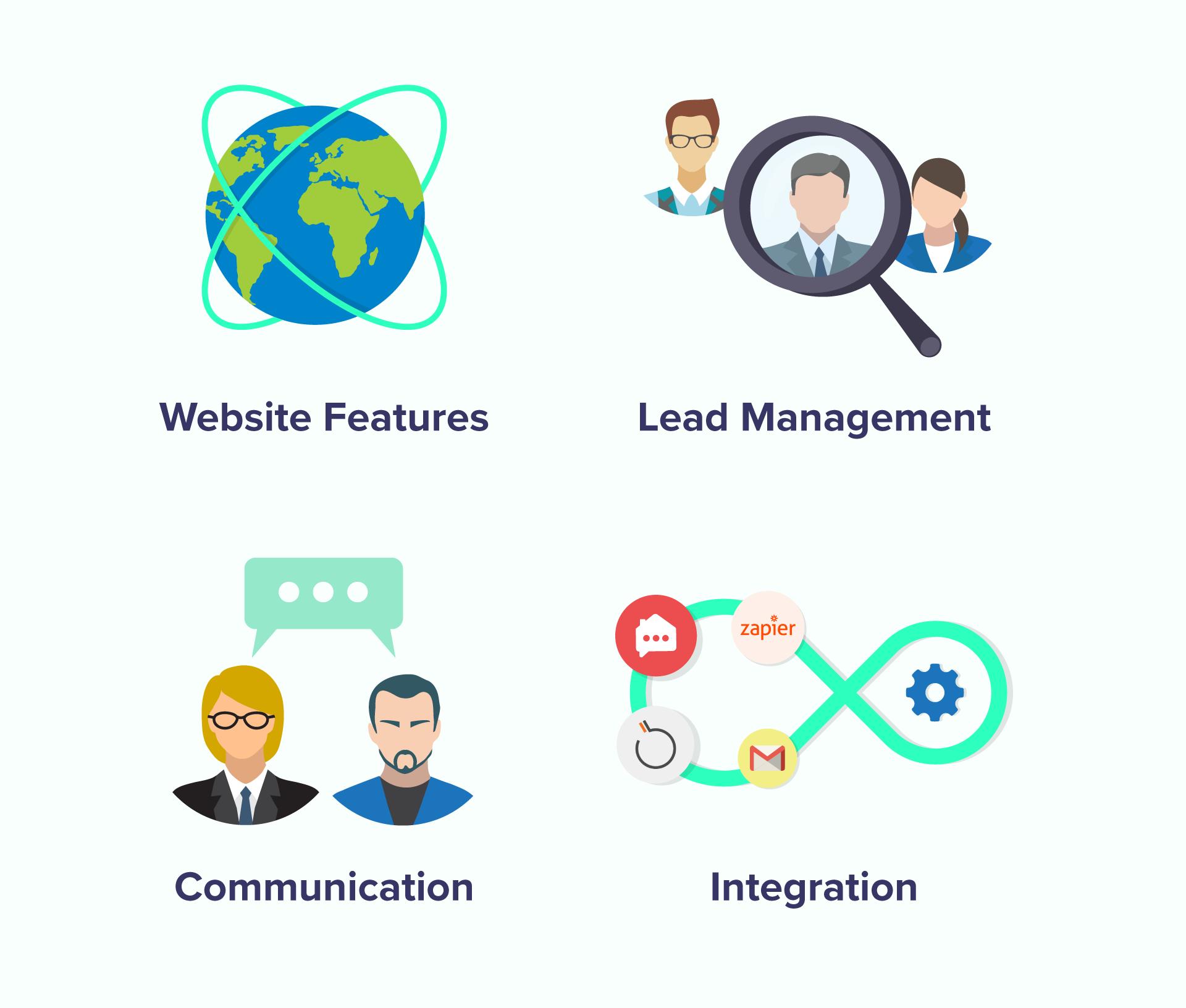 Real Estate Website Features
Commissions Inc (CINC) allows you to create your real estate website in no time with a branded and SEO-friendly domain name. Here are some popular features that a stock Commissions Inc (CINC) site comes with:
MLS Integration. Your website will automatically feature a listing search option on the home page and can connect to your local MLS to pull latest listings data. You can also create pre-built listing searches called "Quick Searches" to be featured on your site for common cities and neighborhoods in your area.
Featured Listings. Highlight your own listings on the front page so leads can click into them right away. Your listings can be both listed on the MLS or privately on your own site.
Lead Capture. Like most real estate websites, Commissions Inc (CINC) websites are designed to capture lead information by asking visitors to sign up to view property specific information.
Appointment Requests. One of the most useful features in Commissions Inc (CINC) is its ability to allow leads to request appointments for specific listings directly from your site.
Landing Pages and Blog. The system also comes standard with a simple content management system for creating landing pages and blog posts. This is particularly helpful if you plan on doing your own lead generation, especially for Search Engine Optimization (SEO) and Facebook ads. However, the page editor itself is not as user friendly as a Squarespace or Weebly site but can get the job done as long as you are okay with a templated look.
Agent Specific Sites. If you are a multi member team, Commissions Inc (CINC) also lets you create agent specific sites for each of your team members and lets you assign specific permissions to different agents to help you control what they can or cannot do.
SEO Friendly. Their websites are also very SEO friendly which can help your site show up on top real estate keywords that buyers and sellers in your area might be searching for on Google.
Website Themes. By default, Commissions Inc (CINC) sites come with 8 standard themes and about 10 different colors and 5 different fonts. While we're not sure if you can customize your theme further, most agents probably don't need customization beyond what Commissions Inc (CINC) already provides.
This is where the real power of Commissions Inc (CINC) comes to life, lead management in Commissions Inc (CINC) is very comprehensive and highly effective. Some key lead management features include:
Lead Ponds. Commissions Inc (CINC) comes standard with the ability to create "lead ponds". A pond is a type of CINC account where leads can be assigned to be worked by multiple agents. Commissions Inc's (CINC) internal research indicates that this helps create healthy competition among agents. Ponds can be created for specific areas (ie. Beverly Hills Pond), specific market segments (ie. High-end Buyers Pond), or lead types (ie. Sellers Pond).
Lead Assignment. In addition to automatic lead routing (see below), you can manually assign or reassign leads to your agents. We found that some teams have an ISA or virtual ISA that manually triages leads in Commissions Inc (CINC) after making initial contact with a lead to determine which agent is best suited to convert them.
Lead Routing. Their lead routing feature is incredibly powerful! Leads can be auto assigned to your agents based on a variety of factors including property price, zip code or city, type, source, the timeframe to buy, etc. This is equally useful for small and large teams alike to ensure there's a clear and fair distribution of leads among agents.
Lender Assignment. You can bring your lender onto your Commissions Inc (CINC) account and automatically route or manually assign leads to them as well. This is very useful when you have multiple preferred lenders!
Activity Logging. Agents can track activity using notes under each lead, adding and assigning tasks, and also attaching files to keep information centralized and auditable. You can also merge duplicate leads, and import leads from or export leads to an Excel file if needed.
Pipeline Status. You can also track which stage of your sales pipeline your leads are currently in. Here are the default stages: New Lead, Attempted Contact, Contacted, Appointment Set, Showing, Under Contract, and Sold.
Appointment Management. You can book appointments with your leads, or send them an appointment request they can accept directly from within the lead's profile page in Commissions Inc (CINC).
Overall, lead management features within Commissions Inc (CINC) are very powerful and equally effective for solo agents and teams alike!
Commissions Inc (CINC) also has some great features to help you communicate with and message your leads using email, text, phone calls, listing alerts, and drip campaigns.
Behavioral Messaging. Behavioral messaging allows you to send custom emails and texts to your website leads based on specific triggers such as when a lead favorites a property or requests an appointment. This helps you engage your leads in a more relevant and personalized way to start a conversation.
Email Deliverability Optimizer. Commissions Inc (CINC) keeps a log of all inbound and outbound emails to help you optimize when and how you send your emails to ensure a high level of email deliveries. In addition to that, it also tracks various keywords in your emails to prevent them from being flagged as spam.
DISC Drip Campaign. This feature allows you to customize the emails your leads receive depending on their personality. The foundation for the feature is the DISC profile and Commissions Inc (CINC) by default asks your leads various questions when they sign up to determine their DISC personality type.
Native Dialer. Commissions Inc (CINC) also comes standard with a native dialer within the system for you to call your leads. If you prefer a more advanced dialer, you can always connect it to MOJO Dialer as well. 
Mobile Apps. In addition to a web based system, Commissions Inc (CINC) also offers a mobile app called CINC Agent to help you and your agents manage, track, and communicate with leads on the go. In addition, Commissions Inc (CINC) also offers two additional mobile apps called Open Houses and Etta Homes to help you capture leads during open houses and collaborate with your leads in real time on various listings.
You can learn more about CINC's communication features in this post.
Marketing and Campaign Management
Digital advertising and listing marketing are integral to growing your real estate business and agents are always competing to get ahead. Commissions Inc (CINC) understands this very well and gives you a list of useful marketing and advertising features.
Pocket Listings. Agents can create pocket listings to generate interest for properties that are coming soon or not yet listed on the MLS. This is a great way to capture leads for your off-market listings even before they hit the market!
Listing Syndication to Craigslist. Commissions Inc (CINC) also provides the ability to automatically post your listings to Craigslist to help increase visibility.
Social Media Sharing. You can also post any listing from the MLS or your Pocket Listings to your social media pages including Facebook and Twitter directly from Commissions Inc (CINC).
Seller Home Valuation. Commissions Inc (CINC) can automatically put together home valuation reports for your prospective sellers. This feature is an absolute must-have if you're serious about generating seller leads.
Market Reports. The system automatically generates market reports for various cities that your MLS is linked to and continues to keep them updated on a monthly basis. These reports can make you look really smart in front of your prospective buyers and sellers!
ListCast. Commissions Inc (CINC) offers an add-on product called ListCast to help agents retarget website visitors with relevant properties to keep bringing them back to your site until they convert.
Listing Video Creation. You can also automatically turn your listings into high quality YouTube videos to use for your marketing and advertising efforts.
Commissions Inc (CINC) comes standard with a strong suite of done-for-you powerful marketing and advertising features to help agents generate and convert more leads!
What systems does Commissions Inc (CINC) integrate with?
Real estate agents rarely use just one system to manage everything. Tech savvy agents and teams will definitely appreciate the breadth of systems that Commissions Inc (CINC) integrates with. Some of the most popular integrations include:
Zapier. Commissions Inc (CINC) recently launched an integration with Zapier which lets you connect your site to nearly a thousand different applications. This is a STRONG plus and can save you significant headache and manual work keep various systems in sync!
 Aiva. Aiva is a lead conversion platform for real estate leads. Commissions Inc (CINC) has a two-way integration with Aiva which lets you send in leads to be qualified by Aiva and for Aiva to sync activity back into your Commissions Inc (CINC) site.
BombBomb. By connecting your BombBomb account, you can easily embed BombBomb videos in your drips emails directly and keep both systems in sync.
Gmail and Google Calendar. Commissions Inc (CINC) pulls in your emails from Gmail into the appropriate lead record and places your appointments directly on your Google Calendar. You can even send and receive emails directly from your Commissions Inc (CINC) dashboard if you prefer!
Mojo Dialer. Mojo dialer makes prospecting extremely easy for real estate agents. It is one of the most popular tools out there to prospect for clients and the integration with Commissions Inc (CINC) makes it even more powerful!
Corefact. Corefact is a fully automated real estate postcard marketing service. It allows you to send postcards to all or a subset of your leads based on their activity or zip code. Postcard marketing is very popular among real estate agents making this integration especially useful.
Dotloop. Dotloop is a digital transaction management platform for real estate agents. You can track the status of your Dotloop deals in Commissions Inc (CINC) with the Dotloop integration and schedule follow up with multiple stakeholders accordingly.
Zillow, Trulia, and Realtor.com. You can connect your portal advertising accounts directly to Commissions Inc (CINC) to keep your leads and follow up centralized in one place.
How much does Commissions Inc (CINC) cost?
Based on our research, Commissions Inc (CINC) has two types of plans: one for individual agents or small teams, and one for larger teams.
As a single agent, you can get a Commissions Inc (CINC) site up and running for about $600 to $1,200 per month with a six month contract and month-to-month thereafter. Larger teams can expect to pay around $1,500 per month without any commitment or contract in place. Both of these plans would only cover the system and the website, not the lead generation services.
You can also have Commissions Inc (CINC) manage your lead generation ad spend for you for an additional $500 per month plus advertising spend on top of that which would have to be at least equal to your subscription fee for their platform.
We aren't sure if Commissions Inc (CINC) charges any set up fees, but we wouldn't be surprised if they did! In total, to have a Commissions Inc (CINC) site with lead generation services you should expect to pay between $1,700 to $3,500 per month which is definitely quite pricey.
Please note that this cost estimate does not factor in additional add-ons such as ListCast which can set you back an additional $300 to $500 per month.
What's our final take on Commissions Inc (CINC)?
Our mutual customers consistently rave about how powerful Commissions Inc (CINC) is and the breadth of features it offers. However, it may not be for everyone out there. Here's a quick breakdown of the pros and cons of Commissions Inc (CINC):
Pros
The system is robust, comprehensive, and highly reliable

It is the most popular name when it comes to real estate lead generation, management, and website functionalities

Extensive list of integrations to help you stay organized and efficient

A mobile app for agents on the go that offers nearly the same level of lead management functionality as the online dashboard

Great pay-per-click lead generation functionality, we consistently find Commissions Inc (CINC) leads are higher quality based on our independent research

Features like Lead Ponds are great for large teams

Their website is modern and professional and sufficiently customizable
Cons
It is definitely on the higher end of the price spectrum

Depending on your plan, you may need to sign a contract or commitment

Initially, high learning curve, definitely not a plug-and-play system

Your domain belongs to Commissions Inc (CINC) unless you opt for a branded domain which means you might be stuck with them if you want to keep your domain

Powerful system with tons of features, but the interface can be a bit complicated to use without the right training and time investment
Pricing aside, whether you're a large team or a small one that is serious about online lead generation, Commissions Inc (CINC) will definitely arm you with the resources you need to convert more leads and grow your business. We hope you found this review helpful!