Is your business growing and you are no longer able to follow up with your leads? Are you thinking to build a real estate team to grow and expand? Is yes, then this post will answer your queries.
Real estate agents grow with time and with that, comes the need to build a team. However, the transition from a solo agent to a team comes with its own set of complexities. 
Single agents may go into one of many directions when forming a team. A lot of them may bring family members to the team while some may choose to hire a partner but none of them match the results and quality of service provided by a professional realtor. 
We have seen that these teams end up with recurring operational problems that stem from poor management and a lack of professional approach to the business. 
For example, a partnership model is sought by agents to shed their workload with another person. But oftentimes that does not work out as the other agent may not be on the same page. On the other hand, a family team lacks rules and strict roles that create the same type of problem. 
Table of Content
Do You Need a Team?
Tools for Lead Generation
Tools for Lead Management and Lead Qualification
Tools for Speed to lead and Conversion
Tools for Closing
Hiring the Team Members
How to Hire the Right Person for the Right Profile?
Training Your Real Estate Team?
How to Compensate Your Real Estate Team?
If you are thinking of building a real estate team you need to avoid these circumstances. Your focus should be to create a professional team that efficiently handles all the challenges, is passionate and fairly compensated. 
This is what we are going to discuss in this post. But before we do that let's get started with an obvious question. 
Do You Need a Team?
Before you even think about building a team, you need to evaluate if you really need one or not? Or, is it just poor management on your part leading to a lot of workload and missed opportunities? if you come across these 3 problems frequently, then it is time you expand and build a team.  
Your Income has Flattened. You are not seeing changes in the balance sheet at the end of the month. Your net income has stagnated and as a solo agent, you cannot do much to change that. In this stage, you are mostly converting hot leads but not paying much attention to qualify the remaining ones that need more work to be transaction ready.
You are Always Busy. You are switching between calls, appointments for open homes are getting overlapped, and you often skip meals to fill in for pending tasks.
Your Lead Volume has Grown Over Time. You have seen steady growth in the number of acquired leads and finding it impossible to reach all of them. A lot of leads slipping through the cracks and your lead generation budget is being wasted.
If these reasons resonate with your present situation, you reached a point where you need a team. There are various facets to building a team starting from the toolset to use to the team positions to be filled and much more. Let's start with the toolset.
The image below gives a pretty good idea of what tools are needed across your real estate team structure. The technology stack here covers the 4 important parts of running a real estate business.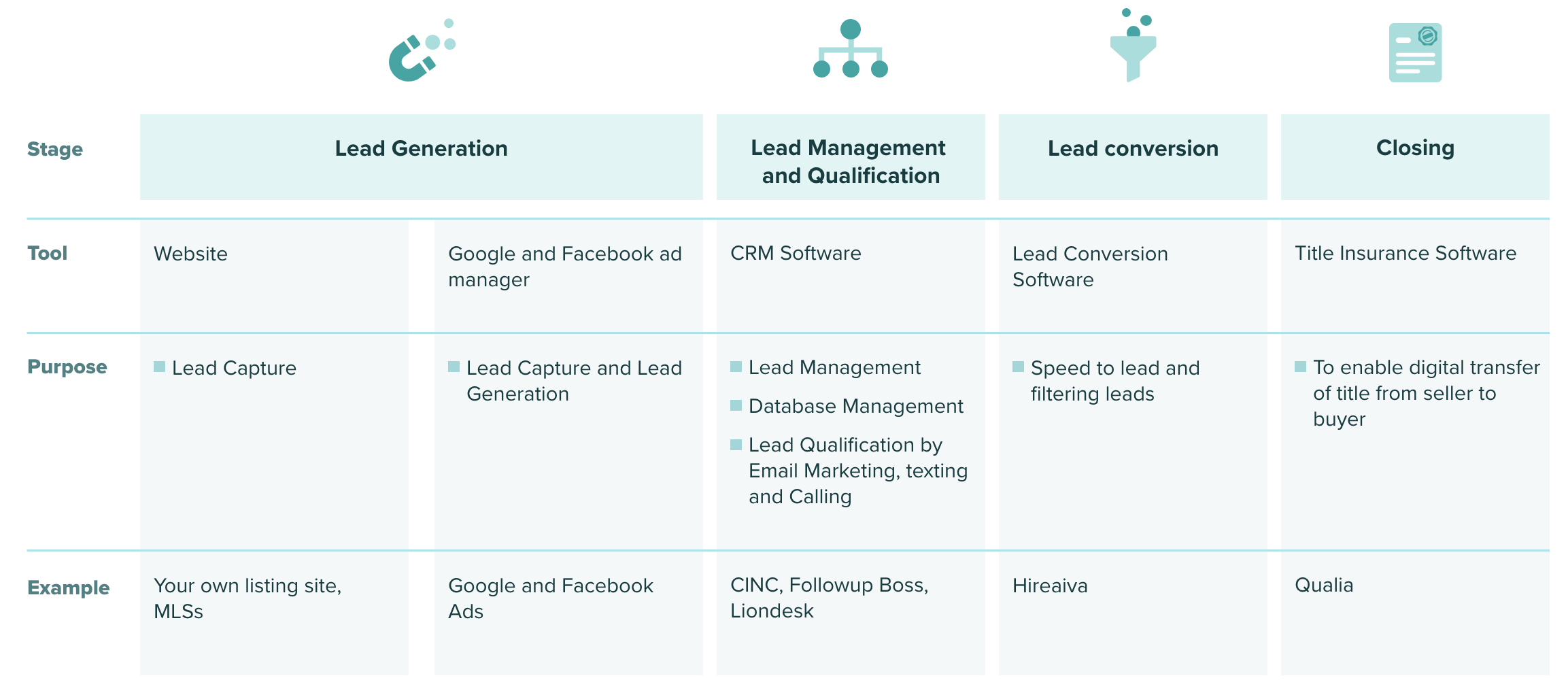 Tools for Lead Generation
Leads are everything for real estate agents and their teams. You cannot do much without leads. You must have a substantial lead base for your team to work on and be engaged all the time. A website with all your listing is one of the best ways to generate leads.  
The Website. You can create your own site from scratch or use website builders provided by your CRM. However, not all CRMs provide websites. Some of them will provide the website if you buy a specific subscription plan. 
Ads. Ads are necessary to generate leads for your team. You can create ads on Zillow, Google, and Facebook. Some of the CRM providers also allow you to run ads on MLSs. These ads are contextually placed across multiple MLSs to capture relevant leads. 
Tools for Lead Management and Lead Qualification
Lead Management is the most important aspect of a real estate business and determines the efficiency of your team. You must sign up for a CRM to build a professional lead management workflow. 
Real Estate CRM. A real estate CRM will allow you to segregate leads and send them to the right person. It also helps you manage the database of your leads over time to help you with the upkeep of data. 
Real estate CRMs also allow your team to create and drive prospecting schedules using inbuilt dialers. In addition to that, CRMs also help your team create automated marketing campaigns using drip emails. Overall, CRM is the most important element in the technology stack for a real estate business. 
Tools for Speed to lead and Conversion
After you form a team and start working on hundreds of leads at the same time you will realize that not all leads deserve your attention and followup attempts via calls. If you do not get a filtered list of leads, you may end up wasting a sheet amount of time every day following up with the wrong leads. 
You need a tool to filter the good leads from the bad ones and check how many of these leads are transaction ready to prioritize your follow up. 
Lead Conversion Software. A Lead conversion software fetches your leads from your lead generation sources. The best lead conversion tools have human-powered teams to text these leads instantly. Once qualified, your team members can set these leads for the necessary follow up action. 
Tools for Closing
Closing is the final part of the process that marks the transfer of legal ownership to the buyer from the seller. Closing is mostly a nondigital process where all the parties meet at the same place to get it done. However, digital closings have been growing in popularity for some time and have become a necessity in the current times. 
Title Closing Software. A title closing software allows the parties to upload documents, generate title orders, and track those orders as well. It drastically cuts down the time spent in transferring the title from the seller to the buyer. 
Now that we have the tools and software in place, it is time to hire people for a number of positions. 
Hiring the Team Members
The team's size and hierarchy depend on multiple factors. A lot of agents start by hiring ISAs to filter leads and a transaction coordinator to take care of the closing process. However, larger teams can be more complex with dedicated marketing specialists, agents, and administrators. Let's begin with the ISA.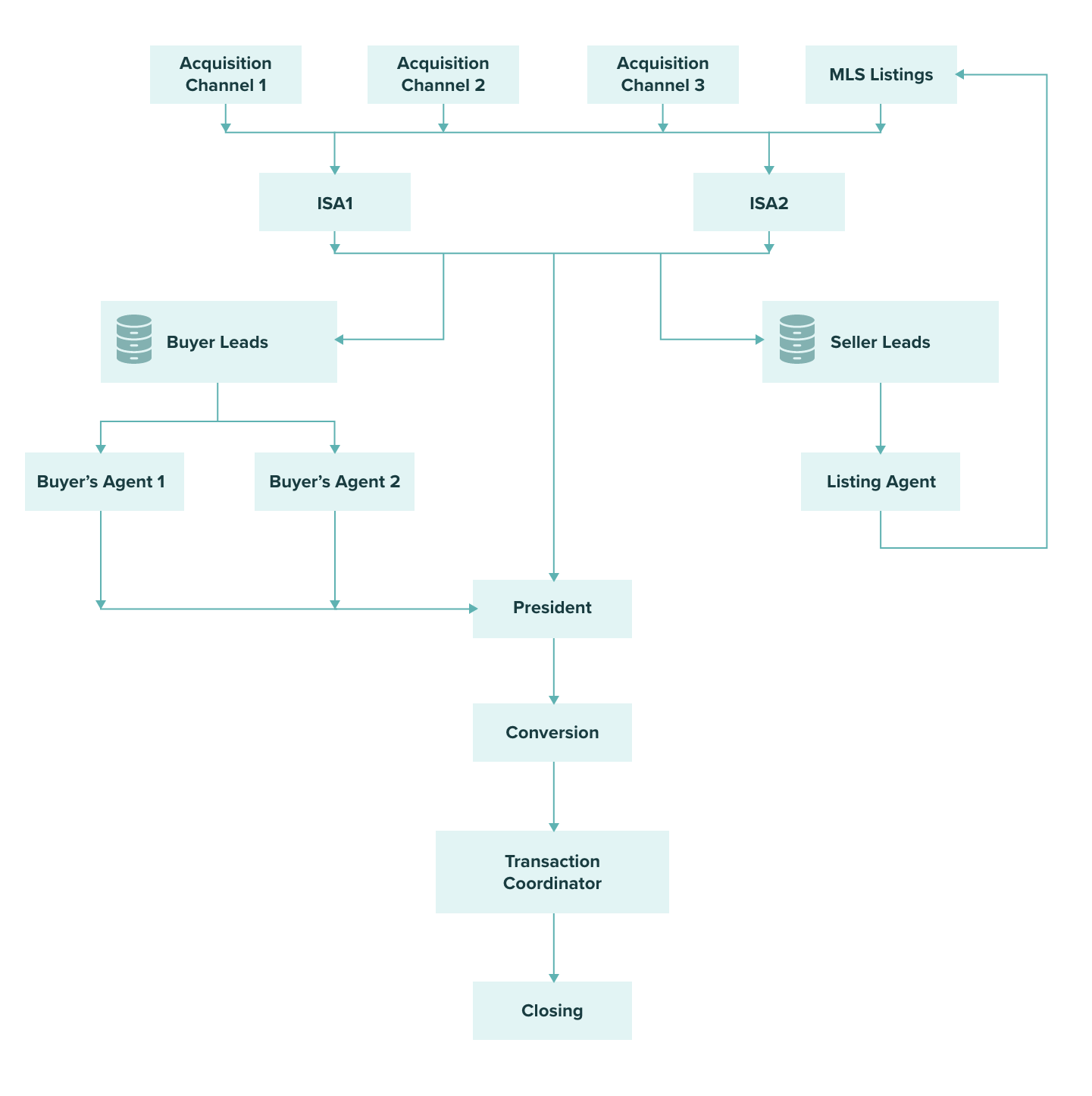 ISA. The responsibilities of an ISA is aimed at filtering leads most of the time but may include prospecting and follow up as well. 
ISAs make sure that all the incoming leads are attended instantly and the transaction ready leads are passed to you. ISAs can be game changers for your business but it takes significant efforts from your side to train them and keep them effective.
If you do not want to hire an ISA you may hire a professional lead conversion service instead. A professional lead conversion service is going to be cost effective with no requirement for training or induction. 
Listing Agent(s). Listing agents are responsible to list properties on behalf of the seller lead from your database. This is an important position to fill as the listing agent is responsible to set competitive listing prices for the properties. Hence, a listing agent is not only aware of the price trends but has working experience of multiple MLSs and Photography as well. 
Make sure that you inquire about these skillsets while hiring a listing agent for your business.
Transaction Coordinator/Admin. The transaction coordinator is responsible for processes related to escrow, closing, and title. Additionally, the should have great organizational skills to effectively store and retrieve information whenever needed. 
Buyer's Agent.  The buyer's agent is hired to represent the buyer's side of the transaction. There are always more buyers in the market than sellers, making it important to get to these buyer's leads as soon as possible with the right assistance. This is where a buyer's agent in your team can make a whole lot of difference. 
Marketing Specialist. Marketing specialists are mostly hired by large teams who generate thousands of leads. The marketing specialist is responsible to generate leads from various lead generation channels along with promoting the brand name of the business through various digital and non digital mediums. 
In recent years, digital expertise including content and online branding has become a major determinant to hire a marketing specialist for real estate firms. 
How to Hire the Right Person for the Right Profile?
A transaction coordinator should be extremely detail oriented but that does not apply to the buyer's agent. ISAs must be able to persuade the lead to book appointments or open homes which require them to be more aggressive. 
All the profiles needed in a real estate team have different sets of challenges which makes employing a personality framework necessary. You can apply the DISC personality framework to hire the right person for the right job. 
DISC stands for dominance, influence, steadiness, and conscientiousness respectively. These 4 are the fundamental forms of personalities that exhibit a list of behaviors making each person suited for a particular job than others.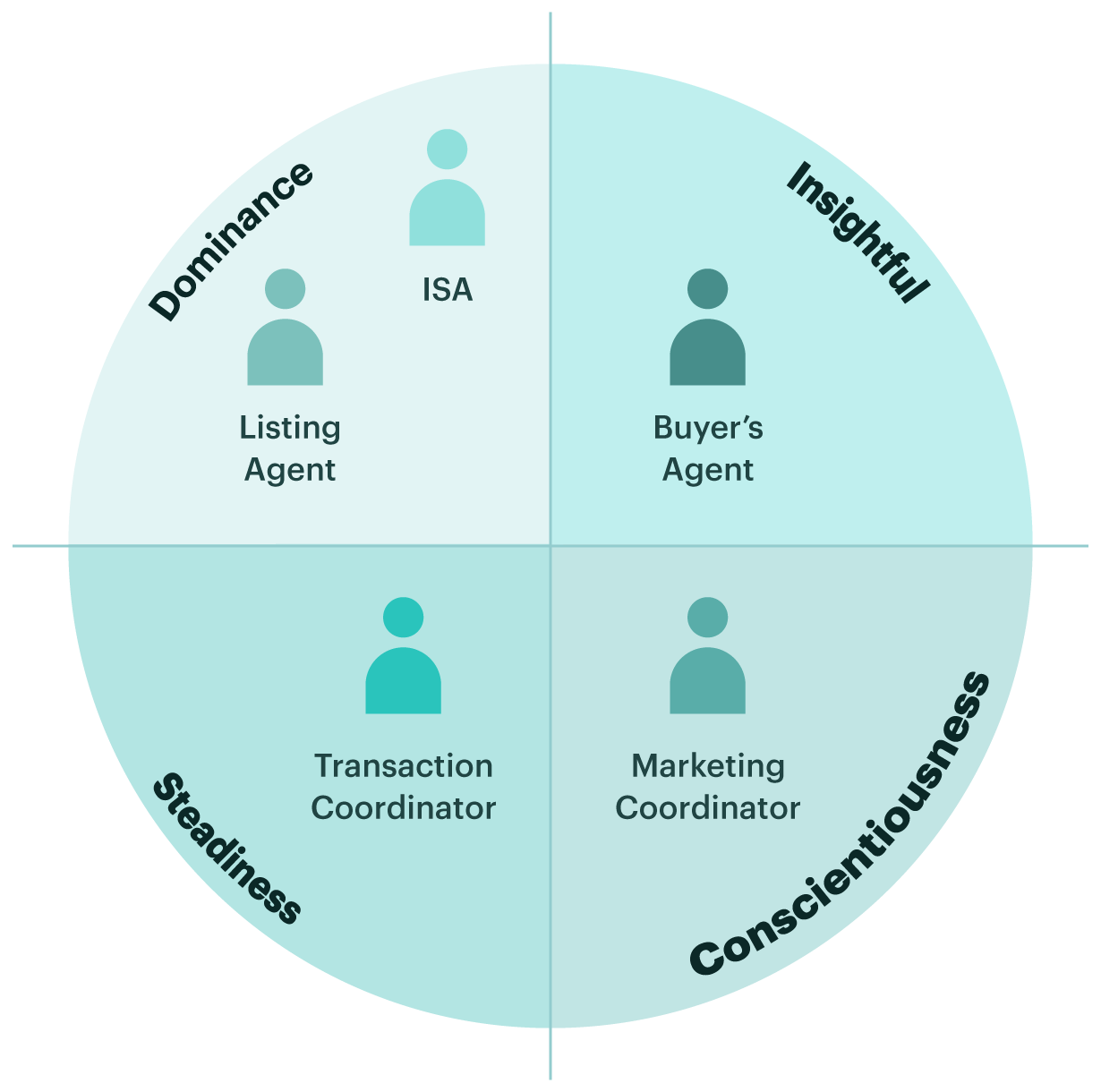 You can see that an ISA should have a dominant personality compared to other positions. It is because an ISA should tactfully convert as many leads to appointments as possible. On the other hand, a transaction coordinator is preferred to have a more conscientious and steady form of personality for them to efficiently handle details with patience. 
The marketing specialist, on the other hand, should be someone who is calm and easy along with an independent spirit. And lastly, the listing agent must have objective thinking and sound reasoning to quote the best price for the property. 
Training Your Real Estate Team?
There are a number of things you should train your team about. These are:
The Funnel and Lead Flow. Your team should know about the entire lead flow right from the point of acquisition to the point they close the deal. If you have a predetermined lead routing strategy employing tags, smart lists, or ponds, you should discuss it with them and explain its importance. 
You should share the idea behind those methods and your overall lead management philosophy with the team. It will be easier for them to understand your value offerings if they understand the philosophy well. 
The Tools. Train them to use the most important features of the CRM you have employed. This in turn is connected to understanding the lead management philosophy. Hence, the better they understand that the quicker will they learn the CRM features.
You should also give them a crash course on setting up ads in Google and Zillow. It is also important that you train your ISAs about the lead conversion tool and make them understand the importance of speed to lead. 
The Scripts. It is necessary to provide your team with the right scripts to qualify your real estate leads. Successful agents swear by effective scripts and we believe the same. You should provide them with your propitiatory scripts for calls and texts to follow up with leads. 
How to Compensate Your Real Estate Team?
Compensation in real estate is an intriguing topic that realtors find challenging. In this post, we will give you a brief look at the standard pay scale for the respective positions. We will also talk about the various compensation models that are applicable to your team. 
Transaction Coordinator. The median salary for a transaction coordinator in New York is around $37k. Transaction coordinators do not have variable salary components due to the nature of their job. However, you can set a part of their compensation as variable pay by evaluating the number of error free orders they processed. 
Real Estate Marketing Specialist. The average salary for a real estate marketing specialist is around $51k in New York. Variable components can be decided on the number of leads acquired, email metrics, and other factors. 
Listing Agent. The median salary for a listing agent in New York is around $47k. If you hired the listing agent on a commission basis, they may receive 40% of the commission from the seller's side and the rest goes to them. 
Buyer's Agent. The average salary for buyer's agent can go up to $42k to $45k. On a commission based model, the buyer's agent can charge up to 60% of the total commission from the buyer's side while agents with fixed pay components receive a lesser percentage of commission.  
Coming on to compensation models, 3 models are fundamentally followed within the industry. Note that these models are applicable for agents and ISAs as compensation for other profiles are mostly fixed.  
Fixed Salary + Commission. The commission varies from 5-15% of the total brokerage earned.  
100% Commission Model. Most of the time a 50-50 split between you and the buyer's agent is decided to set the course. However, we suggest you bargain your commission citing your expenses for management and marketing. 
Expanding your real estate business is really exciting. It gives you a surge of self confidence and a push to do better. We hope the post helped you gain insights on multiple aspects of forming a real estate team.